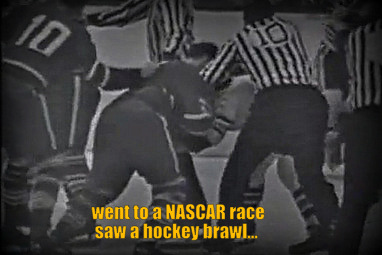 There is currently no NHL hockey season so NASCAR decided to pick up the slack this past Sunday and stage a bench-clearing brawl between the Jeff Gordon and Clint Bowyer pit crews.
Actually NASCAR had no part in this post-race event, but the sight of a full-on slugfest was on the TV screen and suddenly people forgot that Happy Harvick won the Phoenix race.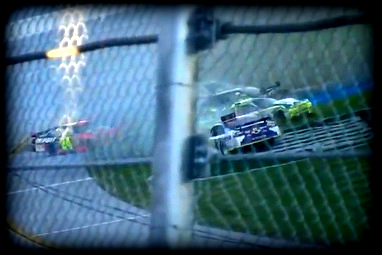 Cup racing matches the best against the best in the NASCAR driver world and they are highly competitive people who hate to lose a race. They will defend their turf and things can get very dicey on the track.
The beef between Clint Bowyer and Jeff Gordon on Sunday was the result of a history of track incidents that marks their on-track relationship. They are highly motivated drivers with an enormous will to win races and championships.
In fact, Bowyer was still a long shot candidate for a Sprint Cup championship until Gordon tagged him very late in the race. Good bye to Bowyer's faint hope clause for 2012.
People often criticize and mock NASCAR as a simple exercise in "hitting the gas and turning left" to use a tired cliché with little actual validity. 200 mph in door to door rush hour traffic where front and rear bumpers are almost touching would likely be a full-on cardiac arrest moment for most people.
However NASCAR drivers are right in the middle of these kinds of traffic conditions on most tracks during the season. In fact they live for these kinds of traffic conditions and the drivers want to finish in front of these kinds of traffic conditions when they wave the checkered flag in a race.
It takes enormous talent and nerves of tungsten steel to race in NASCAR. It also takes a superhuman ability to process information at lightning fast speeds and react in a split second to track events like a crash or spin in front of a driver.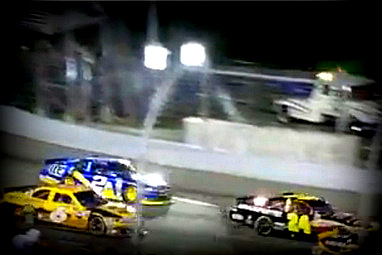 For obvious reasons, a driver has to remain calm, cool and collected under fire, but it is also true that a driver has a fire in his or her belly during every race and will not tolerate any other driver's attempt to prevent him or her from victory in a race.
The Sunday track incident was the result of a series of nasty race events between Bowyer and Gordon that resulted in an intentional late race wreck and effectively finished off Bowyer's championship hopes.
The fact that a hockey brawl broke out between the two pit crews indicated the intensity of racing and the fact that drivers are a part of a race team. Gordon and Bowyer were prevented from meeting in the main event, but it is obvious that the two drivers will settle their score on the track in the future.
You can count on both drivers adhering to the belief that payback's a b**** because, right or wrong, this feud is not over for Gordon and Bowyer.
Jim Sutherland
Follow us on Facebook at-http://www.facebook.com/MyStarCollectorCar
Follow us on Twitter at- https://twitter.com/#!/MyStarCollecto1 
Follow us on Pinterest at- http://pinterest.com/jerrysutherland/classic-iron/