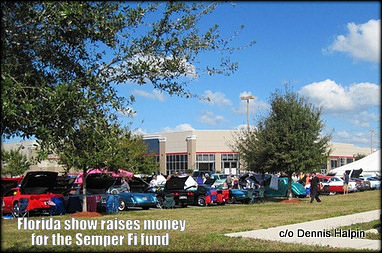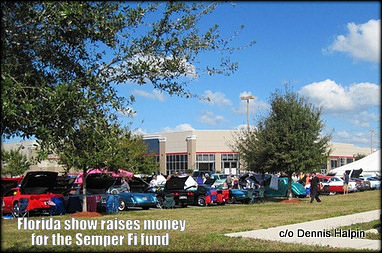 Dennis Halpin is a long time reader and occasional contributor to MyStarCollectorCar.com.
He's a self-described "born hot rodder" who is also a USAF Viet Nam veteran and he sent some pictures and information to prove that the car show season is alive and well in areas with civilized climates.
He also wanted to outline how this show is heavily invested in support for the Semper Fi Fund.
Dennis began with the history of the show, " My pal Ernie Aungst, a bunch of other Vets and with the help of a retired 3 star General who has connections in the American Legion, put together access to a Lowes Department Store/Denny's Restaurant parking lot, a music disk jockey and some other folks, to pull this off as a charity event benefiting 'The Semper Fi (Marine) Fund that works to help out wounded warriors".
They set the date based on an obvious choice, "Naturally, it was scheduled for Veteran's Day, which was on a Sunday this year. I didn't know about it until a couple weeks ago when he handed me the freshly printed posters to pass out and had nothing to do with the organization of it. In fact I cancelled plans to participate in the Military Museum (where the Mrs. and I volunteer) Veteran's Day plans, to participate in it".
Dennis let his car guy side take over, "Of course, it didn't hurt my feelings to be able to play with my car at the same time. There was a $20 entrance fee and other military related causes where folks could donate. The name of the game was generate money for wounded warriors and down here in my neighborhood, one of the most sure fire ways to do that, is to link it to 'Collector Cars'."
This fundraiser was textbook efficient as Dennis explained, "Just for the record, to my knowledge, aside from 'overhead' like printing costs, virtually all of the proceeds will be going to the 'Semper Fi' Fund, no 'administrators fees', no paid staff, none of that stuff".
Dennis detailed the logistics of the show and the scope of the car culture in his part of Florida, "8 parking lot aisles of cars like this. Half of a Lowes store parking lot and 300+ cars at the show. It does give you an accurate representation of the 'classic, custom and Hot Rod car potential within let's just say, 30 miles of Venice Florida. This is a once a year show, put together to benefit 'wounded warriors' but many of these cars, show up 15 miles down the road in my town once a month for my local car show".
Dennis even took one for the team when he was shooting pictures but the results were great, "On a side note, I took one picture and dropped my camera, had to Scotch Tape the battery cover back on to finish the shoot".
There's always that "one guy" behind every show and Dennis wanted the spotlight on this key guy and his cause,
"This is the special one. Hats off to my pal, Viet Nam "Brother" and F-4 Pilot Ernie Aungst for putting all of this together and honoring our comrades, both living and dead, who have fought for this country".
*For more information about the Semper Fi Fund please follow this link- http://www.semperfifund.org/