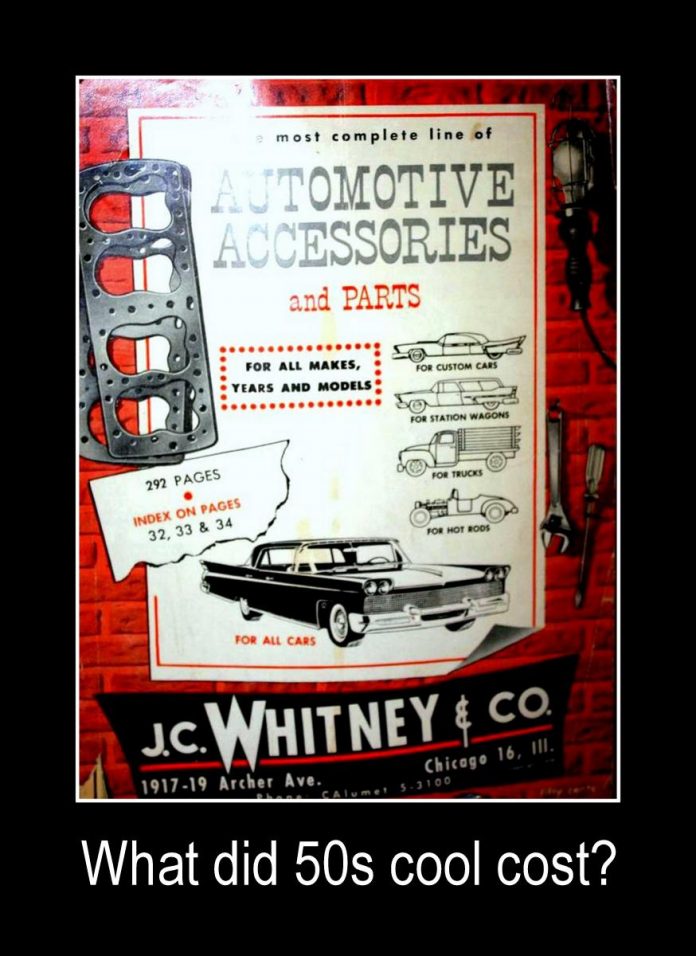 The 1950s were unlike any other automotive decade because cars went from boxy sedans to space race, rocket-finned, turnpike warriors in 5 years.
Detroit went over the top after 1955, so the decade ended in a blaze of glory with massive fins; stainless steel fender spears; four prominent headlights; incredible grilles and legendary hood ornaments.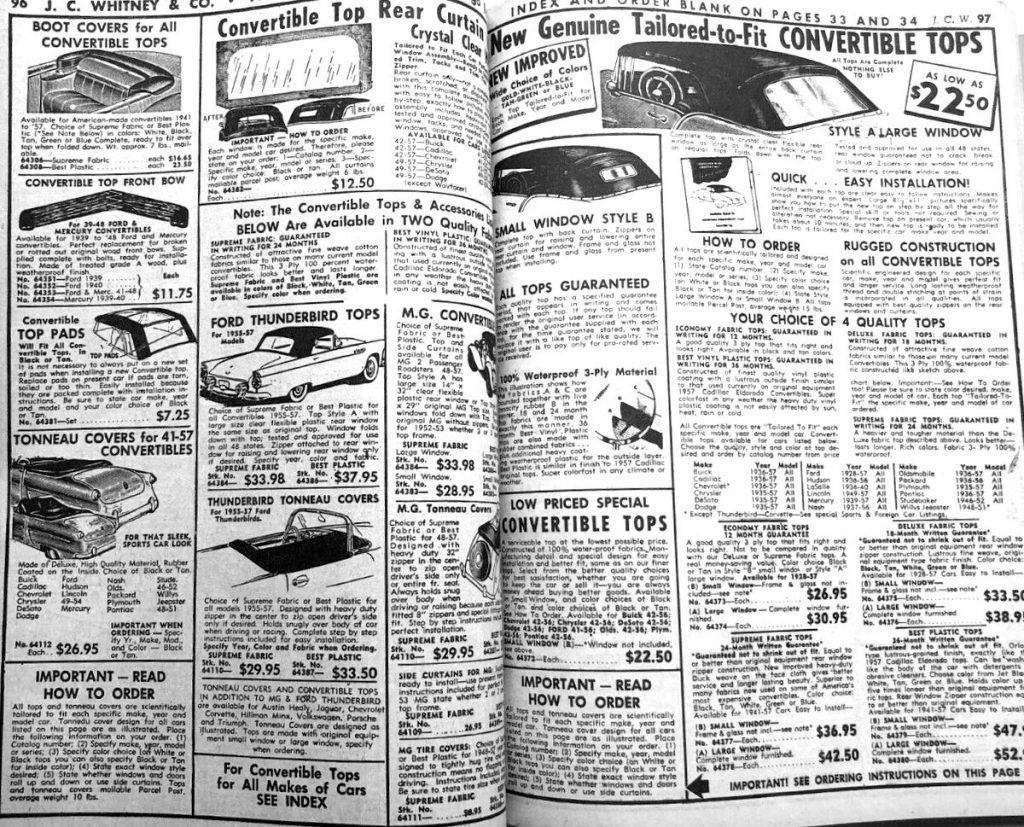 The JC Whitney catalog was the bible for 50s guys who wanted to add some personal touches in an over-the-top era for Detroit iron. The continental kit was the most obvious – and popular add-ons in the 50s. The 1957 JC Whitney catalog was full of continental kits for virtually every application, so they definitely had you covered.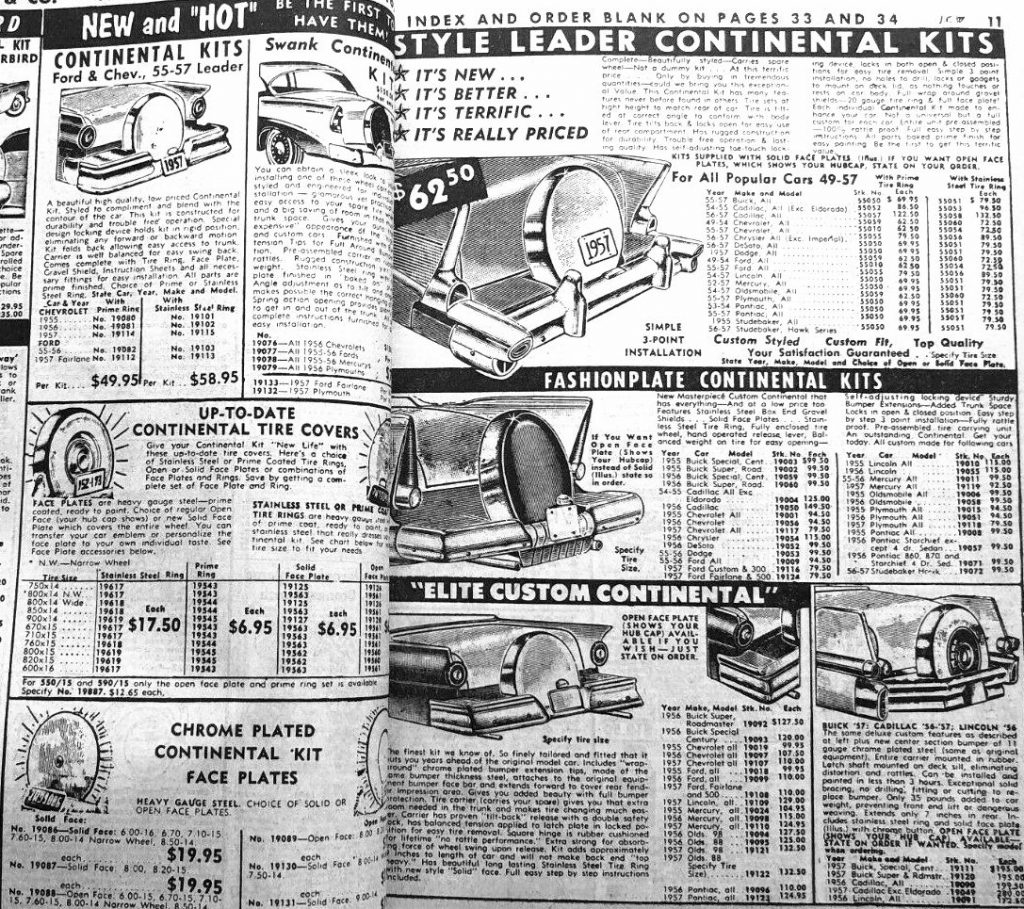 Continental kits were heavy, they made your steering extremely light, your handling became a little goofy, and your headlights aimed for the moon – but they also made you a star back in '57.
Believe it or not, some cars didn't come with a defined hood ornament, but if you owned a '57 Plymouth you could add a Cadillac Eldorado-like hood ornaments for 7.95. The JC Whitney people were all over it – your '57 Belvedere would stand out in a sea of hood ornament-less '57 Plymouths.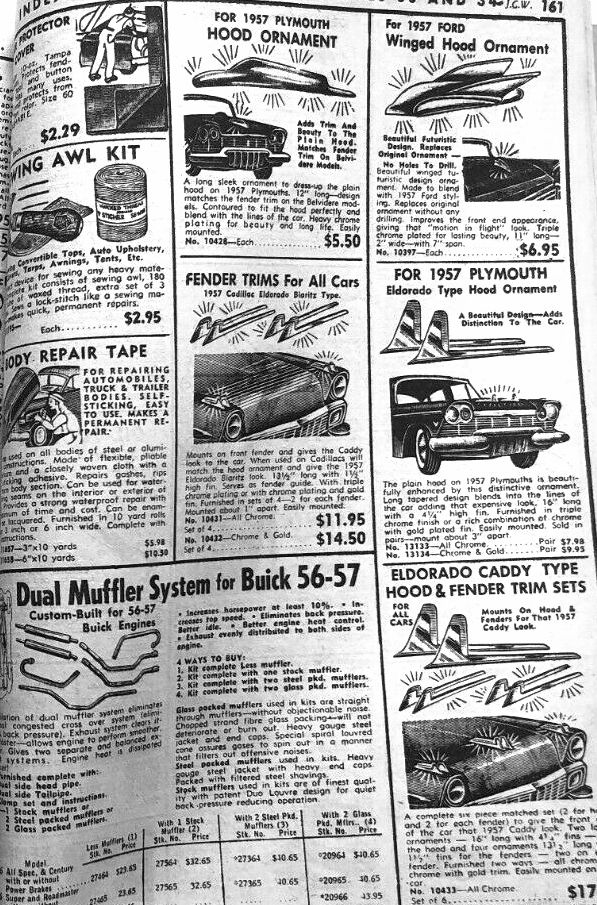 They could also spruce up your '57 Ford with a winged hood ornament for 6.95 – you'd never lose your 1957 Custom 300 in a parking lot ever again.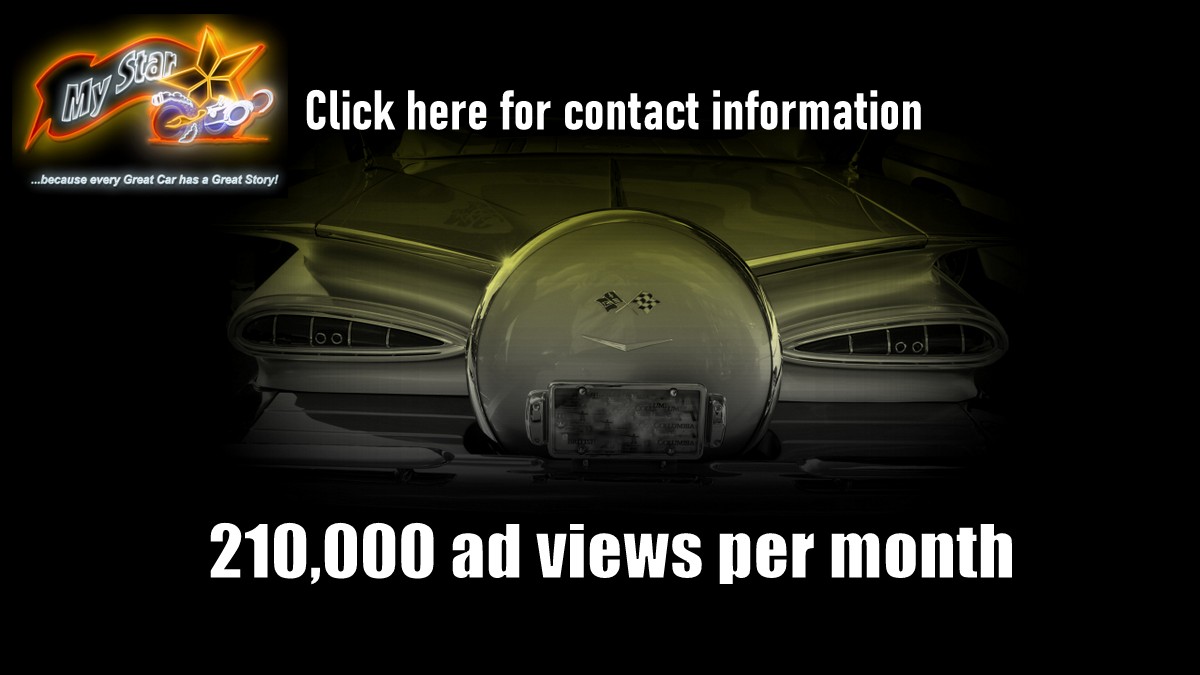 You'll still see foot-shaped gas pedals in 2020 because they were a huge deal back in the 50s. These pedals told the world you weren't conforming to society and JC Whitney was your ticket to punk-hood.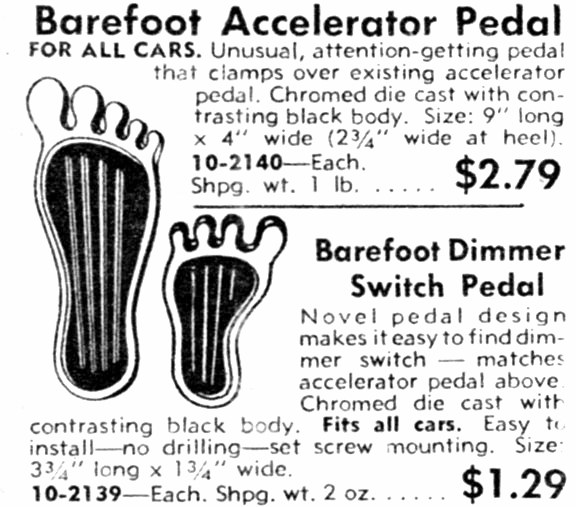 Nothing said hoodlum better than a JC Whitney foot-shaped gas pedal or dimmer switch.
Car plaques are a tradition with classic iron to this day, but they were a major factor back in the 50s. Most plaques told the world you were part of a car club, but if you couldn't get past the initiation, the JC Whitney catalog was a great backup plan.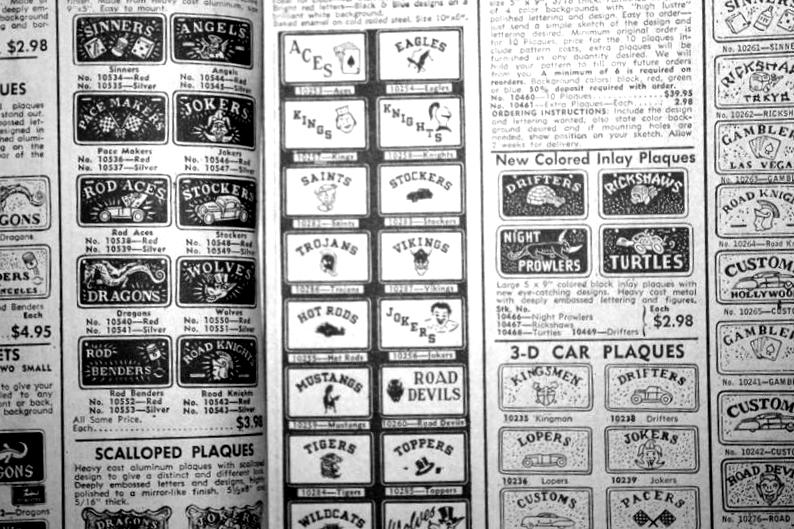 You could be a Drifter, a Saint, a Sinner or a Night Prowler for the low, low price of 3.98. Take that – car club that wouldn't make you a member.
Radio antennas were a big deal back in '57, so the more antennas you had and the more prominent they were – the higher the cool factor.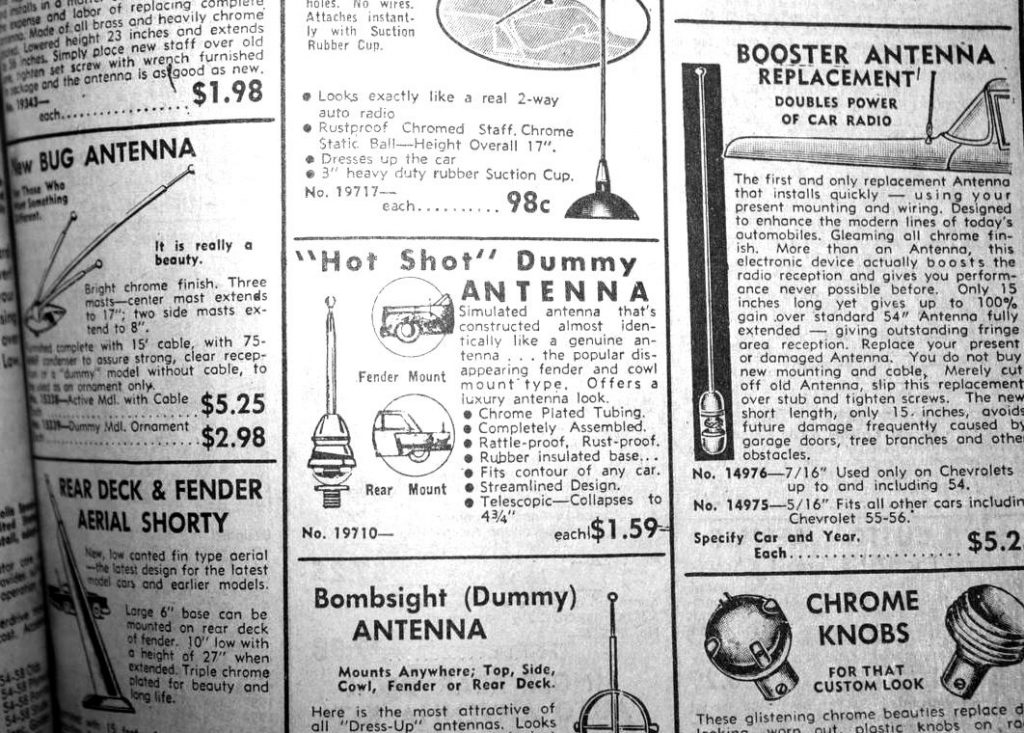 JC Whitney had so many antenna options you could make your car look like a porcupine on four wheels…and most of them cost less than five bucks.
Detroit sent cars out of the factory with more flash than a Las Vegas showgirl, but if you needed to up your bling game – JC Whitney was there for you back in the 50s.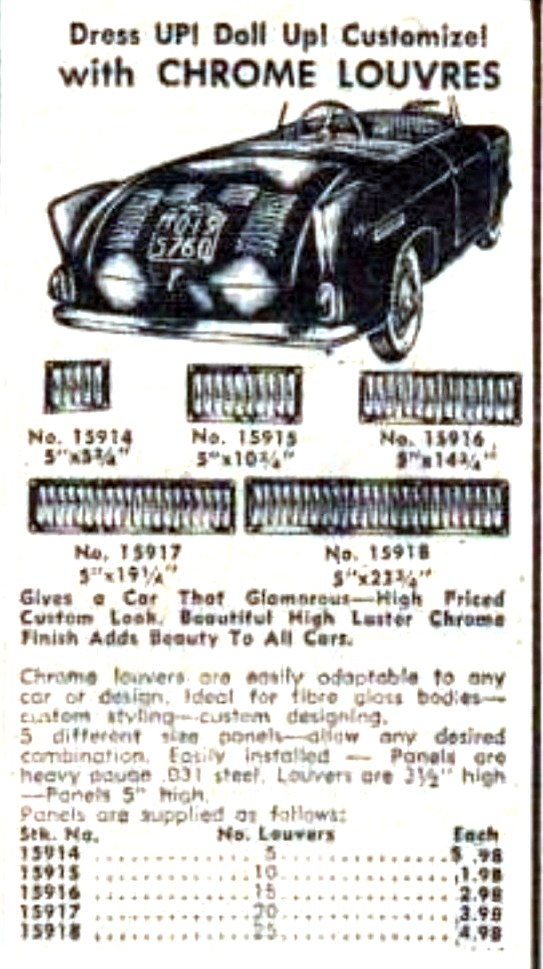 You could put more louvres on your new Oldsmobile's hood than GM ever dreamed possible…all for the low, low price of 25 for 4.98.
JC Whitney covered many customizing bases back in the day. There were guys who blew their whole paycheck on chrome-plated gadgets just to make their car stand out in an era when cars were off the charts cool.
It was worth every penny.
By: Jerry Sutherland
Jerry Sutherland is a veteran automotive writer with a primary focus on the collector car hobby. His work has been published in many outlets and publications, including the National Post, Calgary Herald, Edmonton Journal, Ottawa Citizen, Montreal Gazette, Saskatoon StarPhoenix, Regina Leader-Post, Vancouver Sun and The Truth About Cars. He is also a regular contributor to Auto Roundup Publications.
Please re-post this if you like this article.