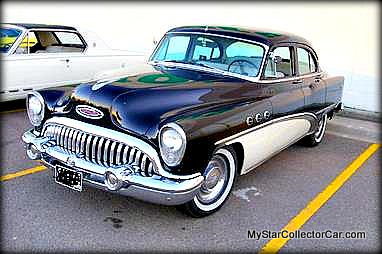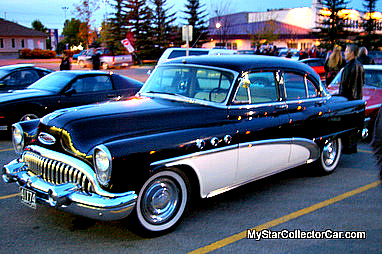 Larry Steeves was born in 1953 and that, in a nutshell, is why he owns a 1953 Buick sedan.
Basically Larry wanted a car from his year that had survived as well, if not better than he had on over 50 years.
'Anyone who remembers when Middle School was called Junior High would understand this concept because Grade 7 kids hung out with other Grade 7 kids…not Grade 9 kids.'
Larry finally found this 53 Buick after a lengthy search and now he enjoys life behind the wheel of this well-preserved time capsule from the Eisenhower era.
The Buick has its original straight-8 and shifts with via its original automatic. Larry wants to keep it that way because he still has his original motor and unless there's a nasty heart transplant in his future the old Buick stays original too.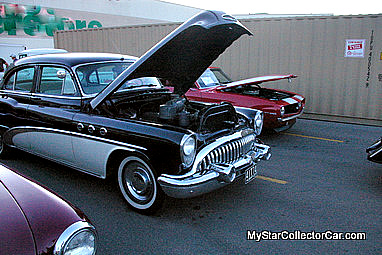 Buick was on the cutting edge of the early 50's style parade in an era when car fins were still in training bras with dreams of future grandeur. This car was lower and wider than many of its competitors in 1953 and Larry admits that he may be the same way in 2011.
Larry is fearless in the old Buick and he often takes his birth year buddy on highway jaunts because the car rides like a limo and once it's wound up the big 8 pulls it along at posted speeds. His only real concern is the 6-volt system because the lights aren't exactly state of the art on this nearly 60-year-old car.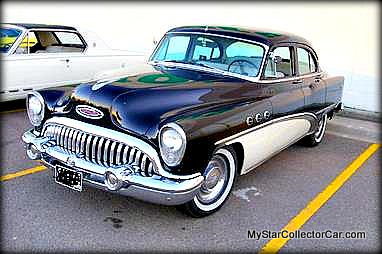 Buicks were a high-end purchase in 1953 but for guys like Larry Steeves, owning one on the 21st century is like the MasterCard experience-priceless.
He likes the comfort zone he gets from his peers…
Jim Sutherland
More car stories can be found here-https://www.mystarcollectorcar.com/