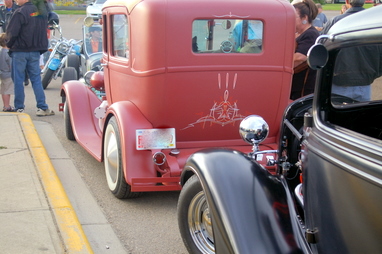 Butch Henry may be looking through the windshield of his 1929 Model A coupe but the view is actually a window into car memories from his younger days.
'Butch is kind of an old school guy with a working knowledge of fifties and sixties culture from an "I was there" point of view.'
Butch was a kid during the big-finned 50s era and a young adult in the 60s muscle car era. Nice eras-but Butch's fondest memories from those automotive days of yore were the hot rods and customs that owned the streets in his town.
That's why it was such a good fit for Butch when he and his wife Joanne bought the Model A rod about 5 years ago.
The cars on the street that drew Butch's attention were the rods so it is very appropriate that he and Joanne can find that legendary Beach Boys endless summer in their classic Model A hot rod. Their Ford runs with a rock solid 350 Chevy and the combination has hauled the Henrys down thousands of highway miles in 5 years.
That's the practical side of the car-they load this rod with lawn chairs, luggage, coolers and two miniature collies and hit the road. There is plenty of room in the coupe to bring everything they need including the kitchen sink-at least a well-stocked cooler.
The car clearly is part of a lifestyle-at least that what the 2 dogs are saying and Butch agrees.
Butch Henry never forgot the car culture of his youth and now he gets to relive those golden days behind the wheel of his beloved Model A.
It just doesn't get any better than that.
Jim Sutherland
For more car guy stories please follow this link…https://www.mystarcollectorcar.com/2-features/stories.html