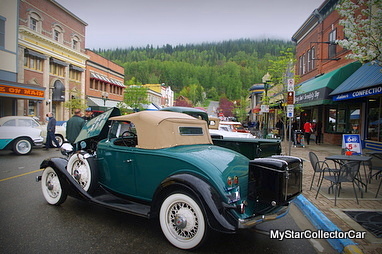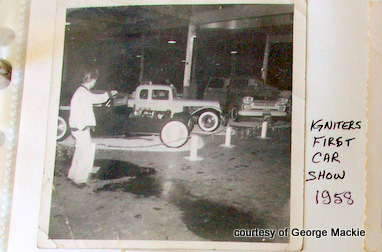 The roots of the post war hot rod culture still run deep in 2011.
The pioneers in the go-fast movement were all the same in the 1950s– they were young, bold, ten feet tall and bullet-proof, and they were willing slaves to a serious need for speed.
How they cobbled together their rods in the 50s was a story of the brotherhood and culture of the car guys from that decade.
They didn't have money falling out of the pockets of their rolled-up jeans, but they had a singular willingness to get down and dirty when it came to hot rods.
The donors were usually found in the car junkyards that were plentiful and affordable goldmines for the young hotrodders. It might be a flattie or it might be a Caddy that powered their stripped-down rides in those days.
Power trains might even be an early Hemi or a heart from something called a Corvette that gave them a big boost over the original engine found in something called a '32 Hi-Boy.
Today's rat rods pay homage to the look of the 50s, but economics played a big role in the original look. Most of the 50s car guys might have gone for an upscale paint job if they had the budget for such a luxury.
Realists to the core, they initially settled on speed first and appearance second when it came to their rides. Eventually extra time and money put the glitter on their cars, but the important thing was to get in the game. And the game was speed.
Historically, it is unlikely that many of these hot-rodders were in love with high school, but they learned about physics in and out of the classroom.
Less weight and more horsepower gave them a chance to be kings of the street, so they stripped off the extra baggage on their rods. It usually meant less fender and roof to cut weight and cheat the wind when custom rods went under the knife in the 50s.Plus it provided a cool look- a very cool look.
The hot rod culture evolved into a brotherhood in the 50s. Clubs began to organize because like-minded young wrenchers relied upon each for information and parts.
Sure they wanted to blow the doors off each other on the street, but they were not afraid to even the competition with a helping hand for a brother car guy.
Participants had an unwritten code that became a written code within the rules of membership in a 50s car club. You see a guy on the side of a road and you stop to lend him a helping hand-it was even stamped on their membership cards; "You have been assisted by (insert name here) car club".
Ironically,it is doubtful such a rule even had to be written into the club rules because most car guys were more than willing to lend a hand. It was in their nature.
We chose our local original car club because it was such a big influence on the huge car culture that exists today in our area. These guys were the spark plug for future car guy dreams because they were our role models.
They were called the Igniters and they were no different than any other group of young car guys in 1955: they wanted to have fun in the fast lane.
We managed to connect with original Igniter club member George Mackie because every arrow pointed in his direction. He was the right guy because George had compiled a photo history of the Igniters after they amalgamated with the Idlers and became the Igniters Rod and Custom Association in 1955.
The reason for their existence was pretty simple: the car culture of California had drifted northward across the border into their small town of Red Deer Alberta Canada. Along with Elvis and a crazy new sound called rock and roll came the hot rods.
The 50s was a decade of change where fear of nuclear attack meant that its young generation wanted to live faster than ever before in life. Maybe they wouldn't get a chance to live long lives because of the possibility of nuclear war, but they wanted to have an enormous amount of fun in potentially short lives.
The Cold War politics but a tricked out ride was well within their grasp and the Igniters lived for those hot rod moments as young adults.
George and his buddies thought nothing of a long drive to Spokane, Washington for weekend drag meets. They left after work on Friday night and returned to Red Deer just in time for work on Monday morning.
In between was a memorable sequence of events that George didn't describe in detail. It would appear that 50s-era hot-rodders were also discreet when it came to romantic adventures for the young car guys of the era.
The long winters in Red Deer were a time when many of the car guys worked on their projects to compete in the spring Igniters car show at the Red Deer Arena. George Mackie was famous for his seasonal engines, one for summer and one for winter in his '32 Hi-Boy.
The winter engine was down a cylinder so George rammed a 2 by 4 into the dead zone and drove his '32 on seven cylinders. He needed a set of wheels 365 days of the week so a ride with an ailing mill was better than no wheels during the long winter.
The Igniters were an active club from the mid-50s to the mid-60s. Their first president was Harvey Hopkins and their last president was Gary Anderson. The list of Igniter members is a virtual who's- who of local car guys.
The young car guys from the 50s clubs were the heart and soul of a hot rod philosophy and we cannot thank them enough for their big horsepower dreams. We saw and heard them on the streets and we admired and envied them.
We were too young to drive but we were not too young to dream of a time when we could become a part of the brotherhood of the car guy. Clubs like the Igniters were found in every town in North America and they were a living embodiment of all that is right about the internal combustion engine and four wheels.
Consequently, MSCC salutes the Igniters and every other car club that made young kids dream big car guy dreams because of them.
Jim Sutherland

Many more car and car guy stories at https://www.mystarcollectorcar.com/