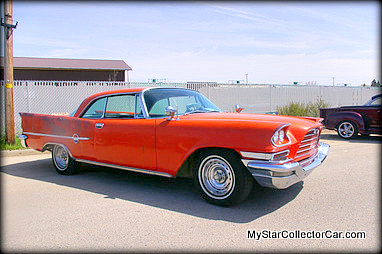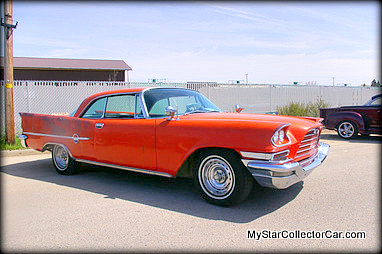 The Chrysler letter cars of the mid-50s to the early 1960s have spiked in value over the last few years.
These finned muscle cars have cracked the six-figure barrier and now they are headed into the exclusive domain of collectors.
With few exceptions…
Angelo is one of those exceptions. Ten years ago he called a guy about some '61 Chrysler fenders and turned a classified ad into one of the greatest car buys in history.
Angelo filled in the blanks, "I called him about the fenders and went over to look at them. He told me I gotta letter car and I wanna sell it. No one knew he had this car because he'd bought it sight unseen from a guy in Kansas. The guy drove it thousands of miles to deliver it to his place and there was fluid all over the floor".
Angelo pulled the trigger on the deal –he bought this big, bad, finned Mopar. Car guys often act on impulse and in most cases it works out but there are hurdles in life. Most of these hurdles come in human form – a very unhappy wife.
This was no exception.
Angelo had to explain to his wife how a simple trip to pick up parts ended up as a very large car purchase. The simple answer is found in the old adage "it's better to beg forgiveness than ask permission".
He did some research on the 300E and found out that his car was originally sold in Dallas Texas for $5900.00 and ended up in Kansas before heading north. They built 590 of these super cars in 1959 and Angelo admits, "I fell into owning this one".
This 300E is clearly a survivor car because the paint shows the wear from years in a broiling Texas sun. Angelo is extremely comfortable with the car at this stage because it takes the worry factor off the table. The Chrysler letter car is an unrestored, as-is, where-is car…Angelo can literally drive it anywhere.
This is a car that sees thousands of miles in a year – none of them inside a trailer. Angelo has no fear behind the wheel of this rare and he makes the car show circuit a big part of his summer.
He added, "It's a lot of fun to drive and it's no problem on the highway because the engine's loafing at that speed". The 300E does have some built-in problems when it's in the public eye as Angelo explained,"you get a lot of attention in this car. It's like being a rock star on the road plus everybody wants to talk to you when you stop".
This Chrysler 300E is very unique piece of automotive history and that's where Angelo runs into a crossroads with the ca. The simplest reality is that he has had ten great years simply driving the car. Currently, Angelo is not willing to give up the connection he has with the big brute and trade in the fun for what he knows will be an extensive and lengthy restoration.
This is not an easy decision because Angelo is still a young guy; consequently he has the years left to do a serious restoration on the Chrysler. The Rolling Stones had it right – Time is On My Side.
But the converse argument to not restore it works because Angelo is still young and he is really enjoying a carefree life behind the wheel of an unrestored Mopar legend.
Angelo admits that the restoration will happen but for now he's happy with a car that isn't torn apart and bleeding money in a million pieces.
His wife is pretty happy about that too.
Jerry Sutherland
Follow us on Facebook at-http://www.facebook.com/MyStarCollectorCar
Follow us on Twitter at- https://twitter.com/#!/MyStarCollecto1