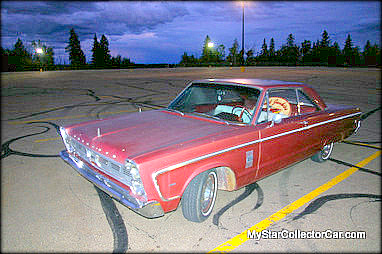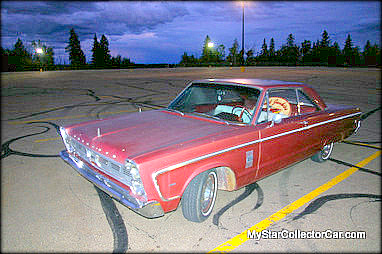 Doug Giesbrecht literally grew up in the back seat of this 1966 Plymouth Fury two-door hardtop.
This was a brand new car when his dad bought it back in '66 so there's a massive family history with the car.
Doug couldn't let it go.
Doug's father was a detail guy so he believed in a meticulous maintenance program for his Plymouth. Cars took a big chunk out of the household budget in '66 so Dad's program made a great deal of sense.
The Fury came with a few options like power steering, automatic transmission and rear speakers but it is essentially a barebones car. Dad opted for the 318 poly motor (last year in Canada) and skipped the tick mark beside the 383 or 440 cubic inch engine option.
Still, it wasn't a stripped down "taxicab-ish" Fury I 4 door sedan – this is a two door hardtop.
Doug recalled many great vacations in the big Plymouth but is favorite was obvious, "We took it to California in December 1968 for a Disneyland Christmas. That was one of the best trips I ever had as a kid and we did it in the Fury".
The Fury was destined to leave the family several years ago but Doug stepped into the breach and bought the family legacy. At that point, the car had over 230,000 documented miles and it had been through a complete rebuild at 135,000.
Doug wasn't surprised at the longevity because he was a witness to his Dad's rigorous attention to routine oil changes and tune-ups. He used the car as a daily driver for a year but he respected the Fury enough to keep it covered in a car port or under a tent.
That maintenance regime also explained why this 1966 Plymouth sailed through a safety inspection. Doug explained, "It was easy, all it needed was one wheel cylinder, that's amazing for a car this old".
The big Plymouth shows its age well. Clearly it won't be a show car but it would make solid contender in the survivor category at any show. The interior shows wear-this car goes back to the Beatles era but it's still in remarkable shape.
Doug has a theory about the lack of damage to the interior. "My Dad was a fanatic about keeping it clean, even with kids and now I really believe that the pine tree air freshener really keeps mice away when I store it".
Doug is a regular at many car shows and he's not afraid to travel in the Fury. He is proud to add, "It's been absolutely trouble-free since I've owned it".
The other question is basic. How does this 46-year-old car drive on today's roads? Doug answer is quick and enthusiastic, "It's unbelievable. This car cruises comfortably at 80 miles per hour".
This Plymouth Fury is going to stay in the Giesbrecht family despite the fact that Doug almost parted ways with the old car buddy, "I almost sold it a year ago".
Relentlessly practical people with absolutely no car soul would never understand why he didn't sell the old Plymouth but car guys get it.
You never sell the car that took you on the best vacation you ever had when you were a kid.
Jerry Sutherland
Follow us on Facebook at-http://www.facebook.com/MyStarCollectorCar
Follow us on Twitter at- https://twitter.com/#!/MyStarCollecto1