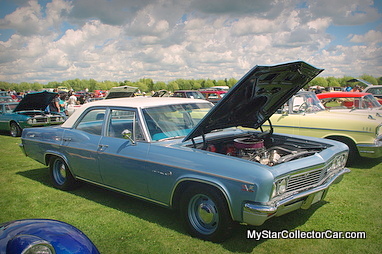 Four-door sedans are on the lowest rung of the collector car hobby.
Nobody wants to admit they even like them.
Fewer admit they want to restore one because they are labeled "grandpa cars".
Despite the built-in bias against vintage four-door sedans, this 1966 Impala survived a grisly end simply because it came out of the factory with a 427 cubic inch engine.
Grandpa never drove anything like this monster.
Larry Kemshead is the proud owner of this Chevy super-sleeper and he detailed the history of the car,"It was one of 55 made with the 427 435-horse drag pack and it has 31,000 miles on it-it was a race car".
This '66 Chevy still looks like a sleeper because there are no outward signs that this car was built for an ambush…right down to the dog-dish hubcaps. Larry outlined the current status of the big 60s sedan, "it's got a 454 under the hood now with a four-speed automatic and 3:37 rear end".
The car has other upgrades to make it more civilized now that the track days are over as Larry explained, "It's had power steering and brakes added afterward because it's not going 1/4 mile per trip".
This car is destined for a far more gentile lifestyle because Larry's wife, Judy, spends time behind the wheel and she doesn't care what kind of ET this car runs. The sedate-looking old sedan has entered a sedate new world. In her words, "This car is fabulous to drive".
Larry likes the potential with this big Impala because it's a people carrier. Larry concedes that he likes to arrive in style with some muscle under the hood so this big sedan is perfect, "You can take people with you when you want to go for runs".
The car is perfect for the highway because the steering and front end has been done so Larry reported, "It's got that narrow little steering wheel so it feels kind of delicate but it runs down the highway like a dream".
The Kemsheads have put a few highway miles on the '66 Chevy and Larry is extremely positive about the experience, "At 70 miles per hour it's like a new car on the highway and it's got a ton of torque".
There's some serious history to this Impala because it retained so much of its factory look. Larry recalled,"It's still got its original spare and it's only had one repaint back in 1980 in original colors".
That doesn't mean Larry doesn't kick in the big block as he admitted, "This car can get smoke pouring out of the rear wheel wells and it'll lay rubber right through the gears".
Larry believes that cars are for driving and a big block Chevy sleeper is a huge incentive. He is a realtor and he could probably drive customers around in this conservative sedan.
The only hint that this Impala is a sleeper comes from the fatter rear tires and the stance. Experienced car guys spot the look from 100 feet away but less-informed observers simply see the old Impala as an old Grandpa car.
Until the Grandpa car punches them in the mouth.
Jerry Sutherland