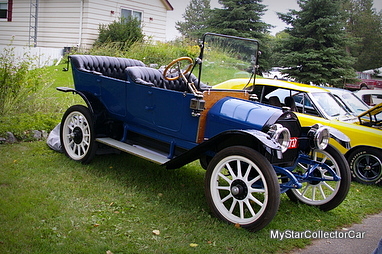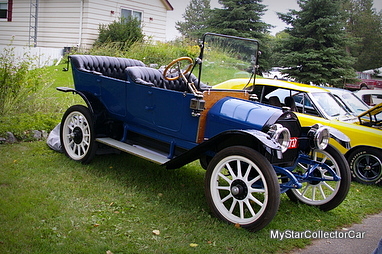 We first saw this 1913 Willy Overland in 2013 and then we saw it again in 2014.
It was the same car and owner and, although owner Martin Mathon is not a young man, he is considerably younger than his car.
The name Willys is associated with the little four-wheeled soldier Jeeps and the Willys hot rods that became kings of the quarter mile when matched with a V-8 engine.
But the name Willys goes back to early 20th century and the infancy of the automobile. This 1913 Willys-built Overland was a part of the early automobile era and it is a rare sight in the 21st century.
Martin is a stickler for authenticity, so the restoration was a long process because you cannot shop for replacement parts at a local auto store when it comes to 101-year-old cars.
In fact, it took 27 years for Martin to rebuild a vehicle he described as "total rust" when he found the Overland. He found replacement parts all over the world during his exhaustive search that spanned well over two decades. For example, the radiator came from Staten Island.
Patience was more than a virtue during that time frame; it was a necessity for Martin to complete a very complicated restoration on the Overland. Martin told us "there wasn't a thing on it that wasn't on it when it came out".
Complete authenticity was the foundation for the project and now curious onlookers ask many questions when they see a car from a century in the past. For starters, the lights on the Overland are not electric. The headlights are fueled by acetylene while the rear and side lights are fueled by kerosene.
The speedometer runs from a mechanical drive connected to the front right wheel. The engine does not have an electric starter and thus requires an enthusiastic pull on the hand crank to fire it up for the road.
We watched while Martin used a primer can to direct-fuel the cylinders before he cranked it over and it became evident in a hurry that 101-year-old automobiles are not easy to start-then or now.
It took about a year for Martin to start his Overland because he was unable to get it running in 2013.
The happy ending came in 2014 when we next encountered the Overland and discovered Martin had finally got it running to his satisfaction. As stated earlier, projects like this 1913 Overland require an enormous dollop of patience.
Martin was cautious and said; "don't get impressed, it's not a quiet engine." Actually, a 101-year-old engine that actually runs is music to anybody's ears.
Martin told us his Overland will likely max out at 50 mph (80k/h.), but would cruise comfortably at 35-40 mph (60-65 km/h). These are pretty decent numbers when one considers the Overland was built during a time when they still competed with horses for transportation king.
We would like to thank Martin for his story because 101-year-old cars that run and are still on the road will definitely get our attention during the rare occasions when we find one at a show.
Jim Sutherland
CLICK HERE to Like us on Facebook
CLICK HERE to Follow us on Twitter
CLICK HERE to Follow us on Pinterest