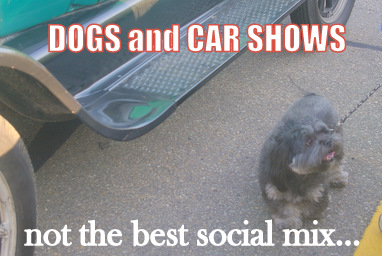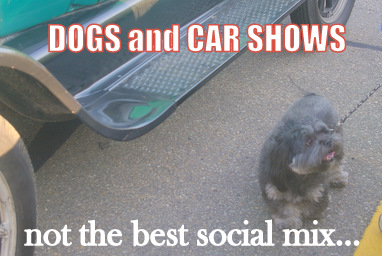 Car shows and dogs are a bad mix.
Sure it's hard to leave Spot behind when you head to a car show, but it is the right thing to do for everybody.
'Never let a pair of puppy dog eyes force you into a rash emotional decisions based largely upon guilt.'
The typical car show is usually held in the summer heat on hot pavement. Dogs can only disperse body heat through their big floppy tongues because, when a dog says "no sweat"– he really means it. So Spot would be oven ready on the hot pavement.
That is a dog health issue, but what about dog social issues? Dogs have a standard canine communication protocol that involves a lifted hind leg and good aim. 100% of them are not going to discriminate between an original paint job on a 1936 Rolls Royce and a fire hydrant. Your dog's lack of discretion could put you in an awkward social situation in which an irate car owner may want to remove some of your cash or most of your teeth because of Spot. The owner may be good with either option.
Another doggie social issue is the occasion when dogs meet each other at a car show. The best case scenario is mild indifference, but most dogs want to engage with other dogs. One possibility is a good old-fashioned dog fight in the midst of a car show. Another possibility is very graphic love at first sight for unfixed doggies. Either way, the repercussions are not good when kids witness the results.
Dogs never wait in line for porta-potties at car shows. They pretty much choose any time and place, but they really love awkward times and places the best. Count on it when you take your dog to a car show and remember to bring along clean up equipment. Better yet, leave dog and equipment at home.
There is one upside to dogs and car shows: Nobody would be stupid enough to climb into your vintage ride if Roger the paranoid Rotty with serious anger issues is sitting in the front seat. You will have to decide whether that kind of canine car security is worth the lawsuit when Roger goes territorial at a car show and leaps out the vintage window at the first available throat.
People and dogs? Great mix. People and car shows? Ditto. People, dogs and car shows?
Now there's a threesome you don't need.
Jim Sutherland @mystarcollectorcar.com
COMMENTS
TREVOR:"Too bad we can't get the leave your dog at home message to these poor dog owners whos lives are so empty they must drag their dogs with them everywhere. I talked to a buddy this week end who had a dog jump up on his fender of his 69 Super Bee, at the Bentley car show. It should be up to the people hosting the event to make sure to leave the pets at home ".
SARAH:"One time I will have to disagree, my little Divinity has been doing car shows since she was one month old, that old girl has more manners than most humans do. She prances around checking out the hotrods and doesn't bark at anyone, in fact I believe she sometimes gets more attention than the hotrod does. Now with that said I do not bring her if its a show and shine on pavement as their poor little feet burning is just not fair at all. When it comes to going to the little girls room, she'll give me the look like its time… and I will have to escort her away from the field of cars to a grassy area where she can have some privacy. It usually ends up way out of sight as a lady just doesn't do those things in public. I can give your references if you would like to check she actually is that modest. For the most part some dogs should never be brought to a show, but my little girl will amaze you. She and the hotrod are not usually parted."
Desertcruisers.com:"Thanks Jerry for the link to an interesting site".