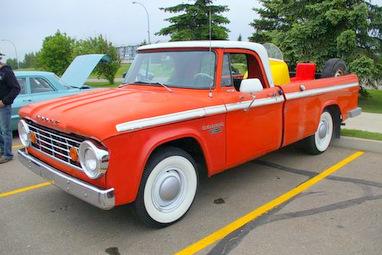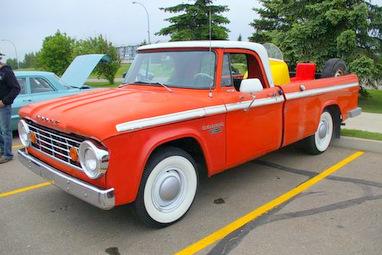 Frank bought this 1967 Dodge to sell-he's a Chevy pickup guy so even though this was a rare truck he wasn't sold on it.
But he knew Jack, the owner, so Frank trusted that this 43-year-old Dodge ran as well as it looked.
So when Jack told Frank that "he'd sell him this one" he took it…even though it wasn't a Chevy.
That wasn't a mistake.
In fact, this old Montana workhorse with the factory 383 cubic inch motor ran so well that Frank started working it into his daily routine. This started when Frank needed a truck to haul his lawn tractor and the Dodge was handy-after that became his snowmobile hauler – in fact Frank had a vintage Ski-Doo in the back of the Dodge for display purposes.
It's a nice solid, well-maintained, original survivor and Frank intends to keep it that way – he "hasn't done a thing to it" he "doesn't want to change a thing from when Jack owned it". Basically Frank knows that this old Dodge was a great find-even if it's not a Chevy he trusts it with real work.
It's not a show truck but it shows really well.
Frank knows that he won the lottery with this truck and his only issue has been the wheels-they have the built-in ring that pops out in a hurry so most tire shops won't touch them. That's not a big problem-it's more of a retrofit issue.
Other than that, the only thing that Frank did to the Dodge was add whitewall tires-he thought that the old brute deserved a little cosmetic upgrade.
But the reality of the Dodge's future is found in Frank's parting statement – he's "going to keep it, enjoy it, take it to the dump now and then and haul the odd sled".
For a classic Dodge in the hands of a classic Chevy guy that is high praise.
Jerry Sutherland @mystarcollectorcar.com