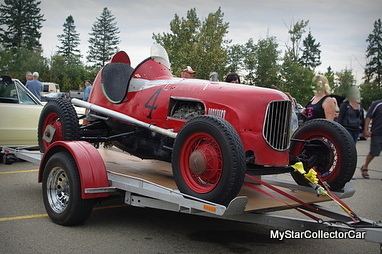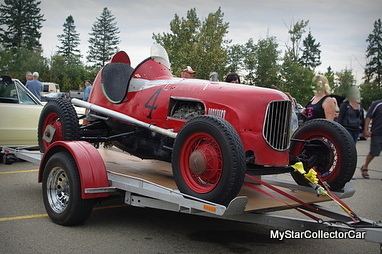 There was a brand of racing back in the late 1940s and early 50s that really captured the attention of small towns and cities throughout Western Canada.
They set up dirt tracks and raced in front of full grandstands at fairgrounds throughout the area.
Very few of these cars survived intact and even fewer stayed in the same family for decades.
Robert Weidner is the lucky owner of his father's vintage racer because it still is part of their legacy. Robert is part of the Weidner Motors operation–a very successful family run business.
Robert explained the history behind this unique ride: "My Dad used to race it in the 1950s on the weekend and work during the week. They'd race from May to August in places like Lacombe, Red Deer Exhibition grounds, Lethbridge and Calgary".
These cars were part of the Alberta Racing Car Association and Robert was a huge fan of this organization, "That was exciting racing and they were a good group".
Robert looks at this era as a very fond piece of his childhood, "I was ten years old and I got to watch my Dad race on weekends-that was pretty exciting for a kid. We've had it since the early 50s and its last race was in 1955".
This was a family-oriented activity and Robert explained why that worked, "We had a very supportive mother because it wasn't much fun for her to stay home".
Racing in the early 1950s was much cruder than today's hi-tech world but many of today's innovations and thought processes were spawned from cars like this because the concepts are the same in either era—save weight, handle and get maximum power.
Robert explained some of the technology behind this vintage speedster: "Its brakes are cable so it's 1938 or older and the cable is tight on the driver's side and loose on the passenger's side so it turns left easier".
There was nothing hi-tech about the start-up procedure either: "You have to push start it to get it going, there's no clutch, no flywheel so you got pushed and popped it into second to get it going".
This old champion was 100% homebuilt and that philosophy extends to the little details, "It's got homemade knock-offs because the car was broadside all the time so the nuts were exposed".
There were a few other modifications with the car over the years that came out of necessity as Robert recalled: "It didn't have a windshield but there was lots of dirt and he was getting up to 80 miles per hour so it seemed like a pretty good idea".
One of the biggest pieces of every old ride is the power train and this old speedster still runs its original racing engine, "It's an old flattie out of a late 40s Merc, they had to repair it a couple of times but it's still the same engine".
There are other pieces on this old champion that truly reflect a time, a place and Robert's father's personal touch: "He had medical tape on the wheel so that's why the tape is still there".
Collector car prices have hit stratospheric levels over the last few decades but this old dirt track racer is priceless because it represents so much to the Weidner family.
How many ten-year-old kids can watch their father race a car over 60 years ago and then own the same car in 2014?
That makes this car priceless but the real key to this piece of family and racing history is found in Robert's words about his dad's legacy car.
"It's exactly like it was when it ran its last race".
Jerry Sutherland
CLICK HERE to Like us on Facebook
CLICK HERE to Follow us on Twitter
CLICK HERE to Follow us on Pinterest