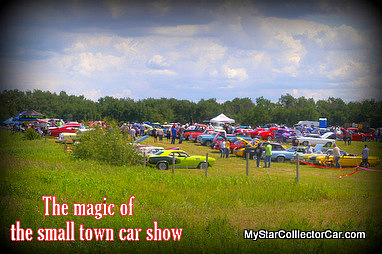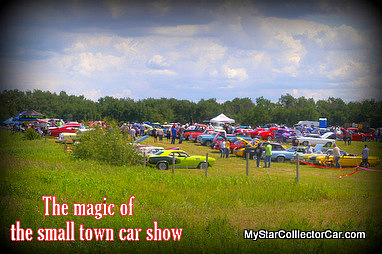 One of our favorite tasks at MSCC is any weekend where a car show in a small town is on our car events calendar.
There is something so right about a car show in a little town where the locals get to show off their trademark hospitality.
Time tends to stand still in small towns and the pace of life runs somewhere between laid back and very laid back.
Everybody knows everybody and there is a sense of community that is easy to spot when you get to a small town car show.
I have mentioned the car guy community many times in previous MSCC articles because there is also a true sense of community within the ranks of the car guy world. The vehicles are a good reason to break down barriers between people because they have a common bond of interest in vintage iron.
Place the car show in a small community and that breaks down even more barriers between people because the pace of life is slower and people get from fast to slow idle in a hurry.
I was at a recent car show that was staged in a pasture on the outskirts of the town. It is always interesting to see the locals react to each other and I had barely gotten into the event's entry gate when some of the local attendees came to a complete halt to take the time to say hello to each other.
There is always time to say hello in a small town and it seemed somewhat foreign to me because I am used to the urban concept where you have to keep moving, lest you form a human gridlock and anger up a bunch of strangers.
However I was not annoyed, on the contrary I was actually impressed with the locals' easy going style and probably a little envious that they had access to that relaxed pace every day in their town. It seemed like a club that had limited membership available only to those people who were smart enough to live in small towns.
But those of us who live in bigger cities can visit small towns anytime we feel the need to attend car shows or any other events that take us to their smaller communities so we can soak up the hospitality. I always appreciate conversations with the locals and the fact that they genuinely enjoy visits from us city slickers for their events.
We have been treated to everything from homemade pie and ice cream to super-sized portions of simple home-style hospitality during our visits to small town car shows. All of the organizers in small town car shows have taken the time to thank us for our visit to their events but, in reality, it is us who should thank them for their car shows.
This gives us a chance to spend time with some great people on their home turf.
Jim Sutherland
Follow us on Facebook at-http://www.facebook.com/MyStarCollectorCar
Follow us on Twitter at- https://twitter.com/#!/MyStarCollecto1