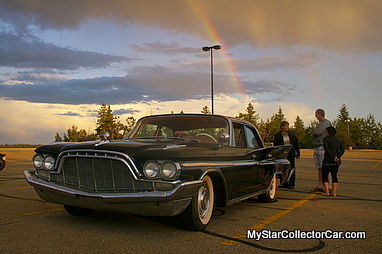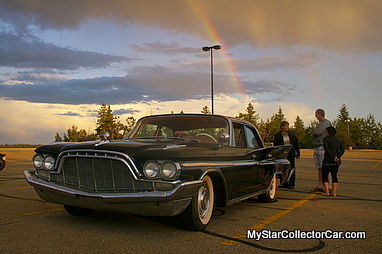 Every car guy on the planet dreams of the ultimate barn find.
The ultimate barn find is stored in the perfect climate-controlled building with perfect humidity and temperature.
You blow a little surface dust off it, uncover a pristine car with zero miles and it fires right up in three seconds.
This 1960 DeSoto Adventurer is not the perfect barn find.
Jeff Rallison found this car a few years ago and he was brutally honest about the condition, "It was in a shed and the body was just about rust-free but there no hood and no front end and someone had cut a piece of the trunk away. This was a southern Alberta car so it was pretty dry".
Jeff is a hands-on guy so he has no problem getting his hands dirty on a project. This is a huge factor as Jeff explained, "To most people this is just a four-door sedan but I really like these cars".
Jeff's reference to "these cars" means anything from the Virgil Exner fin era at Chrysler Corporation. He has a wealth of experience with Mopar fins and this '60 DeSoto called out to him.
He confessed, "It was meant to be after I found a parts car locally and the rest fell into place because these are pretty rare cars". That's an understatement because 1960 DeSotos didn't have huge production numbers and the survival rate is pretty grim.
The DeSoto was a marathon build for Jeff but he thrived in the challenge because he's that kind of guy. He admitted, "This was four months of going at it pretty hard. I sacrificed a lot of time for this car. In the end, I underestimated how hard it was going to be".
There were a few setbacks that contributed to the degree of difficulty in the project, "The front end was pretty bad and the engine was seized so I had to rebuild it. It was a donor 383".
A 1960 DeSoto commands a lot of attention at any car show and this one was literally and figuratively in the spotlight when he rolled up at a July car show. The car show had been inundated with a surprise rain shower and most of the participants went home to avoid a deluge.
The diehards stayed behind and they flocked over to Jeff's '60 DeSoto like he was a rock star late arriving to the party. Jeff went off the program with the paint so the newly-minted black and red finned classic was an instant hit with the car guys.
Jeff was on a shakedown cruise at this point so he was assessing the DeSoto from a technical point of view. He admitted, "The car wanders a little bit with the bias-ply tires", but overall he was happy with the results. The evaluation was extremely positive for an initial run.
Jeff was concerned about some issues with the ride height and there were a few glitches to slove but Jeff is a realist about project cars because he knows "you learn as you go" about potential problems and solutions.
The moral to this story is pretty simple-barn finds can be a dose of reality if you're not realistic because the most pristine barn find is still going to involve work and talent-this '60 DeSoto is typical.
Jeff brought the talent.

Jerry Sutherland