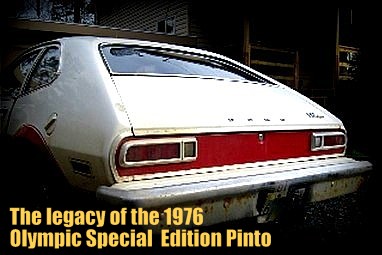 There are few people who even remember the Olympic Edition of the 1976 Ford Pinto.
There are fewer still who actually rode in one and the list gets even smaller for people who have unique memories of this little econo-box with the Canadian flag decals.
I'm one of those guys.
My brother Stu was a liaison officer with the RCMP and he was posted all over the globe in some fairly unsavory places. His job was to track the drug trade in countries like Columbia, Thailand and Jamaica.
Stu ended up in Kingston, Jamaica in the late 1970s during one of his stints and he needed a cheap little car to get around on what loosely passes for roads in Jamaica so he bought a brand-new 1976 Olympic Edition Ford Pinto. Stu was a smart guy so he knew when he left that he would double or triple his money on this little Ford because Jamaica was so car-starved.
My brother Jim and I decided to visit Stu over Christmas 1978 for a few weeks of serious partying-Jamaica style. Stu showed up at the airport in the 2-year-old Pinto and we all squeezed into the less than generous confines of a 70s compact. Stu drove through Trench Town to get to his place and from the back seat of a Pinto it wasn't nearly as cool as it looked on Bob Marley albums.
The roads were brutal and the little Pinto was clearly worn out from the daily battles with potholes so it wallowed around like it was on water balloons. The other thing was the wrong side of the road issue because Stu kept asking if it was safe to pass and that came down to a judgment call from the passenger side of a left-hand drive car in a right-hand drive world.
This is a family-oriented site so I can't quote Stu verbatim when I made the wrong call but his comments would have earned him ten Hail Marys in the Confessional at church. In fairness to his passengers, how much jam did a four-cylinder Pinto with an automatic have on its best day? This one was running on the 4-dollar-a-gallon kerosene (1978 dollars) that passed for fuel in Kingston.
Stu gave us the grand tour completely around the country of Jamaica so we ricocheted off a lot of teeth-rattling potholes in the Pinto over a few days. Again, I can't get into details about the nightlife but I can admit there was a Jim and Jer fistfight for the front seat after some extremely late rum-laced nights on the Stu Sutherland Island Tour of Christmas 1978.
Jamaica was a hotbed of politics so there were gas riots that blocked streets. Stu would turn down a road ,find it blocked with a raging tire-fire barricade, unleash a barrage of swearing that would humble a Teamster and whip the Pinto around.
Despite the obvious visual of a street blocked off with a raging bonfire the only real danger came one night when we hit a pub run by a fellow Canadian. There were a million gallons of rum consumed that night but Stu was always on cop mode and he spotted something amiss down the driveway. There were two guys on each side of the exit so Stu ordered everyone into the car and he pinned it up the driveway and pulled a Dirty Harry turn on the main street.
These guys had already scattered because the Police Chief was driving by and they don't read rights in Jamaica. Stu had it pegged because the Jamaican Jesse James Gang was running what they call a "mousetrap"-that's where they stick a gun in both windows at the end of a dark driveway, shoot you and rob you.
Stu was going to brush one of them with the fender if he had to get out of it but to this day I wonder how much the little Pinto would have folded if he had to take out a fully grown adult male. I was in a Vega once that hit a fairly small deer and it sure wasn't pretty.
Stu is gone now after a badly-set broken leg cut his life short in 1986 but there's a good chance that Special Olympic Edition Pinto is alive and well in Jamaica.
My inner car guy tells me it would be worth the trip to find out…
Jerry Sutherland