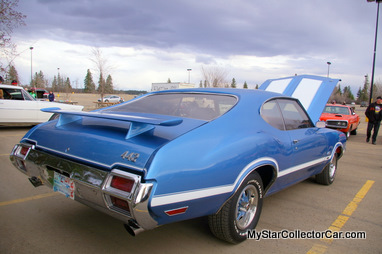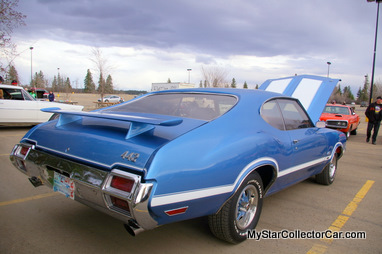 Jason Cole acquired this classic Olds muscle car the old fashioned way-he horse-traded.
In this case the "horse" was a well-optioned 30-foot travel trailer but the net result was simple…
Jason became the proud owner of one of the rarest and muscled-out Oldsmobiles ever made.
He's a self-admitted "diehard 1969 Camaro guy who used to own an 81 Camaro" but this Olds was a deal that infatuated him from the outset. The former owner was reluctant to sell-in Jason's words he said, "I don't know if I can do a deal".
One phone call later-presumably to his wife, and the tone of the negotiations changed. The seller was building a house and the trailer worked much better as accommodation than a 71 Olds. The owner told Jason, "let's do the deal, here's your new car". That was the news that Jason had hoped for and he was on his way to pick up a rare 442.
This is a documented, low mileage 47,000 mile 442 and Jason's first piece of advice in a never-ending supply from car guys was "keep the miles down". It was originally a brown car but the last owner decided to do a ground-up rotisserie restoration and the first decision was to make a color change. The car is still an Olds factory shade (Viking Blue) but the factory brown is history.
Jason's car was done right-it's a 3-year factory correct restoration (paint excepted) so it has the runs and factory flaws built into the project. Jason pointed out how pristine the Fisher sill plate was and how the holes were left in the front bumper for the optional fog lights. His only regret was that Olds chose to paint the inner fenders red so he's constantly explaining that fact to less informed car guy.
The 442 was a very well optioned car with a Tic Toc Tac, 3.08 Safety Trac rear end, W-30 455 (425 horse 565 ft. pounds torque). It has the very rare windshield with the built-in antenna and the deluxe steering wheel is in mint condition.
These monsters were the ultimate stealth cars back in the early 70s until they started pounding on everything at the local track or on the street. Suddenly the Oldsmobile name went from boring to feared.
Jason will back up that fear factor. He explained what it was like to drive to drive this alpha male muscle car " I was racing a Chevelle and I beat it like it was tied to a tree, you get it up to highway speed and it just hums".
That performance comes with a very real 2011 cost-this car takes 55 dollars for half a tank of gas…and that disappears fast. Jason has driven this car to a number of local events so the expenses haven't beaten him up to the point where this is a garage queen.
In fact, that will never happen as Jason explained, " I compare it to a stress reliever, there aren't many things that you can do on a weekend that ere this much fun without getting into trouble".
The best horse trade ever made…zero for 425 horses.
Jerry Sutherland
For more passionately committed car guy stories please follow this link-https://www.mystarcollectorcar.com/