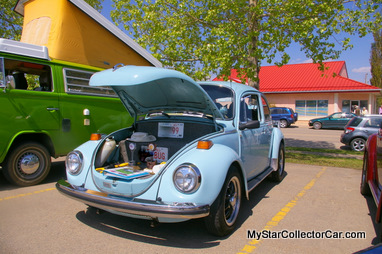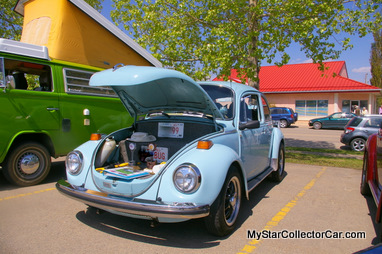 Howie Friesen met this 1973 Volkswagen Beetle long before he owned it.
He helped his sister in law buy it back in the 70s after she decided to learn to drive.
A Beetle was a natural fit for a new driver because they take so much time to build up serious impact speed.
The little German clearly made an impact on Howie because he jumped at the chance to own the Beetle when it came up for sale.
The car was a daily driver in a non-tropical climate until 1997 proving yet again-how hard it is to kill a Bug. It had a few misadventures on its journey including a crash via a goddaughter's momentary lapse in good judgment but it stayed with the family since Day One.
Howie's big break came on his sister in law's 55th birthday when she told him "I'll sell it to you for a buck". She had never forgotten Howie's generosity and fearlessness back in the 1970s when he taught her to drive. The Beetle seemed like a very appropriate repayment plan.
The adventures continued. The windshield washer motor caught fire and barbequed the interior but Howie was undaunted. The fire was put out, the dash was custom made and the seats were replaced more current examples from a 2004 Hyundai.
Howie's not a "leave it stock" guy so this VW has its original block but it's been tweaked with high ratio lifters, dual carbs and headers. Howie estimates that it's running about 72 horses and that increase is like a rocket launcher for a Beetle.
This is not a trailer queen but Howie admits that he did tow the Beetle down to Anaheim to use as an urban runabout. He said "he loved driving through L.A. in it because everything is done at 40 miles per hour but his wife wasn't a happy passenger".
Typically Howie does a fair amount of driving, consequently the VW is seen at many car shows within a few hundred miles. Howie is a car guy who can blend in with any crowd because he speaks Beetle-ese with his fellow "VW air guys", yet he's just as comfortable at car shows surrounded by vintage North American muscle where he is most often seen with a passenger.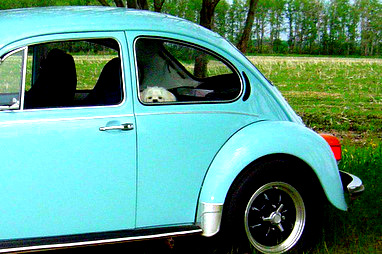 Not his wife or kids but his furry little 4 –legged buddy.
Jerry Sutherland
For more car guy stories please follow this link-https://www.mystarcollectorcar.com/