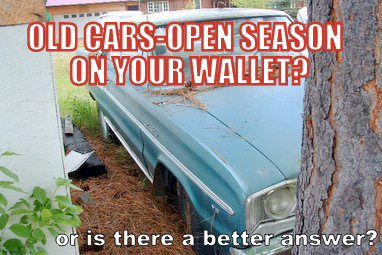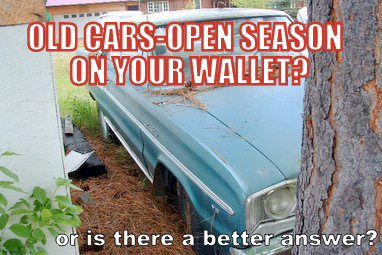 The starting line of a vehicle restoration is also the start of many questions.
'One of the biggest questions is whether or not to take on the job as an active participant- or writer of checks for other people to do the work.'
For starters, you've got to ask yourself one question: "Do I feel competent?"
The answer is just as critical as the punk's answer to Dirty Harry while Harry stuck a gun into the equation. There is no sin for a prospective car guy to admit that he knows his limitations.
This kind of personal acknowledgement might prevent a road tragedy in which an unskilled mechanical wanna-be butchers a restoration job. Even worse, Mr. Shadetree may have taken a perfectly safe old vehicle and turned it into a dangerous street hazard after he carves it into a resto-mod.
The start of any car project has to begin with a basic personal inventory of crucial skills that will make or break the vehicle in question. If you check the box marked "none of the above" when it comes to mechanical, auto-electrical, welding, body work or any other very important skills, than you will need help.
Help may be a tutor or some basic courses in all of the above to establish whether you have the right stuff. Anything less in this department means a swim in the deep (and shark-infested) end of the pool. You want the welds to hold and all of the important parts of the steering and brake assemblies to stay together much longer than a Hollywood marriage.
If you are not the guy for the job, then a well-qualified professional is your best bet.
Think of the experience as an automobile version of root canal surgery. Most people would shy away from any attempt at this medical procedure. And even less people would volunteer to let a shade tree dentist take a run at the job.
However, there are more naturally talented car guys than there are naturally talented root canal specialists. So the idea of wrenching on a car project is not a reach for the right combination of natural ability and experience in some guys.
The ability to tackle a personal project can save a lot of cash for the right guy. But even the best of the back yard guys should make sure that they are headed in the right direction. The smart ones stay in consultation with the pros and know when to stay out of the deep end where the water is clearly over their heads.
There is always a sense of pride when car guys are intimately involved in a restoration. They can put their personal stamp on the vehicle. But there is really nothing wrong with ensuring that your dream ride will stay together after a restoration or resto-mod. Your involvement may only be as a check-writer for a professional job.
But, if you think that is not a challenging part of the equation, try explaining the final bill to your wife.
P.S.-THE CAR IN THE PICTURES IS AN EXAMPLE OF A SUCCESSFUL  PROJECT THAT CAME IN UNDER BUDGET-DETAILS BEHIND THIS MIRACLE WILL COME LATER THIS YEAR…
Jim Sutherland
COMMENTS
DENNIS:"There's even more to it than that . A word to the wise. Even if you have built tons of Rods and Customs in your life, tread softly into antique cars, like a Model T Ford, for instance.
"Horseless Carriages" weren't built by "car people", they were built by Blacksmiths! Everything you think you are doing right, is usually wrong.
I bought a 27 Ford Tudor Sedan to build a 50's era, Flathead V8 powered, Hot Rod out of it. THAT I know how to do, I've built Hot Rods before. Then, I got it home. It was so complete and original and still running, I just didn't have the heart to cut it up. I found myself in the antique car game. A stranger in a strange land.
Fortunately for me, there are 60,000 (+ or -) of these things (out of 15,000,000) still on the road and a whole crowd of Model T guys happy to help out.
"Stupid questions" are a whole lot cheaper AND SAFER, than stupid mistakes. If you have any doubts about what you're doing, ASK SOMEBODY whose done it already!