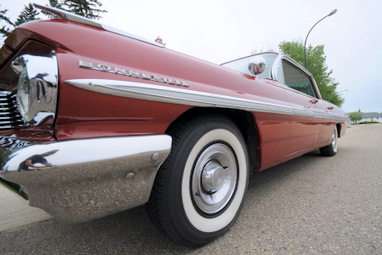 Don Durand was working in the Wyoming oil patch back in 1962 when he decided to buy a new car.
'This Pontiac was purchased at Collinwood Motors in Greybull Wyoming for $3550.00 (list $4263.47)-not a great deal of money now but it was a significant purchase 48 years ago.'
That didn't matter.
Don loved the look of this wide track Pontiac–even though the wider stance got him hung up in a car wash the first time he took it through. This was a family car that took them on many trouble free vacations and one emergency-Don's son had a medical emergency back then and he did a 160 mile night trip on twisting Colorado roads in two hours. The car has a speed buzzer past a set point-Don's was set at 110 mph and he remembers it buzzing for the whole trip.
Do the math-this Poncho was literally a lifesaver with its handling and speed. A Volkswagen microbus may have given the story a sadder ending but the 389 V-8 in the Pontiac made it look easy…
Somehow Don managed to use this car as a family hauler and still keep the original upholstery in mint shape-better than most cars you'll find in a museum. That is nothing short of a miracle.
Clearly Don had a strong attachment to the Bonneville and he took it one step further-he kept it even after it was taken out of regular service. Now it has 138,000 real miles on the clock and it still runs like it did in 1962.
Don decided to "spiff it up a bit for a wedding" back in the early 90s, consequently the Pontiac was repainted-but other than that the car is like a time capsule for both Don and the people who look at this classic Bonneville.
Don has a few other cars but the Pontiac is clearly his favorite-in his own words "it's been the family pet for a long time".
'With that kind of attachment it's clear that the car is going to be around the Durand family for a long time.'
Jerry Sutherland @mystarcollectorcar.com