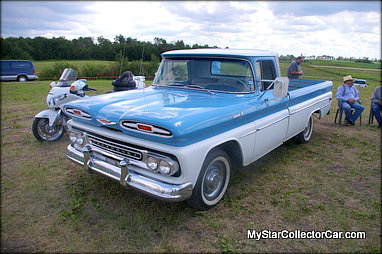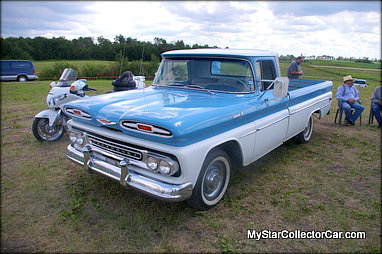 We spotted this striking Chevy truck at a small town car show.
It turned out that it was a birthday gift for its current owner, Colleen Wudell.
Colleen's husband Don had purchased the truck for her to celebrate a milestone birthday with an appropriate gift.
An appropriate gift for Colleen in this case was a specific year and make of truck and Don knew exactly what his lovely wife wanted for her birthday: she wanted a 1961 Chevy because, in her words, "the best is good enough".
The truck spent its entire life in Texas and Virginia before it came to its current home in rural Alberta, Canada. It even has farm plates because Colleen and Don are practical people, so the Chevy has to perform some light tasks around their place.
This is, was and always will be a working truck on the Wudell farm. This Apache was the upscale version of the Chevy truck but back in '61 very few suburbanites bought full-load trucks. Trucks were not simply Cadillacs with storage space in the early 60s like they are in 2012.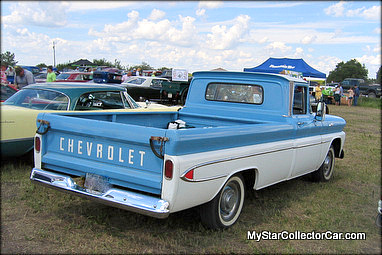 We will call its life one of semi-retirement with Colleen and Don, but one of its new jobs is to impress people when they find a little time to take it to car shows. Spare time appears to be somewhat limited for the Wudells because they were at a car show in a small town about a half hour from their home and it was one of the first shows for the truck with Colleen as the new owner.
Colleen has been the proud owner of the truck for about a year now and we would guess that she will be the owner for many years to come.
The Chevy has a small block V8 and a factory installed overdrive transmission for it to travel down the road at a decent speed without redline rpms. Both features add up to more than enough capability to keep up with modern highway speeds, but Colleen chooses a more leisurely pace in her birthday gift.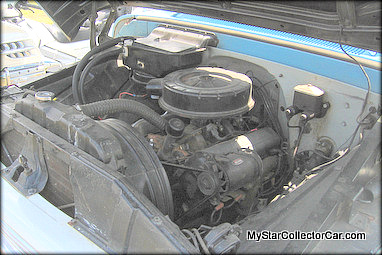 She keeps the speed around the double nickel (55 mph) mark when she is on the road and clearly pays little heed to the Sammy Hagar "l Can't Drive 55" song. Our best guess is that Colleen listens to more country than rock on her truck's radio, so Sammy's song and philosophy would not be on her playlist.
Colleen seemed like a laid-back country girl who sets her own pace, so a leisurely trip in her now-favorite birthday gift is simply a good way to take the time to enjoy the journey in a classic Chevy truck from the General.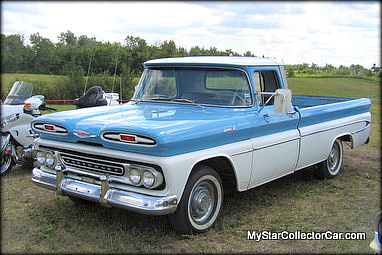 We applaud her husband for a very wise choice in birthday gifts because this 1961 Chevy long box is clearly a home run with Colleen.
Jim Sutherland
Follow us on Facebook at-http://www.facebook.com/MyStarCollectorCar
Follow us on Twitter at- https://twitter.com/#!/MyStarCollecto1