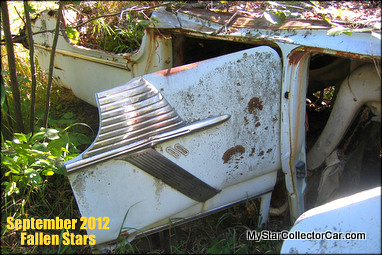 SEPTEMBER 2012 FALLEN STARS: LIKE AN ARCHEOLOGICAL DIG THEY'RE HARD TO FIND
One of the most popular sections at mscc is the Fallen Stars section but it's also the most difficult section to meet the monthly deadline.
Fallen Stars are like archeological digs because you have to sift through a lot of dirt to find an artifact.
It gets worse because these "digs" for decrepit old cars and trucks are vanishing faster than summer heat in September because of stupid nanny state laws.
Essentially these laws work heavily against accumulating a number of cars that "need a little work"—regardless of property rights.
The old iron limits are like fishing limits-they keep getting smaller.
Some of these cars were found in an area so remote that you needed to pack a shotgun as bear insurance so like a tough archeological dig, they involved a fair amount of work to uncover and photograph.
Here's a look at some old iron from several different areas. Some were much easier to uncover while others were just like an Indiana Jones movie.
The beat goes on for Fallen Stars.
For past Stars of the Day please follow this link-
https://www.mystarcollectorcar.com/3-the-stars/fallen-stars/1611-august-2012-fallen-stars-what-is-the-definition-of-a-fallen-star-.html
Follow us on Facebook at-http://www.facebook.com/MyStarCollectorCar
Follow us on Twitter at- https://twitter.com/#!/MyStarCollecto1