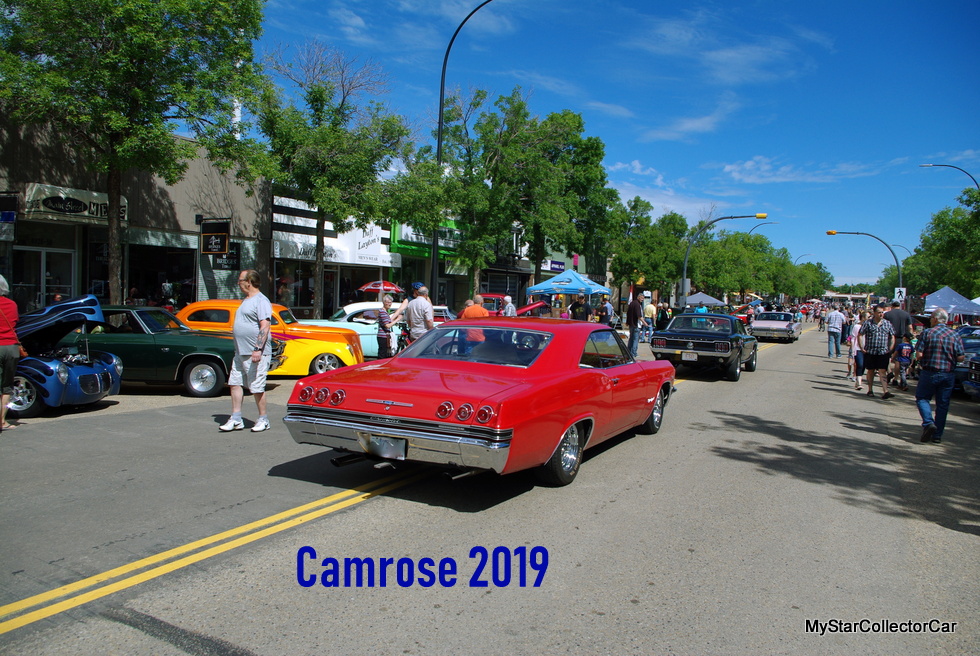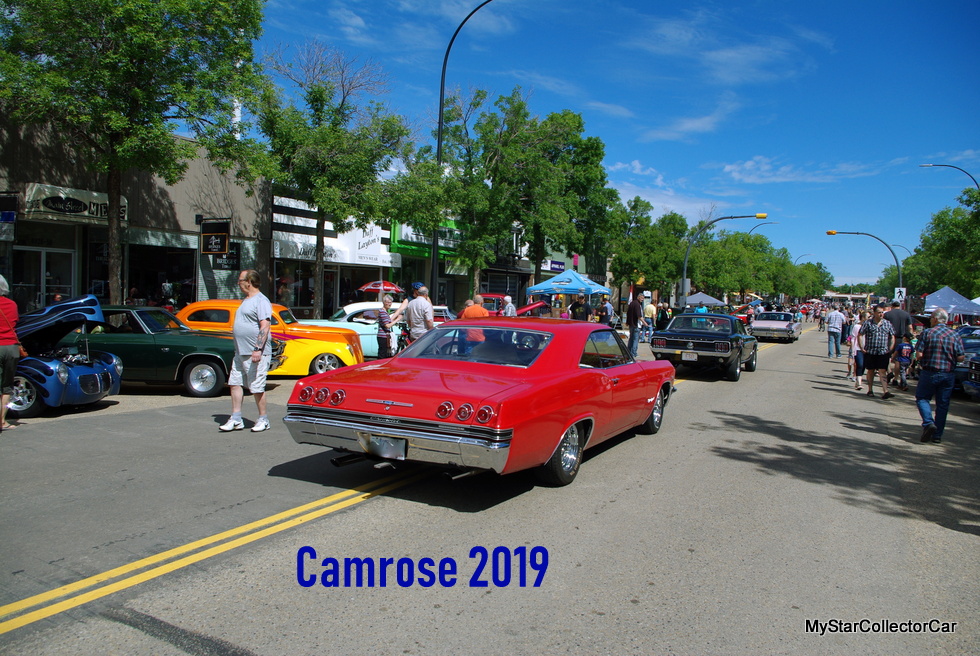 Camrose, Alberta is one of those towns that straddles a comfortable time frame between the past and the present.
It is a very clean community with about 19,000 residents that instantly reminds visitors of a bygone era when Main Street was the big dog on the porch for locals.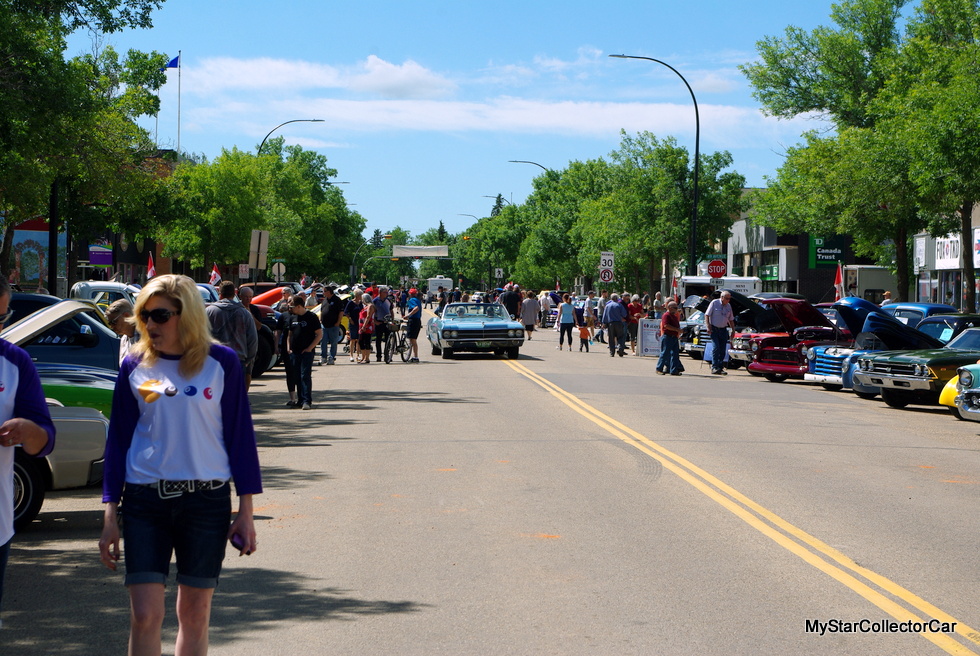 The annual car show in Camrose can be found on Main Street because the 21st century has not brought drastic changes to the largely retro architecture located in its downtown core–plus very cool vintage rides belong on Camrose's main drag. The 2019 Camrose Cruisers car show entries filled every parking space on Main Street and MyStarCollectorCar was able to connect with most of our targeted retro vehicle owners at the event.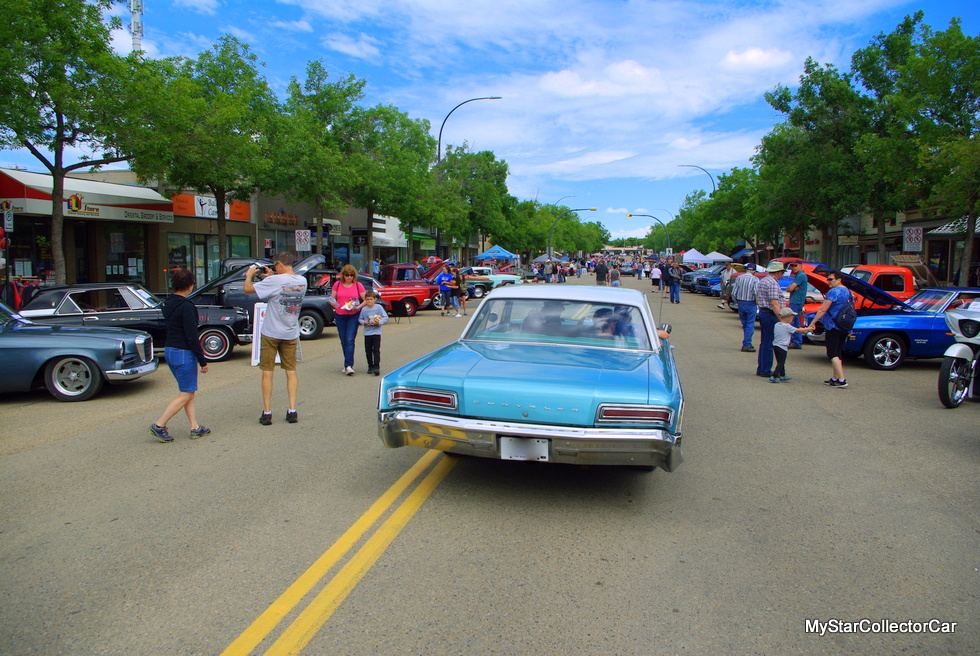 A 1955 Dodge Royal Lancer convertible got our attention in a big way at the Camrose show. The extremely rare Mopar drop top was a solid automotive version of a rock star at the show because it was a pioneer in the Forward Look movement made famous by famous Chrysler builder Virgil Exner–the man behind the legendary Mopar fin cars from the Fabulous Fifties.
MyStarCollectorCar was fortunate enough to get the entire story behind the '55 Royal Lancer convertible and will reveal all of the details in a future article.
A 1981 Camaro Z-28 camouflaged a raging mechanical beast under its hood because its owner built a horsepower monster wearing a very cool early 1980s GM skin. The Camaro's engine transplant involved 21st century technology with some clever power enhancements added by the car's owner.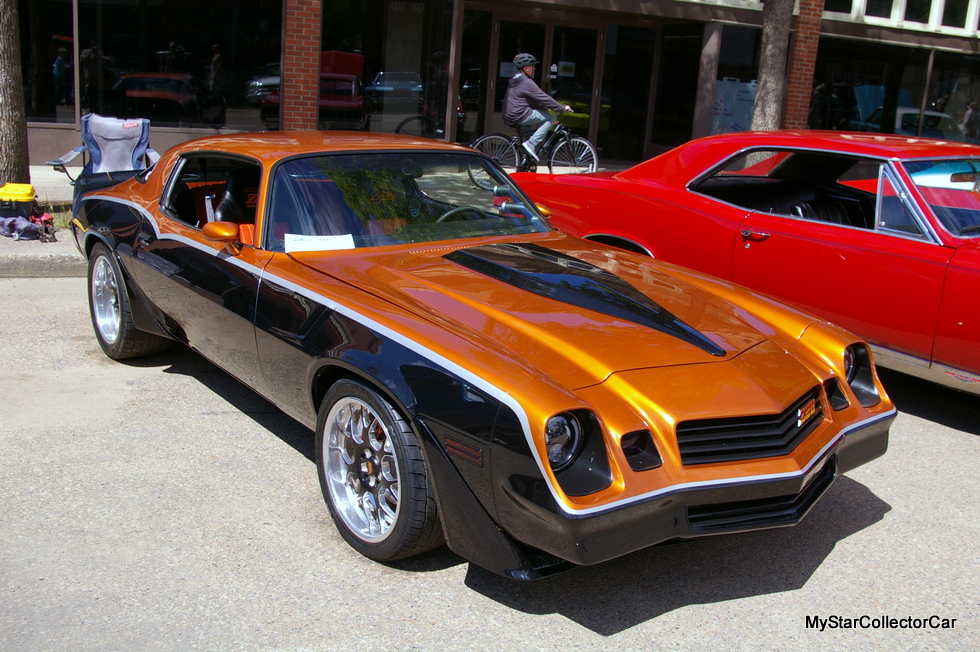 The talented builder told MyStarCollectorCar that his Camaro's performance upgrades would get it kicked off every ¼ mile track because of speed violations and no roll cage. We did not quarrel with his assessment because his Z-28 is now a one-of-a-kind Camaro on serious steroids. Look for the car's entire story in a future MSCC feature.

A 1954 GMC ½ ton truck was a subtle custom pickup that still retained plenty of its original style after plenty of changes made by a father and son team of dedicated car guys.  The son took the lead on the project because he is a dual ticket guy with mechanical and auto body specialties. Plus he is the owner of the vintage truck.
The son's skill set meant he was able to free-wheel on his '54 GMC and build a remarkable truck that had enough resto mod refinements to make the pickup a real conversation piece. Both the father and son also provided enough information about the build for a future MyStarCollectorCar piece.
A 1952 Pontiac Chieftain four-door sedan brought back to a very cool driver status is a story on its own.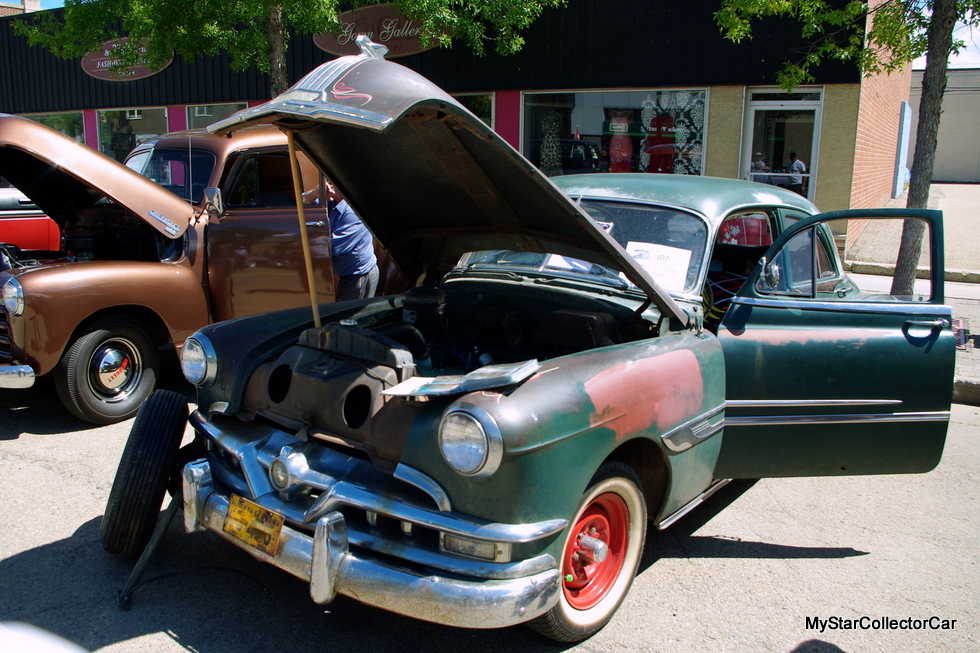 A '52 Pontiac owned by a young woman is an even better angle for a story about this remarkable 67-year-old car and MyStarCollectorCar will deliver that intriguing information in a future article.
Most people think 'Christine' is the default name for every 1958 Plymouth Fury in the world–except the owner of an actual 1958 Plymouth Fury two-door hardtop who stuck to the factory game plan with his Fury. Valuable hint: his Fury is not called Christine and does not have a red and white two-tone paint scheme.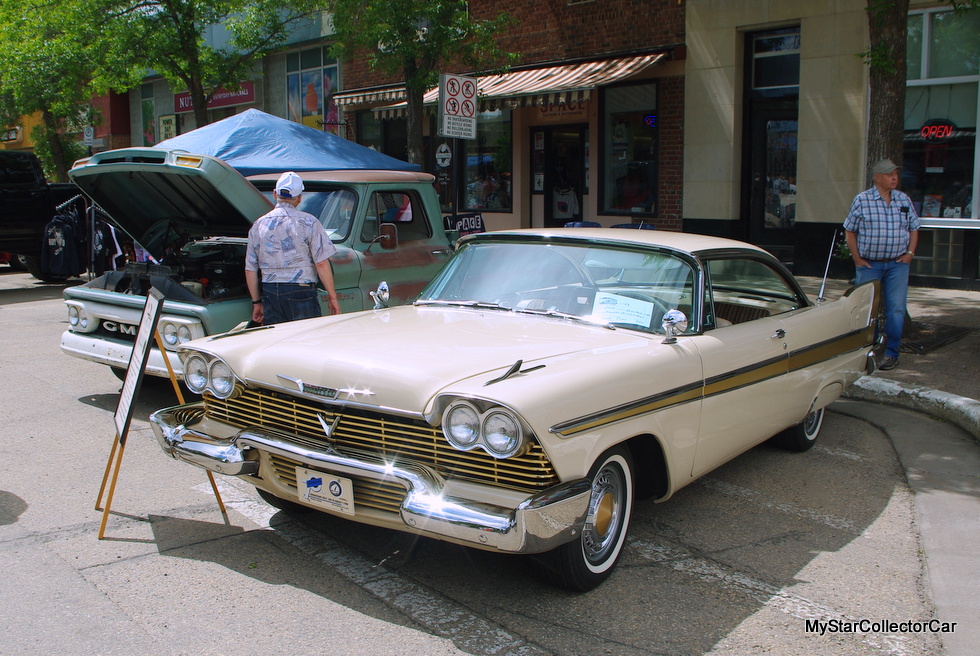 One guy called it Christine at the Camrose show and the owner even let him live after that insult. The owner also provided all of the details about his non-Christine Fury for a future MyStarCollectorCar feature.
MyStarCollectorCar would like to reach out to the Camrose Cruisers and have them contact Entry # 113 so we can finish the story behind a 1964 Mercury Comet four-door sedan that was restored to showroom condition and still had its original dealer sticker on the trunk.
The owner had taken great pains to preserve the sticker during the restoration process and MyStarCollectorCar was fascinated by the work quality behind the resurrection of this remarkable Ford sedan. The Comet clearly had a long history behind it and we would like to learn about it for a future MyStarCollectorCar story.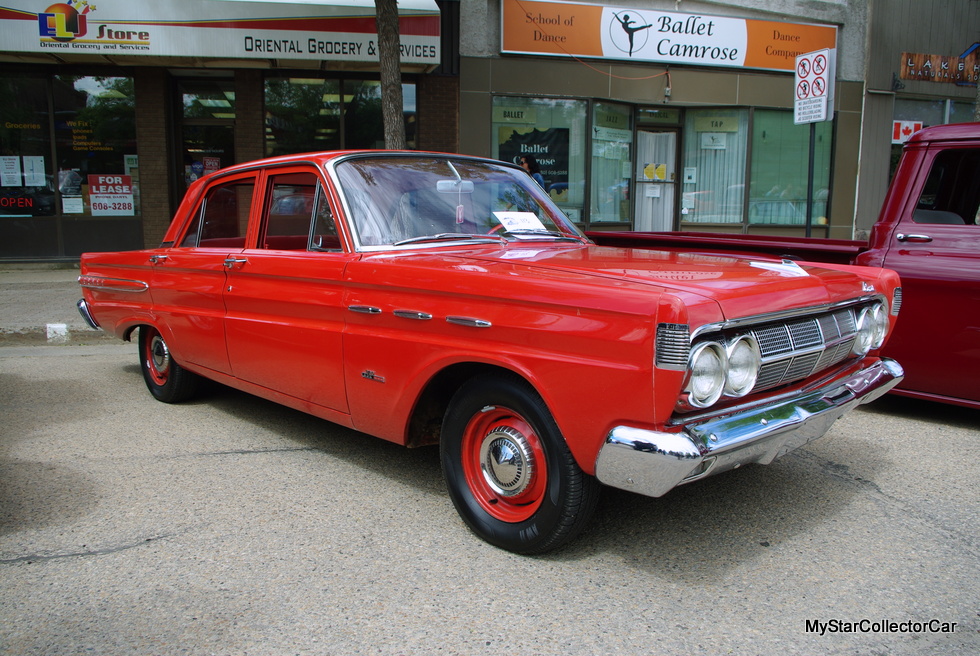 Any help in this matter would be greatly appreciated by us here at MSCC.     
BY: Jim Sutherland
Jim Sutherland is a veteran automotive writer whose work has been published by many major print and online publications. The list includes Calgary Herald, The Truth About Cars, Red Deer Advocate, RPM Magazine, Edmonton Journal, Montreal Gazette, Windsor Star, Vancouver Province, and Post Media Wheels Section.