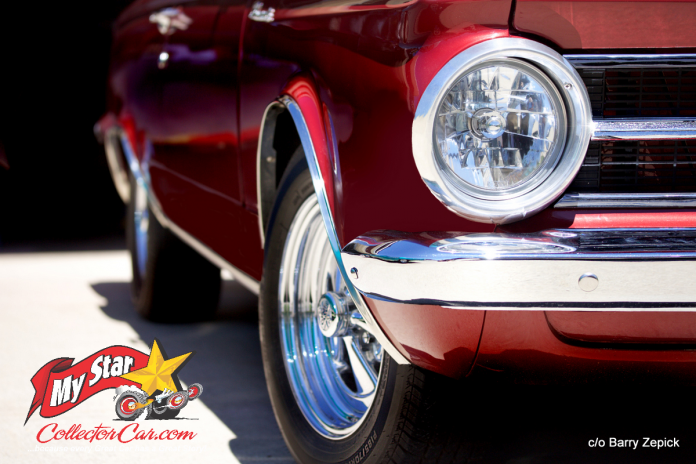 The world of small blocks and big blocks under the hood is vast, because it covers a wide range of Detroit makes and models—that's why you'll see a V-8 under the hood of most classics.
Barry Zepick is the proud owner of this 1st Gen 'cuda and he was clear about his goal with the Plymouth A-body when he found it over twenty years ago. He explained how, "everybody has a big block at shows" and he wanted to take the road less traveled with his car, so the slant-six was his go-to position.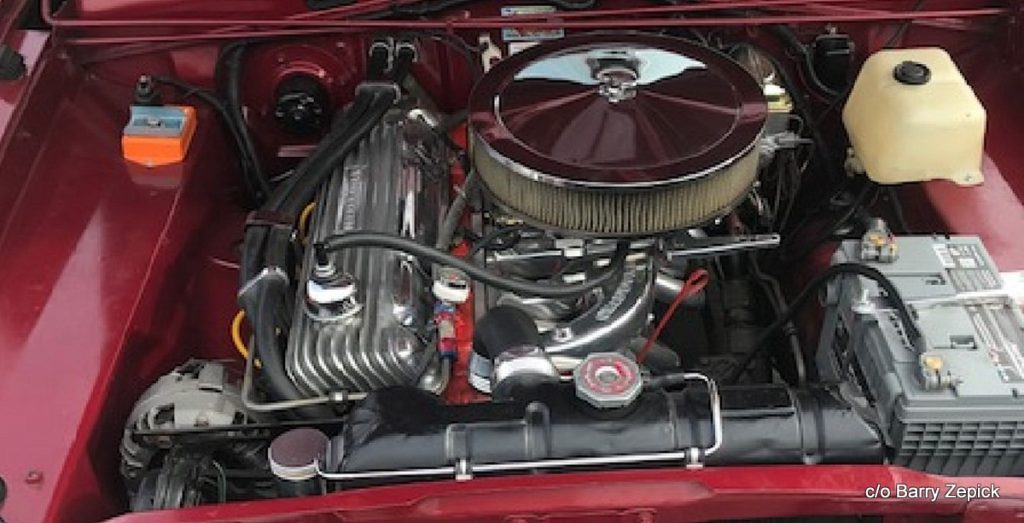 Barry found the car through a family connection—it was his "brother's-girlfriend's-dad's car", so he learned it was a Regina, Saskatchewan, Canada car and Barry was the second owner.  He said the car was "complete and in pretty good shape, but the power train was beat".

The car has gone from red to black back to red and the interior was red so Barry applied his own touches to the car, including a new white, "glove leather-like interior" and a factory shade of paint. It came with factory discs and this Canadian version of the Barracuda also came with a Dodge Dart dash.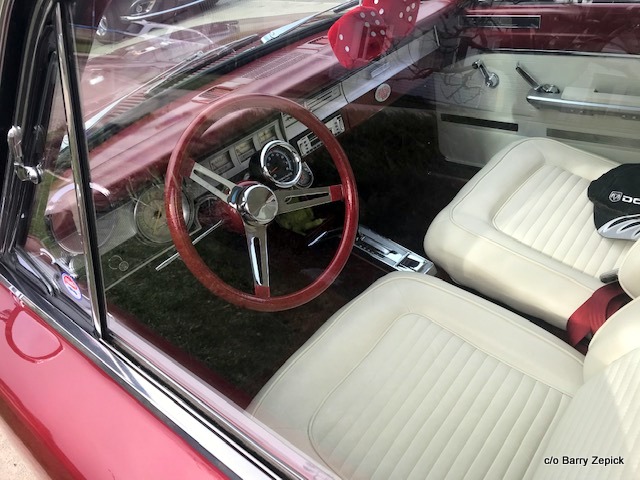 Mechanical issues were not a problem for Barry, because he had a major game plan for the car, plus he had the builder to complete the process. Barry said the guy "usually built race hemis", but in this case he built a slant-six with a lot more power.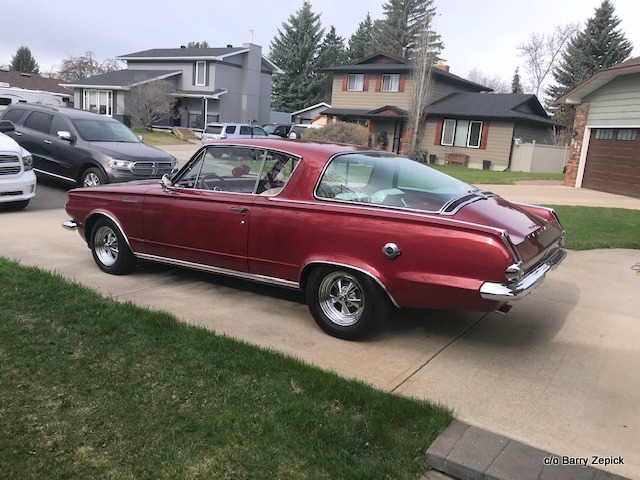 Barry said, "The car was bored 30 over; the heads were done; a four-barrel was added; the crank was ground; the cam was upgraded;" plus an upgraded ignition and headers were added. He estimates the car, "has about 250 horsepower" in current form, so it has a great power-to-weight ratio.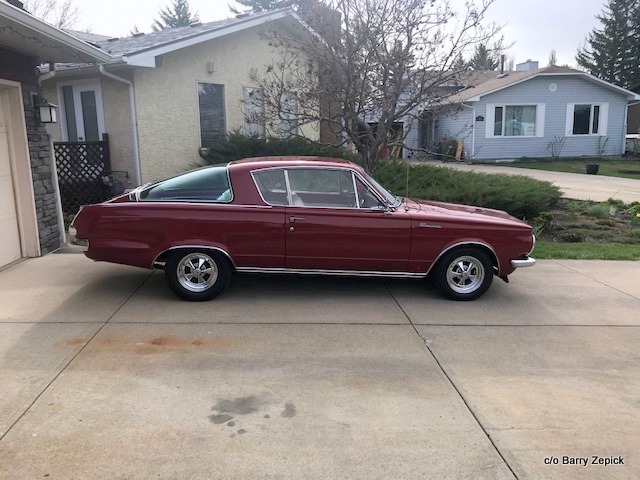 The Barracuda came with a 2:93 rear end and a 2500 stall transmission–that wasn't the kind of low-end gear ratio Barry needed, so now it has a 3:55 limited-slip gear to get the little Barracuda motivated off the line. The change was effective because Barry admits he, "beat a guy with a Hemicuda" so that's a big endorsement for the slantie's pulling power.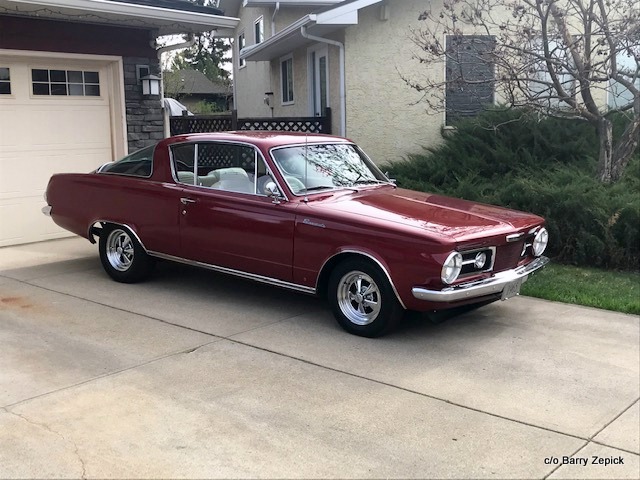 The sound of the car has changed dramatically because Barry said "it sounds like a big block at the front-end and a six at the back end because it doesn't have the growl—even with the dual exhausts". The Barracuda isn't a highway star because its revs are 2500 rpm at highway speed, consequently gas mileage is between 15 and 18 mpg. Barry admits, "it has a small tank" so he makes a few stops.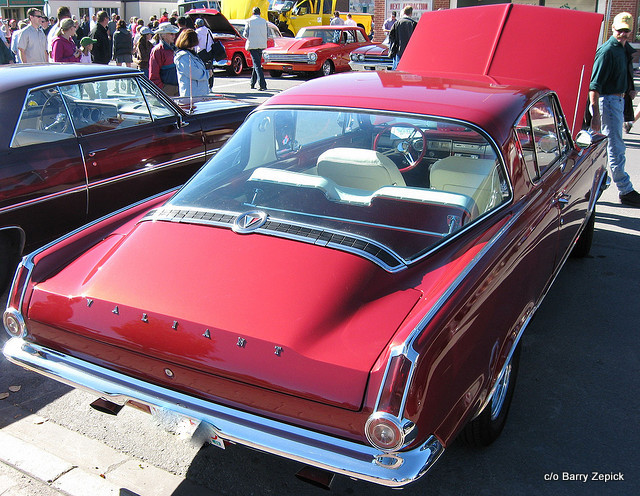 Barry said he, "doesn't drive it a lot" but when he does, older guys like to talk to him about the car because they either "owned one or knew someone who did" so the conversations are frequent and in-depth at car shows. The other thing he has found about his Barracuda is, "People either love them or hate them", because they don't enjoy the same rock star status as the '70 and up 'cudas.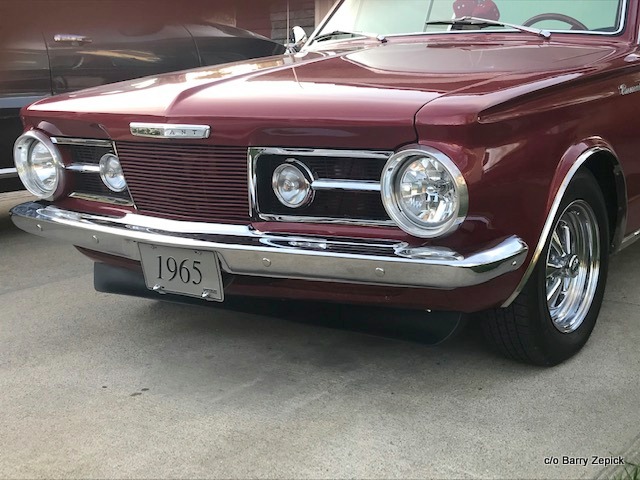 By: Jerry Sutherland
Jerry Sutherland is a veteran automotive writer with a primary focus on the collector car hobby. His work has been published in many outlets and publications, including the National Post, Calgary Herald, Edmonton Journal, Ottawa Citizen, Montreal Gazette, Saskatoon StarPhoenix, Regina Leader-Post, Vancouver Sun and The Truth About Cars. He is also a regular contributor to Auto Roundup Publications.
Please re-post this if you like this article.