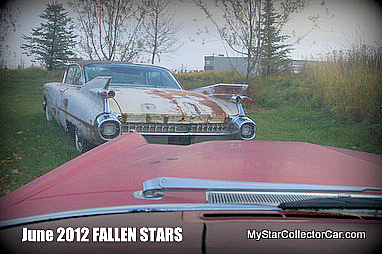 This month's Fallen Stars are an assortment of makes, models, styles and degrees of difficulty. Most of them are well within the range of resurrection – only a few are well within the glorified boat anchor category.
The Fallen Star is the most difficult vehicle to quantify as an investment in the old car hobby.
Many car guys (the less experienced in particular) get buck fever with a project so they either pay too much for a car that's barely parts-worthy or they take on far too much for their range of skills in the restoration arena.
For past Fallen Stars please follow this link- https://www.mystarcollectorcar.com/3-the-stars/fallen-stars/1508-may-2012-fallen-stars-do-they-all-have-to-be-recycled.html

The basic rule of thumb is simple. If you have any doubts about your skill and/or your bank account leave these Fallen Stars for the next guy. It's a lot like having a Boy Scout badge in First Aid and expecting to pull off complicated neurosurgery.
The results aren't pretty in either case.
This advice comes with a huge caveat. If you are the only faint hope clause for a Fallen Star and it's destined to be metal confetti then do the right thing and save it. Deal with the consequences later – this probably isn't the first nor will it be the last time you make your wife mad.
Save the old car – it's not like you're cheating on her…
Follow us on Facebook at-http://www.facebook.com/MyStarCollectorCar
Follow us on Twitter at- https://twitter.com/#!/MyStarCollecto1