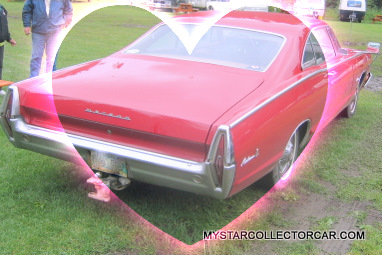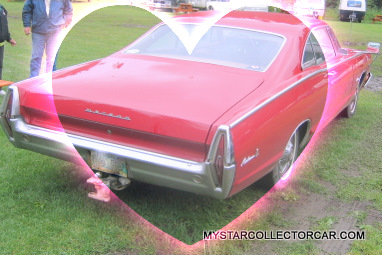 As part of our blatant and obvious attempt to lure female readers to MyStarCollectorCar for Valentine's Day here's car # 2 in the wedding car series.
This is a really nice blend-another story about a Coasters vehicle and a happily ever after story for a married couple and their beloved car. A Hollywood ending with a 1967 Meteor in a leading role-you can't make this stuff up…
Who says we can't lure that Valentine's Day demographic over to MyStarCollectorCar.com?
For John and Maria Snyders, marriage has always meant a long-term commitment to each other. But the Snyders have added one more ingredient into matrimonial mix: a 1967 Meteor that they have owned since day one when John picked it up from the factory.
Wedded bliss struck twice in the Snyders' household when their daughter used the venerable old family chariot for her bridal car.
A Meteor is essentially a Canadian Ford model that came from an era before the Ford brand became more of a universal North American label found in both countries.
This was the Snyders' courting car, family wedding car (twice) and years later, their cross Canada adventure car. In baseball terms-that's a grand slam home run.
Ownership of the 1967 Meteor was never intended to be a lifelong commitment similar to the Snyders' marriage vows- it just worked out that way.
John reflected that he "would have put in more options if he knew that he would keep the Meteor that long".
The car is essentially original except for new paint in 2000 and disc brake conversion.
The paint job was necessary because John and Maria's daughter used it as a wedding car and wanted it to look as it did for her parents in their newlywed days.
So the car has been a big part of the family for over four decades and it was a big part of their cross-Canada journey with the Coasters during the summer of 2010. It had performed flawlessly throughout the trip. http://www.coasters2010.com/
Clearly, John and Maria look after their vehicles. John apologized for some clutter in the immaculate trunk even though we reminded him that he was on a long trip and the trunk was not exactly messy.
But maybe the key to a successful marriage is the same as the key to a long relationship with a car. Look after the things that matter in both and they will last-if John, Maria and their beloved 1967 Meteor are an example.
Happy Valentine's Day
Jim Sutherland mystarcollectorcar.com