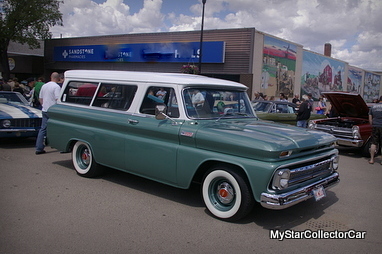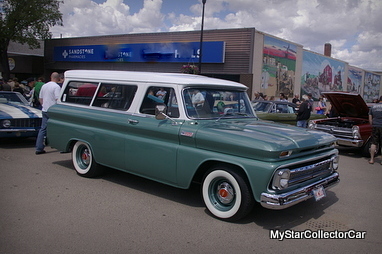 One of the most enduring names in the light truck realm is Chevy Suburban, a model that has been around since the 30s in the GM family.
The Suburban is essentially a truck version of a station wagon and was built to handle rougher conditions than a conventional station wagon.
The Suburban's truck chassis was sprung to handle hard work, so these rough use wagons could take people and cargo loads that would put a station wagon under serious stress.
Suburbans have been part of the first responder tool kit for many decades because of their ability to handle tough conditions.
We were at a show last year and found a beautiful 1965 Chevy Suburban parked right in the middle of Main Street of the small town. The show is big enough to make the center row of Main Street a primary place for entrants and this Suburban was very worthy of its place in the spotlight.
Its owner was Chris Helmer, a young guy who was "looking for a wagon and something different" nine years ago when he discovered his Suburban. He immediately knew "he had to have it", in Chris's words.
The '65 Suburban was traded into a dealership by its original owner, an 82-year-old man who was no longer able to drive a four-speed manual. The truck has its original 283 engine and was primarily used to tow a boat.
The boat excursions were clearly not frequent over the decades, so the truck only has 47,000 miles on it from the past 50 years.
The license plate bore the name Mr. Mojo and we asked Chris about the relevance of the handle. Mr. Mojo was his nickname as a kid and we concluded his mojo was good when he found the Suburban.
The truck is mostly in its original factory condition and still has dealer-added AC that still works for passenger added comfort.
This Sub is comfortable at 65 mph (100k/h) on the highway and Chris has put about 3000 miles on it since he became its new owner in 2006.
He has made only a few modifications to the Suburban, mainly a 2-inch drop and wider tires to give it a lower stance. The tires are also wide whites because Chris likes the way they look on his Suburban.
Chris also added dual exhausts to help the small block breathe easier under load. He was quick to point out he did not cut anything to make the mods because he respects the originality of his low mileage 50-year-old truck.
Location was important, as we mentioned earlier, the truck was situated in a prime location at the show, so plenty of onlookers were able get a look at an unusual guest. Few Suburbans were able to survive the years of hard work that was their very reason for existence.
Chris's 1965 Suburban was a pampered version of a truck model where most of its factory mates saw little TLC during their time on the road.
The mojo was working pretty well for the truck and its new owner because both were winners with this relationship.
Jim Sutherland
CLICK HERE to Like us on Facebook
CLICK HERE to Follow us on Twitter
CLICK HERE to Follow us on Pinterest
Please re-post this if you like this article.