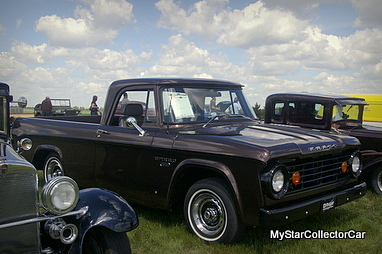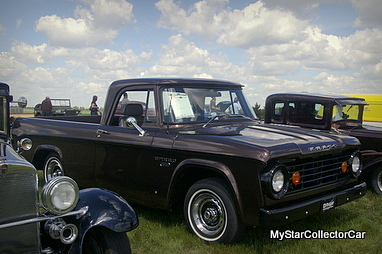 Jim Petty is a low key guy who gave us a matter-of-fact assessment of his beautiful 1966 Fargo half ton's build story.
Jim recited the details behind his resto-mod truck and it became very clear this guy is a talented builder.
Jim purchased the Fargo nine years ago, but he started the restoration four years ago and we ran into him at a show last June several hundred miles from his rural home.
The Fargo was more than road-ready and Jim was confident in his truck's ability to hit the highway for a long distance adventure.
Some of our readers may wonder; what exactly is a Fargo truck? It was a Canadian version of the Dodge truck and was sold by Plymouth dealers for many years in Canada, until it ended production in 1972.
Jim had a practical approach to his project. He decided to get the most out of its Slant Six engine, so he put a Super Six manifold and a Carter 2BBL donated by a 318 engine on top of the famous Mopar six-banger.
The engine was bored out and Jim added a livelier cam into the mix to build more power into the leaning tower.
Then Jim custom built a header system with dual exhausts to help the engine breathe better. He wanted to improve the truck from its woeful 12 mpg fuel "economy" and give it some extra jump. It now gets around 20 mpg on the road at highway speeds, so mission accomplished for Jim.
Jim added a 727 automatic transmission into the mix to give the truck a smooth-shifting and dependable tranny.

One of the biggest changes to the truck is not readily visible because the Fargo now sits on a 1976 Dodge truck frame.
Jim wanted to upgrade the truck to the newer frame to get rid of the lumber wagon front end axle and suspension found on 1966 Fargos.
The process was not easy because the Fargo cab needed to be channeled 3 ½ inches to fit flush on the '76 frame. Jim decided to go one major step further when he built a sub-frame under the box and merged the entire assembly with the rest of the truck.
Jim has created what might be the only unibody Fargo truck in the world, including his "unibox" sub-frame addition. The result is a very smooth ride that soaks up all the bumps on the back roads which surround Jim's rural home.
The original seats were replaced by some stylish leather seats from a 1994 Jeep Gran Cherokee and they also help soften the rough spots on those nasty country roads in Jim's area.
The tail gate was a custom design by Jim and features a bottom hinge built from a pipe.
Jim was heavily influenced by his father when it came to Mopars and even the dark chestnut color is pure Chrysler because it was offered on 1997-99 Dodges.
One thing is very clear when you see this amazing 1966 Fargo resto mod: the guy who built it has a boatload of talent.
Jim Sutherland
CLICK HERE to Like us on Facebook
CLICK HERE to Follow us on Twitter
CLICK HERE to Follow us on Pinterest
Please re-post this if you like this article.