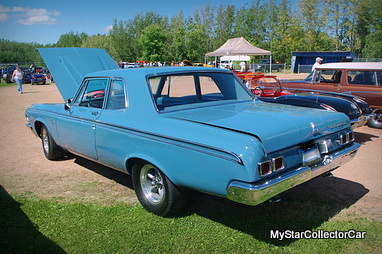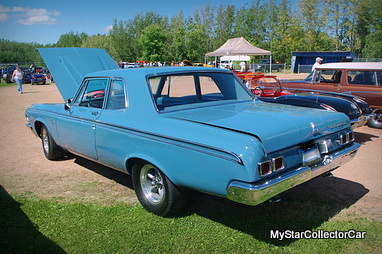 Mopar Super Stocks became legends in the 1960s when the Ramchargers came to town and took no prisoners at the track.
These cars were the definition of brute force because every time the competition upped their game these big, bad Mopars took it to another level.
That's why they bumped the engine from 413 wedge to 426 to the mighty elephant 426 hemi.
Jim Downie describes himself in one way, "I've always been a Mopar guy ever since I was young. My 1st car was a '67 Dodge with a 392 Hemi". Jim's a guy who lives the Mopar dream because he owns one of the coolest '64 Dodges ever built.
Sandy is Jim's wife and she has a different opinion, "It's supposed to be my car but he drives it. Our daughter drives it too and I get to clean it for the privilege although he's been pretty busy so he hasn't had it out".
This '64 Polara is a full bore street machine because it packs a big punch under the hood in the form of the legendary 426 Street Hemi.This is the traditional two 4-barrel version that every car loved or feared at the track.
This car is geared more for the track because it packs an 8 3/4 rear end with a 3:91 ratio so it's built more for straight ahead acceleration than fuel economy — if that's an issue with a 426 Hemi.
Jim is extremely happy with his '64 Dodge: "A guy out of California sold it and I found some old time slips and it ran in the high 11s but this has a 6000 rpm rev limiter now".
The key to a successful relationship with any old ride is a relatively civilized driving experience and this Dodge makes the grade, "It's got disc brakes, it's unbelievably smooth, really really smooth. I drive the heck out of it, it's got a nice rumble to it and I've had it up there a few times on the highway because it gets up there fast but the manual steering gives a better feel for the road than power steering. The cold idle is pretty good too".
Mopars like this were purpose built back in the day so there were a lot of modifications like aluminum fenders, van seats, radio delete and stripped-out interior. This '64 Dodge is more of a tribute to the days when the Ramchargers would unload their cars and watch the white flags rise from the competition but it's a more refined version.
Jim has run into a few problems with his Dodge but they're not mechanical issues, "I'm having trouble finding steel wheels for it and a few other things".
Jim's license plates are based on the phrase "Bat Sleeper" but astute car guys will spot the Super Stock heritage in the grille because it doesn't have the park lights — that was a Ramcharger trademark.
The other trademark was the elephant under the hood.
Jerry Sutherland
CLICK HERE to Like us on Facebook
CLICK HERE to Follow us on Twitter
CLICK HERE to Follow us on Pinterest