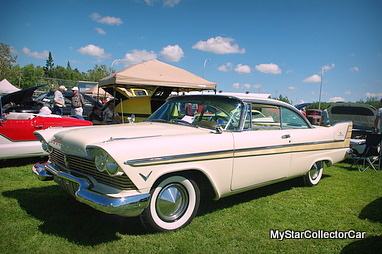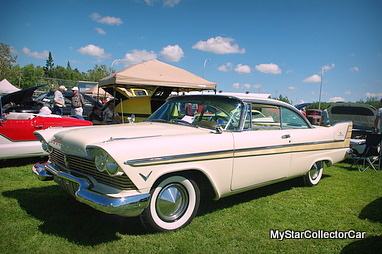 The Plymouth Fury was at the birth of the muscle car era back in 1956 – long before the Road Runner beeped its way into the hearts of car guys.
The 1957 Fury was an extension of the muscle car concept and it handled the role with ease because these cars were monsters on the street.
The biggest problem with a '57 Fury is finding one.
Gord Cumming admits the car gods were smiling when he found his '57 Fury: "I was very lucky to find it. I've always been a fin car guy but I expected to find a Savoy or Belvedere, I never expected to find a Fury I bought it on Canada Day".
Gord got excited when the details unfolded on the car: "Terry steered me to this guy because he knew it was for sale. The guy told me it's kind of white and I asked if it had an aluminum spear on the side and he said no, it's gold".
Things moved pretty fast after that, "I went to see it and when he showed it to me his wife said why don't you let him drive it?"
Gord is a discerning buyer so he dug into the car's history before the purchase: "Chrysler confirmed it's a Fury, the smoking gun was the serial number because it's body # 404 for Furys so I made an offer and off I went".
This is not an originally equipped Fury by any means and Gord was reluctant to open the hood at the show because he's a purist, "This was resto-modded so it had radials and mags and it's got a HP 440 now instead of the 318 it came with so I'm trying to get one out of the States. The fabric in the seats isn't correct , it's '74 Satellite Sundance, the dash pad is original but seat belts were added ".
Gord has begun the long journey back to stock for this legendary Mopar muscle car: "It had a super stereo in it but I put the original radio back in it. I've assembled the hard parts like the air cleaner and it's supposed to have power steering. It's got Belvedere caps now but I have the right caps ".
This '57 Fury is clearly a work in progress but that hasn't stopped Gord from spending time behind the wheel of his Mopar classic and he's had a few adventures: "I was concerned about whether it would fit in my garage but it was exactly the right width. It's never let me down but it did get pretty hot on one trip. It was running at 238 degrees, smoking hot so I had to turn the heater on and got it back home. I ended up pulling the whole water pump housing".
There are other factors involved with rare old cars, "I don't like to drive it unless it's to a show because stuff goes missing and it's really hard to find plus a lady almost ran into me".
Gord has a clear game plan for his '57 Fury: "Guys tell me it will drive better with radials, the transmission isn't correct but it will be when the engine gets swapped out".
The happily ever after part may be down the road for Gord but he's clearly the lucky owner of early Mopar muscle history.
Jerry Sutherland
CLICK HERE to Like us on Facebook
CLICK HERE to Follow us on Twitter
CLICK HERE to Follow us on Pinterest