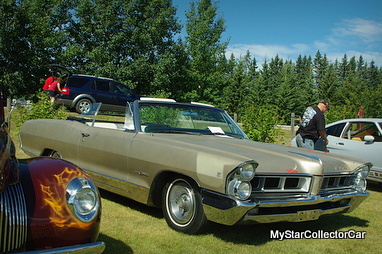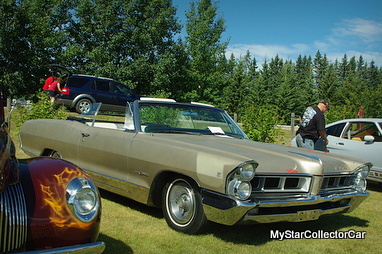 Mark Tomney knew it was time to get into the car guy game when his wife fully approved of his plan.
The odds of this happening rank right up there with the odds of shaking hands with a Yeti or going for a joyride in a UFO.
The happy ending part came in the form of a 1965 Pontiac Parisienne convertible.
Astute Pontiac guys know the heritage of these oddly-named Ponchos. They were built for the Canadian market and they are essentially Pontiac-skinned Chevys.
Mark explained how he was in the market for an old ride, "I've always been a car guy and now is the time to travel with my wife and my dog".
Mark's wife was emphatic about it when she saw the car as he recalled: "A buddy looked at this car for ten and owned it for five so when she saw it and said we have to have this car and I think it's because her dad owned one plus she really liked the front seat".
She gave Mark 100% buy-in on the Pontiac as he explained, "The fact that I bought it and drove away in it was great and two weeks later she asked what are we going to do next and I said let's go hot rodding".
These Parisiennes targeted the more frugal Canadian market and this car is a classic example when you look under the hood, "This is an original 283 car and it was pretty basic in its own way, I've got a 327 but I'm not going to mess with a numbers matching car".
There is a very familiar post sale process with a newly-acquired classic ride – it's called evaluation after the purchase.
Mark is a very technically-oriented owner so he mapped out the Poncho in a very clinical fashion: "All the wiring is done but it's kind of quirky and there are other safety issues like the springs because they cut the coils to lower the ride to match the bumpers rather than the frame".
Despite the questionable modifications to the old Pontiac, Mark is very clear on the direction he will take on the car: "I want to leave it intact, I'm keeping it original. Everybody wants to run rat rods these days but why make one when I've got this?"
Mark is clearly enjoying his time behind the wheel of his '65 Parisienne convertible: "It's like a brand new ride, I like to keep it low to the ground and it runs like a dream plus people keep taking pictures of it".
This car is a project in the works despite its driver status and Mark does have a goal for this old Pontiac, "I want to get it up to the point where it will pull my boat".
The Pontiac is the focal point of a very unusual scenario because there are very few wives who actively encourage their husbands to buy a car that's nearly fifty years old so that makes this unique Canadian Poncho even more unusual.
The answer to the future of this '65 Pontiac is less unique in Mark's own words.
"I'm absolutely keeping it".
Jerry Sutherland
CLICK HERE to Like us on Facebook
CLICK HERE to Follow us on Twitter
CLICK HERE to Follow us on Pinterest