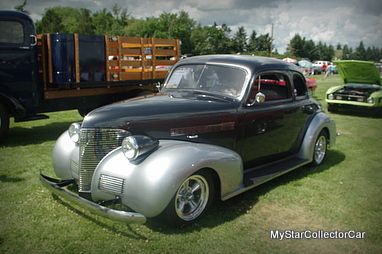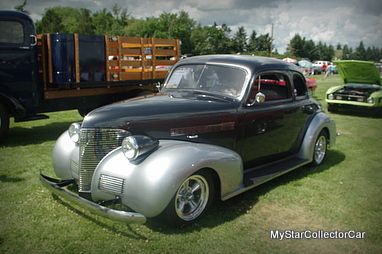 Greg Garson is no stranger to major projects because he finished a big one with a '46 GMC COE.
That particular story was featured back in the August 2010 edition of MSCC.
The article underscores how well Greg clearly understands the intricacies, blood, sweat and money behind a big restoration.
That's why this turnkey '39 Chevy resto-mod made so much sense.
Greg explained the logic behind this purchase: "Basically, for what I paid for it was the difference between the four years I'd put in it plus a lot more money. Plus you just have to jump in and drive".
Greg wanted to emphasize that he wasn't afraid of the challenge but the reality in the old car hobby is pretty clear: You will rarely recover your investment in most cars and custom rides like this '39 Chevy are particularly vulnerable to this trend.
He outlined the history behind the car, "It was owned by a husband and wife and it ended up at a dealer auction where a guy bid on it, had it ten days and I bought it".
There was a major motivation behind this '39 Chevy purchase and it was based on the lack of practicality behind the COE. Greg wanted a vehicle he could comfortably drive hundreds of miles to car shows and the old Chevy workhorse was far from ideal because it maxes out at less than 50 miles per hour.
This '39 Chevy was done in the literal sense because it was a completed project but like most projects, it came with a 'not quite done' clause.
Greg explained: "There were only about 600 miles on it because it was very clean underneath but I had to spend a week on it just tinkering.There are a lot of finishing touches on it left to do like the power steering bolt broke off on the way back so I fixed it with grade 8 bolts plus there was so much heat coming up off the floors I had to put some matting in there and the bumper bolts are welded on. I have to get the e-brake working to pass a safety too".
The key to this car is the driving experience and Greg gave it a big thumbs up: "I drove it back from Washington via Spokane and Coeur d'Alene and it did 55-60 miles per hour because of the gear ratio".
This '39 Chevy has all the nice touches like a custom grille and shaved door handles so clearly the worst part of the car customizing battle is over but Greg still has future plans for this very classy ride.
Most car guys know the challenge with any old ride is to put your personal stamp on it so you'll see numerous cars and trucks with features that are clearly based on individual tastes.
Car guys also know how difficult these projects are to complete when you start with a rusting hulk.
Greg's choice was clear – he wanted a turnkey ride because his car club had several trips planned and he's at an age where the open road is more appealing than years of toil.
Clearly this '39 Chevy was the perfect fit because it drives like a dream and there's just enough left to do for him to give it a personal touch.
Jerry Sutherland
CLICK HERE to Like us on Facebook
CLICK HERE to Follow us on Twitter
CLICK HERE to Follow us on Pinterest