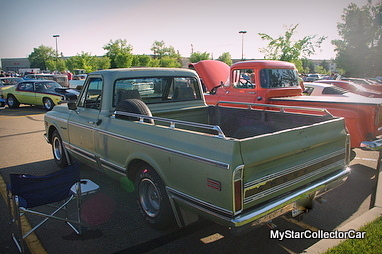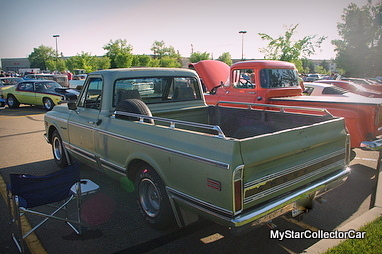 One of the strengths of MyStarCollectorCar is a clearly defined tendency to live in the past.
This is a figurative and literal occurrence because stories and interviews are often a year behind so you literally operate in the past.
I got into my July 2013 note book and found a story about a '72 Chevy pickup. A guy named Ben Maerz owned it and unfortunately he passed away on June 14, 2014 so the question is…
Do you still do the story?
Obviously, in my opinion, there's no debate because a guy like Ben deserves every bit of recognition for his talent and dedication to the old car hobby so here's the story behind his '72 Chevy truck.
This was a short box truck on the surface but like every vehicle Ben built, it was full of surprises as he explained, "It was actually a long box truck but I wanted a short box so I started thinking short box. It was original paint and it had the original dealer sticker. Most farmers went bare bones but this guy didn't because it had a few options".
The '72 Chevy was far from pristine because it was basically a used up old farm truck but Ben was undaunted: "There was no motor and the paint on the hood took a beating because the horses started chewing on it. Horses are pretty hard on paint".
There were more problems with the old farm truck as Ben recalled, "It didn't have a motor because he took it out to put it in a grain truck because he didn't have any money. The side was caved in too, so I thought I might as well shorten it".
Ben was definitely a problem solver so he turned the damage into a challenge, "I found a rear panel and did the rust in the cab, rockers, cab corners and parts of the floor".
The next stage was the transformation from long box to the more desirable short box format and Ben had that mapped out from the beginning: "I cut off a foot in the middle to keep it proportional and then I had to shorten the wood in the box so I cut all the rotten parts out. I even customized the GM box rails to fit ".
Ben came from the world of recycling long before it became a fashionable thing to do because he grew up on a farm where re-use is a mantra and not a cliché, so he solved the power train problem: "It didn't have an engine so I had a 350 sitting around the shop, it was out of a '79 Olds and it fit right in. The seats are out of a full-size Chevy van".
This truck was a daily driver for a few reasons because Ben was an extremely practical guy and, as he explained, "You can work all the bugs out of it plus it's more fun driving them like this".
Ben added a few of his own engineering touches to his '72 Chevy: "I lowered it because once you lower it, you lower the center of gravity so they handle a lot better".
Ben was highly impressed with his newly-shortened '72 Chevy truck, "It really runs good plus it gets better mileage than my newer truck and I'm going to take it back to factory green".
There's little doubt Ben was an extremely talented man so the success of this project was no real surprise to anyone who knew him but it wasn't the only legacy he left behind because he was an artist.
Ben's Mona Lisa project was his 1957 Chevy El Camino. This "truck that never existed" was featured back in March 2010.
There was his '57 Chevy extended cab and that too was featured back in May 2010 but both of these unique vehicles were only a fraction of what Ben brought to the world of iron.
That's why his last story needed to be told.
Jerry Sutherland
CLICK HERE to Like us on Facebook
CLICK HERE to Follow us on Twitter
CLICK HERE to Follow us on Pinterest