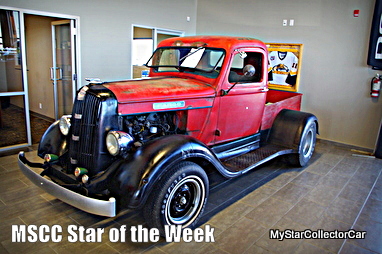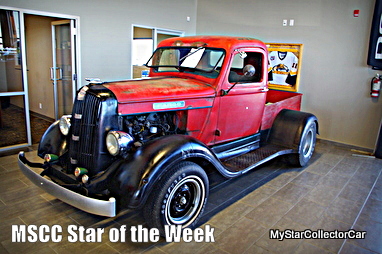 MSCC JULY 27 STAR OF THE WEEK: AND NOW FOR SOMETHING COMPLETELY DIFFERENT—A CUMMINS FARGO
Fargos haven't been household name for years. The specific year was 1972 and the country was Canada because that's where they sold these Dodge trucks with another name plate.
Fargos were fairly common in the land of ice and snow, hockey obsessions and good beer but eventually they went the way of DeSoto and Plymouth at Ma Mopar.
This Star of the Week Fargo is over 70-years-old so it needed a new heart and they super-sized it with a Cummins diesel.
Definitely something completely different…
MSCC JULY 26 STAR OF THE DAY: A BOAT TAIL RIV – INTERESTING CALL FOR THE EARLY 70S
The 1963 Buick Riviera led the style parade in an era when today's cars became yesterday's news overnight.
The Rivieras continued to evolve and lead the charge for the rest of the decade so if you wanted to follow styling trends you only had to look their way.
There was an interesting shift in 1971 when the Rivs looked backward instead of forward with the boat-tail fastback look.
Buick didn't break any sales records that year or for the next two years with the boat-tail design but they left a legacy for the ages.
The kind of legacy that leads to MSCC Star of the Day status.
MSCC JULY 25 STAR OF THE DAY: 1958 PONTIAC PATHFINDER – CHROME, FINS AND OPTIMISM
The 1958 lineup was one of the most chrome laden eras in the history of North American iron.
These guys were shooting for the stars because the space race was on and the cars reflected that optimistic vibe where anything was possible.
1958 was a strong departure from functional to frivolous, so fins and boatloads of trim were a sign happy days were here again.
This MSCC July 25 Star of the Day '58 Pontiac Pathfinder was at a show last night and it shared the stage with another '58 Poncho in the background.
Chrome, fins and optimism revisited…
MSCC JULY 24 STAR OF THE DAY: 1970 AMC REBEL SST – MUSCLE CAME IN MANY FORMS BACK IN '70
1970 is often referred to as the peak of the muscle car era.
Big blocks were aplenty and smog laws were still fairly benign so this was a year for monster power.
Most observers recognize the usual suspects like the 455s, 454s, 440 six packs, 429 Cobra Jets and 426 Hemis.
Not as many recognize the 390 Rebel SST.
This MSCC Star of the Day 1970 AMC Rebel SST at a show back in early June is clear evidence that history need a little editing.
MSCC JULY 23 STAR OF THE DAY: VINTAGE F-100 BUILT FORD TOUGH – SIX DECADES LATER
Ford pickups were some of the coolest trucks ever built in the 1950s.
They took to hard work in stock form and classic customs in modified form like a duck takes to water.
Over the years these Fords went from established highly desirable trucks to cultural icons.
This MSCC Star of the Day cultural icon was in traffic a few days ago still pulling a load and proving you can be a superstar and tough at the same time.
Call it John Wayne syndrome.
MSCC JULY 22 STAR OF THE DAY: CHRYSLER NEW YORKER – CLASS IN THE CLASSLESS DISCO ERA
Society took a big tumble in the mid-70s when the disco era started.
Music became superficial and shallow and that trait immediately transferred to the people who embraced this brutal era.
Cars suffered a similar dip in the late 70s because they were throttled by smog equipment so comparing an early 70s Vette to a late 70s Vette is like comparing The Doors to the Village People.
This MSCC Star of the Day New Yorker was in traffic yesterday and it proved that some class still existed in the classless disco era.
MSCC JULY 21 STAR OF THE DAY: GRAFT ON SOME STYLE: DRIVE A RATTIE
Most people aren't blessed with exceptional personalities because we travel a little light in the I'm an interesting person department.
We tend to pass off conversations about pablum topics like Hollywood stars or sports figures as in-depth discussions.
That's why we need to graft on personality to have any real style.
This MSCC Star of the Day rat rod in traffic a few weeks ago definitely grafted some style on its owner.
For past MSCC Stars of the Day please follow this link.
CLICK HERE to Like us on Facebook
CLICK HERE to Follow us on Twitter
CLICK HERE to Follow us on Pinterest
Star of the Day page sponsored by Southside Dodge.