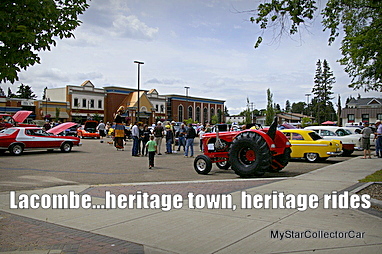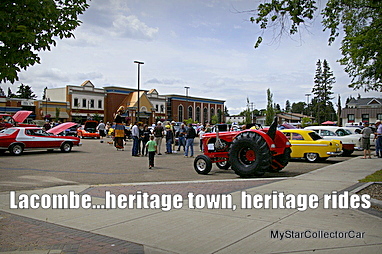 One of the classiest communities in Alberta, Canada is the picturesque community of Lacombe where time has not eliminated its long list of heritage buildings.
Lacombe has experienced rapid growth in recent years because the town is situated in a province with the hottest economy in North America.
Yet Lacombe has managed to protect its past while it grows into the future, so a stroll in the downtown area in 2014 will seem a lot like a stroll decades ago because Lacombe's vision was its respect for its past.
We live in a time where very little is preserved from the past and bulldozers are on standby for building removal, regardless of their history in the community, so towns like Lacombe are a big exception to the rule.
Think about the modern philosophy where newer is always considered better and even a cell phone can become outmoded in mere months. Perhaps this shocking rate of change is one of the reasons a car show in a town like Lacombe where the past is embraced is one of our favorite annual events.
I know the way to Lacombe very well because my grandmother, grest-aunt and an aunt and uncle lived in the town for many years and our family visited them on a regular basis. I have fond memories of Lacombe and a visit to its annual car show brings back many of them.
For example; I came across a beautiful 1966 Olds Toronado originally purchased by a local Lacombe guy who owned the dealership from which my uncle bought all of his cars. The car happened to be parked on the street in front of its original owner's former house at the show. I learned this information from its current owner who is the son of the original owner.
Later in the interview, I also learned how the Toronado left the family and eventually came back to them so look for the full story in a future MSCC feature.
I also discovered a very original 1970 Dodge Charger 500 owned by a couple with very strong Mopar loyalties. They were proof positive that a happy marriage is based upon common interests because this husband and wife team both love the old car hobby.
The Charger 500 is not a common participant in car shows and they explained how they were able to find a well-optioned original power train 500 in its original glory. We will tell their story in a future MSCC feature.
We also spotted a 1956 Oldsmobile four-door hardtop at the show and knew these cars are also not a common sight at car shows. The car has some mild modifications to it and we will reveal its secrets in a future MSCC story.
We had some trouble connecting with the owner of a restored 1950 Chevy 1-ton truck because its owner was at a wedding in a nearby church. A young guy from Holland was visiting the truck owner and he was able to fill in a few blanks on the truck while we waited for the owner.
However, we will need to connect with the owner to finish off the details before we run it and decided not to distract him from his duties as a wedding guest.
The annual Lacombe Days car show is one of our favorites because it also connects us with one of our favorite towns.
Thanks for another great show.
Jim Sutherland
CLICK HERE to Like us on Facebook
CLICK HERE to Follow us on Twitter
CLICK HERE to Follow us on Pinterest