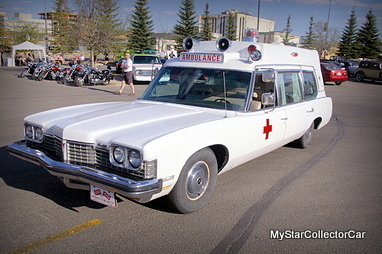 Kelsey Landry saw a lot of action during his years as an EMT.
'He loved the job so much he coveted a vintage ambulance after his retirement from the life-saving business.'
That was easier said than done.
After a lengthy search to find an affordable retired ambulance, Kelsey's neighbors found this '73 Pontiac Superior Coach ambulance in an out of the way town. Kelsey was lucky enough to know somebody who could check it out, the price was right and he became the proud owner of a rare, seldom seen "working vehicle".
Kelsey is a walking encyclopedia on this vintage Poncho ambulance because of his former profession . He carefully explained that while the vehicle was retrofitted for modern medical aid it was really designed to be a patient "load and go".
That's where you shove two patients in the bottom and two in the top on hammock-like slings on top, pin the massive 455 cubic inch V-8 and hope like hell that you don't meet Mr. And Mrs. Bambi the Deer or some chucklehead doing 15 mph in a giant John Deere combine.
Believe it or not, this Poncho is also a daily driver so those trips to the supermarket help Kelsey justify the purchase:"Look at it this way honey, with all that cargo room all we need is one sale on paper towels and this baby is paid for".
The car has been repainted from its original 1970's government mandated orange body with white roof and that is on his agenda-pending spousal approval. One thing is for sure-once he gets the lights and siren hooked up if there is a supermarket sale he just has to flick a switch and he's there before his next-door neighbor is even out of his driveway.
'He's saving that argument for the paint job.'
Jerry Sutherland
CLICK HERE to Like us on Facebook
CLICK HERE to Follow us on Twitter
CLICK HERE to Follow us on Pinterest
Re-post this article if you like it…thanks.