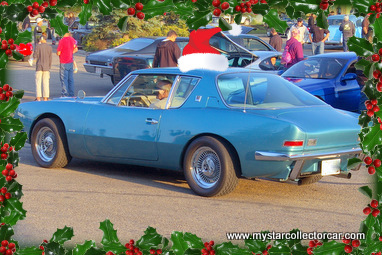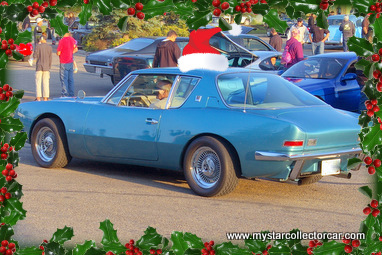 Studebaker was the underdog of the North American market.
They built some of the hairiest cars ever produced, but they never achieved enough sales to be around past the mid-1960s.
'But that shouldn't exclude this legendary car-maker from a spot under the MSCC Christmas tree.'
Just before that final swan dive into oblivion, Studebaker produced the Avanti-a state of the art, Italian-design inspired, fiberglass bodied, supercharged sports car.
Talk about living the Neil Young's 'Rust Never Sleeps' philosophy-"it's better to burn out than fade away".
These cars were rare even when they were new because the total production wouldn't have filled Yankee Stadium. Maybe it was the whispers of impending doom that hurt sales, but one thing is for sure-if Ford or Chrysler would have pumped this baby out as a counterattack to the newly designed 63 Sting Ray, the Avanti would have survived into the 70s.
In a way it did. The Avanti is like Dracula because it just kept coming back in newer versions-even with a lethal wooden stake in the heart. That is a true testament to the style and class that the Avanti had because you don't see too many tribute recreations or newer clones of 1970 Ladas.
Seeing a real Avanti in person is like a Sasquatch sighting-full of footprints and blurry photos, but nothing tangible.
But it's spectacular when it does happen…Merry Christmas.
Jerry Sutherland @mystarcollectorcar.com
COMMENT
DENNIS:"the Avanti was cool. It still looks modern to this day. I know where there's an Avanti II for sale right now but I've already got too many cars now, (if there is such a thing)".
ANGUS:"These cars are very cool – certainly on my short list".