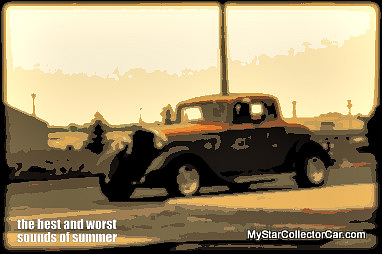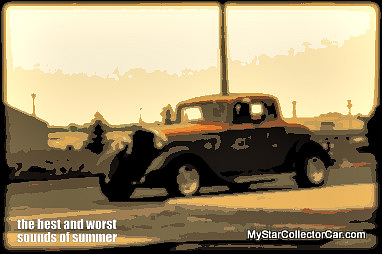 Summer is one of those hang-the-arm-out-the- car-window times of year, particularly if your vintage ride does not have air-conditioning.
Even it does, it is always good to roll down the car window and just dig that clean fresh air promised in song by The Rascals.
Some of the sounds of summer heard in a car can prove conclusively why hermits are hermits, while others add to the magic of the fairest season and your personal tastes will figure heavily in the equation.
This list is a compilation of my own likes and dislikes when it comes to the sounds of summer.
One of the fastest ways to get me to close my car window is crappy music and I have an extensive list of music that will force me to roll up my window. I was never a disciple of rap, hip hop and any variation of music in which my massive vocal limitations would not prevent me from a successful musical career.
The ability to shout, swear at, and threaten people in rhyme seems to be a driving force in the rap sound and I am not open-minded or hip enough to see any real value in the style. I saw enough of this kind of human behavior from drunks when I was in the bar business and the only difference is that the drunks don't rhyme very much. So up goes the window when I hear this stuff from a car next to me.
I would do the same thing if somebody has a Celine Dion or ABBA sound in the next car because I have a wide variety of music that I hate with a passion. Music is a personal choice and few are chosen in my world.
On the other hand, if somebody wants to hit me with a serving of Sinatra, Van Morrison or any of a wide variety of 60s artists, I will gladly keep my car window down and enjoy the musical interlude. I will probably even pace them down the road if the sound really hits me right. We are what we listen to in music and I discovered long ago where I live when it comes to music.
However we can drift away from music into other summer sounds that are meant to seriously annoy us. How many of you really like the sound of an unrestricted exhaust Harley with some attention-seeking clown on it blipping the throttle beside you in traffic? I will confidently pick nobody on this question and I will guess that these guys see a lot of car windows going up beside them.
Sadly, the Harleys have taken a back seat to giant diesel pickup trucks with even louder exhausts that have even less appeal to other people on the road. A giant and very loud jacked-up diesel pickup is an open invitation to either a punch-fest or a rolled up window for other drivers. Choose the rolled-up window because you really can't fix stupidity with bruised knuckles.
My final sound of the summer is a sound of the street that will always get me to roll down my car window: big block V8s from the golden era of brute force horsepower in the 60s and early 70s.
This is one of the sweetest sounds ever heard on the street and it never gets old for me.
Jim Sutherland
Follow us on Facebook at-http://www.facebook.com/MyStarCollectorCar
Follow us on Twitter at- https://twitter.com/#!/MyStarCollecto1