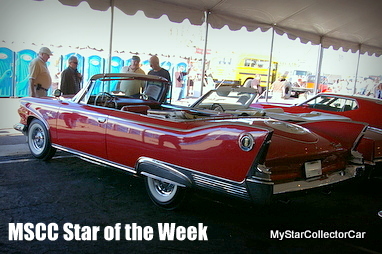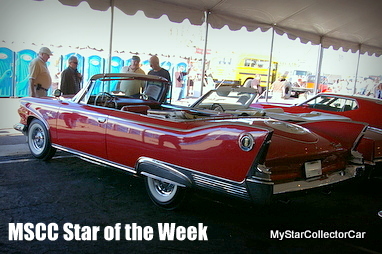 MSCC FEB 22 STAR OF THE WEEK: '60 FURY CONVERTIBLE—A SPECTACULAR WAY TO ROLL
There are few cars in 2015 that really make an impact because this is the era of the cookie cutter look.
Name one SUV, minivan or sedan that is significantly different from any other SUV, minivan or sedan.
You won't see one because they're cut from the same mold so we're left with some incredibly well-engineered cars that look like vanilla ice cream on the outside.
You can live with safe and boring or you can drive something like this 1960 Plymouth Fury convertible because this is a spectacular way to roll.
MSCC FEB 21 STAR OF THE DAY: '57 PONTIAC SUPERIOR AMBULANCE-GRAB AND GO RIDE
Ambulances were a different game back in the 50s.
Most old timers will tell you there was only rudimentary medical aid combined with a hell of a lot of speed behind emergency transportation back in the 1950s.
They called it grab and go for a reason.
This MSCC Star of the Day '57 Pontiac Superior ambulance could grab and go with the best of them.
MSCC FEB 20 STAR OF THE DAY: MUSTANG MACH 1-THE SEQUEL GETS MIXED REVIEWS
Ford definitely had a winner with the original version of the Mach 1 Mustang.
These iconic pony cars have a cult following that continues to this day.
The next version of the Mach 1 showed up in the 1971 lineup and this, longer, heavier, wider version definitely got mixed reviews.
Critics were lukewarm on the obscured view through the rear window too.
Despite the debate back in the early 70s, this MSCC Star of the Day Mach 1 looks plenty stylish in 2015.
MSCC FEB 19 STAR OF THE DAY: A VINTAGE OLDS ROLLING ON 20S DEFINES A GENERATIONAL THING
Custom wheels have been a factor with custom rides for well over seven decades.
Car guys learned early that custom wheels could make you look cooler and go faster.
There's always been a generational debate over what looks good so there's a good chance your dad wasn't a big fan of mag wheels back in the 60s.
This MSCC Star of the Day Olds is yet another example of the generational divide because those younger guys in the hoodies liked the 'rolling on 20s' wheels a lot more than the older guys around the car.
MSCC FEB 18 STAR OF THE DAY: '64 DODGE TRAVCO-THIS IS HOW THEY ROLLED 51 YEARS AGO
Recreational vehicles aren't a new concept.
In fact, they've been around in one form or another since the Model T era.
RVs began to really take off in the 60s when Baby Boomer families hit the road in search of the perfect vacation.
Self-contained lodging and mobility sold a lot of RVs over the years.
This MSCC Star of the Day '64 Dodge Travco was at an August 2014 show where it gave a great history lesson in how they rolled (RV style) 51 years ago.
MSCC FEB 17 STAR OF THE DAY: A CUSTOM CHEVY TRUCK IS LIKE A DAY AT THE FAIR
Classic Chevy truck owners are among the world's most dedicated because these trucks simply aren't fading in popularity.
Chevy trucks have gone from humble, blue collar working stiffs to classic show machines over the last 60-65 years thanks to their classic style and access to affordable parts.
This MSCC Star of the Day '51 Chevy at a May 2014 show was clearly not exactly the same truck that left the factory 64 years ago.
It was so much fun it was like a day at the fair.
MSCC FEB 16 STAR OF THE DAY: 1929 ROLLS-ROYCE PHANTOM I ASCOT TOURER
MyStarCollectorCar is really about all things old and mechanical, so Stars of the Day can come from all corners of the hobby.
Most of these chosen Stars are reasonably familiar, but there are a few that need some explanation.
There was an era (late 20s and into the 1930s) here and across the pond in Britain when some cars were actually rolling works of art.
This MSCC Star of the Day '29 Rolls-Royce Phantom I Ascot Tourer is one of those works of art.
For past MSCC Stars of the Day please follow this link.
CLICK HERE to Like us on Facebook
CLICK HERE to Follow us on Twitter
CLICK HERE to Follow us on Pinterest
Please re-post this if you like this article.
Star of the Day page sponsored by Southside Dodge