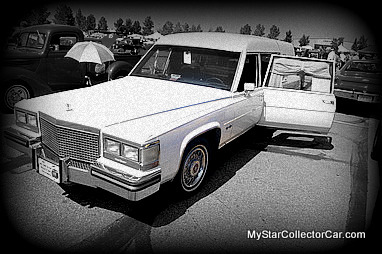 Bob loves working on cars and he gets several hearses a year in his shop for repairs.
He developed a relationship with local members of a club dedicated to these "specialized" working vehicles.
As a result he eventually bought a used hearse and joined the fraternity of scary ride owners.
'This is a 1987 Cadillac and like most hearses it has very low mileage-they don't exactly take these units on coast to coast road trips during their working lives. Unless the second owner is a struggling rock star like a young Neil Young they generally don't rack up many more miles in post-retirement.'
It's pretty hard to convince a young soccer mom that these roomy old brutes make more sense than a minivan so they tend to end up as giant metal donors for washing machines.
If they're lucky they end up in the hands of guys like Bob. Bob loves this old Caddy. It only has 7200 miles, it rides like an afterlife dream, he got it cheap, it gets decent gas mileage and he's a rock star at every car show.
The Disney connection can often be found in the back of the hearse-it's an old coffin that Bob's friend bought at Disney World 30 years ago. Turns out it's a very rare model from the 1948-51 era and after Bob dismantled and reassembled the "eternal life capsule" it's now worth more than the car.
Bob is really enjoying the hearse life and after the car show season is over he has one big day left in the year-the Caddy is a huge hit for the kids on Halloween.
The trick or treat crowd loves this sinister old ride.
Jerry Sutherland @mystarcollectorcar.com