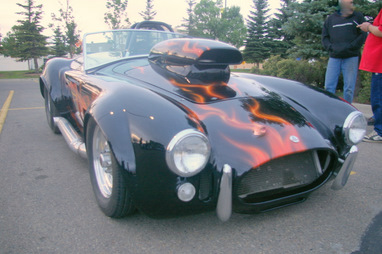 This car gets your attention the minute it enters a parking lot.
Even if you are legally blind.
Somehow Colin Mullaney managed to get this full race Cobra registered for street use.

Somebody get this guy involved in the Middle East peace talks.
It's been a track car for seven years and last year it made its debut as a street car but…
The Cobra makes no pretense that it's a grocery-getter-the parachute, full roll cage and racing harness are pretty good clues. The massive 600 cubic inch Chevy motor powers this Cobra to a 7.9 second quarter mile so those flames on the car are actually based in reality.
Colin can barely control this monster but thanks to years of racing experience he's not a menace on the road in the car but the average guy would be a lead story on the evening news. If there's any question about this car qualifying as a scary ride try standing next to this thunder god when Colin fires up the mammoth Chevy.
The reverberation through your chest cavity will drive the point home and the bleeding eardrums will leave a lifetime legacy.
And it's all legal.
Jim Sutherland @mystarcollectorcar.com