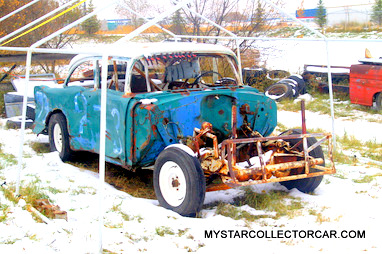 Trevor Comfort is a well-rounded car guy-he'll restore them, he'll upgrade them and he'll customize them.
'But he's not going to touch this piece of small town racing history-a 1955 Pontiac dirt track stock car.'
And at first glance this looks like a seriously scary ride.
This car was typical of the early 60s to early 70s cars that raced the small town dirt tracks.
It carried what was considered state of the art safety and performance equipment such as friction jack suspension to stiffen the ride, a crude roll cage, army surplus fuel tank, battery placed on the driver's side.
The rear axle was tied down to offset the stress of running on a banked track.
The driver's seat was offset to diminish the G-forces from the banked track and the turns that only went one way. Not exactly NASCAR 21st Century state of the art engineering but it did work over 50-100 laps on a half-mile oval.
The '55 was a crude but effective race car-a rolling tribute to the weekend warriors who towed these vehicles (it still has the towing lights set permanently on the back of the car) to every small town dirt track within hundreds of miles. Trevor intends to keep it in 1960s full race prep.
This one shows the effects of too many rubbin' is racin' collisions over its career.
Even though Trevor is a first class bodyman this '55 Pontiac is going to stay as is-the next generation of racing fans will never see a museum piece like this because 99.9% of the old dirt track cars went on to a new life as a washing machine from Sears-nobody kept used up race cars around. Not even at the higher levels of the sport.
This was a 6-cylinder car-some tracks were restricted to the six-bangers and Trevor has an engine ready to go. He plans to take this to shows and simply fire up the old warrior to demonstrate what most small town racing fans saw and heard 40 years ago.
'From an historical point of view it's not quite as dramatic as cloning a full grown T-Rex dinosaur but the old Pontiac stocker is just about as rare.'
Jerry Sutherland
FOR MORE GREAT CAR STORIES PLEASE FOLLOW THIS LINK- https://www.mystarcollectorcar.com/2-features/stories.html
COMMENTS
BOB:"That 55 Pontiac looks a lot like a 55 Chevrolet. Most of the old racers from the 50's & 60's beat those old race cars until they couldn't be repaired anymore, at which time they would just replace them".