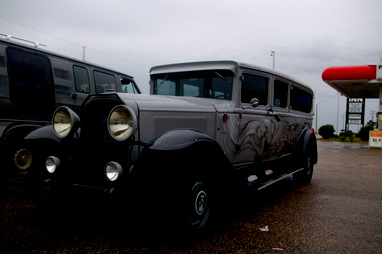 Bob Kurp first saw this rare 31 Buick hearse at a wrecking yard in 2003 –he says it called out "take me home" and a month later Bob did take it home.
'Most people might get a little shaky about these somber old cars but Bob saw it as a rolling tribute to the memory of fallen soldiers and police officers.'
And so a giant custom rod was born.
These were incredibly rare vehicles back in 1931 when Fisher Canada added 40 inches to a standard Buick 4-door sedan to build a hearse. In Bob's opinion, this is the last one left.
This was a massive body-off restoration, frame sandblasted, painted and most original interior parts like door hardware were rebuilt.
Bob went off the program with the wooden interior frame by replacing it with steel framing and a steel roof-a 3-month project in itself.
Bob took most of this work on himself with the exception of the airbrush art on the vehicle. You could successfully argue that this car was built with the old hot-rodders mantra of making odd things work-many different cars were sacrificed for this project. It has a GM front clip, Corvette spindles and brakes, 403 Olds motor and transmission, Chrysler steering column, Firebird shifter, Olds rear end and Honda Civic bucket seats.

Bob built this car for fun and to send a message-he has succeeded because this '31 Buick draws people like a 4-wheeled magnet. He is constantly explaining the car and the idea behind it to willing listeners-even down to the tribute to the "Fallen Four". He added that when 4 RCMP officers were ambushed and killed at a drug grow-op. Bob wanted to give police and military heroes a significant profile in the public eye.
When people flock to see this massive resto-rod at a car show the conclusion is simple-Bob is getting his message out in a huge way and he's having fun delivering it.
Jerry Sutherland

CLICK HERE to Like us on Facebook
CLICK HERE to Follow us on Twitter
CLICK HERE to Follow us on Pinterest
.