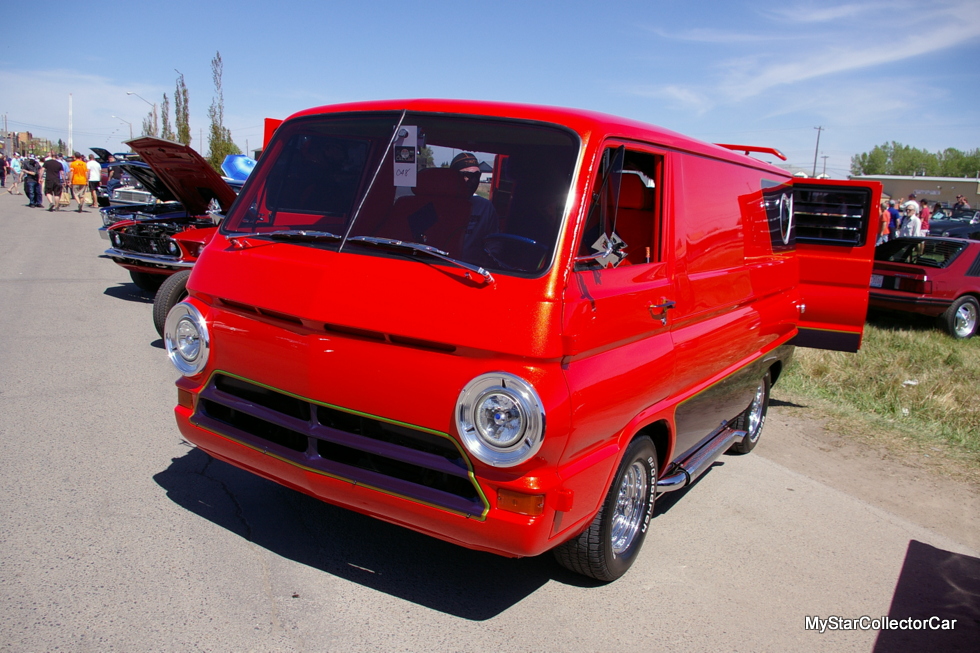 Dennis Paron is a talented guy who wanted to build a custom van with a 70s flair.
He wanted a shorty Chevy van from the late 70s, but ended up with a 1966 Dodge A-100 for his custom van project.
'The A-100 was Chrysler's answer to the flat-nosed Ford and Chevy vans from that era and was built between 1964 and 1970.'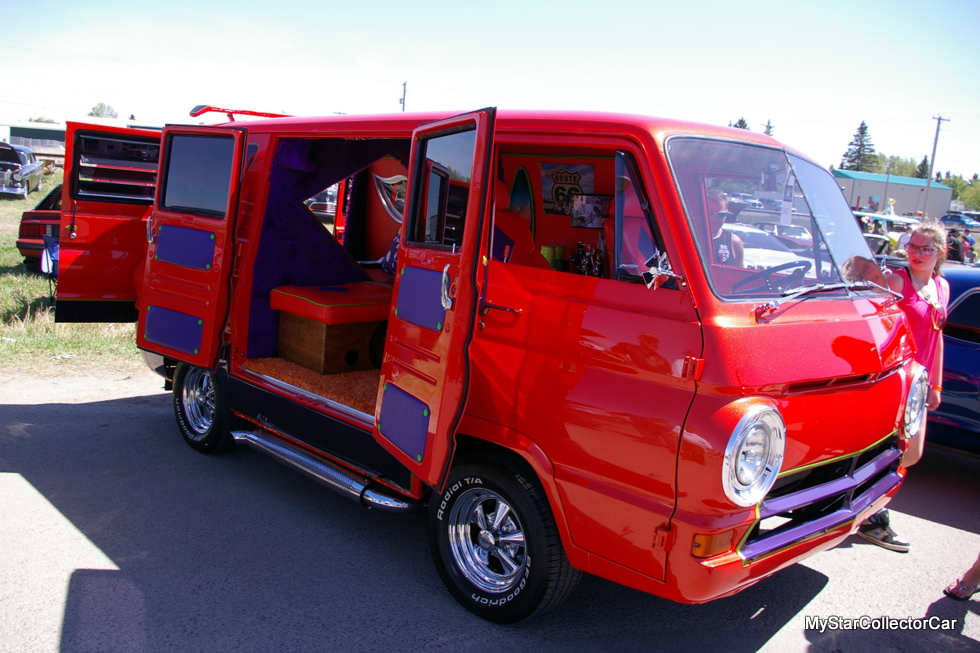 We saw Dennis's custom A-100 at a show amidst a large collection of curious onlookers who were taken with the stylish little van. The road to this point in the A-100 project was not easy for Dennis because he suffered severe injuries from a motorcycle accident 4 years ago, about 6 months after he purchased the van.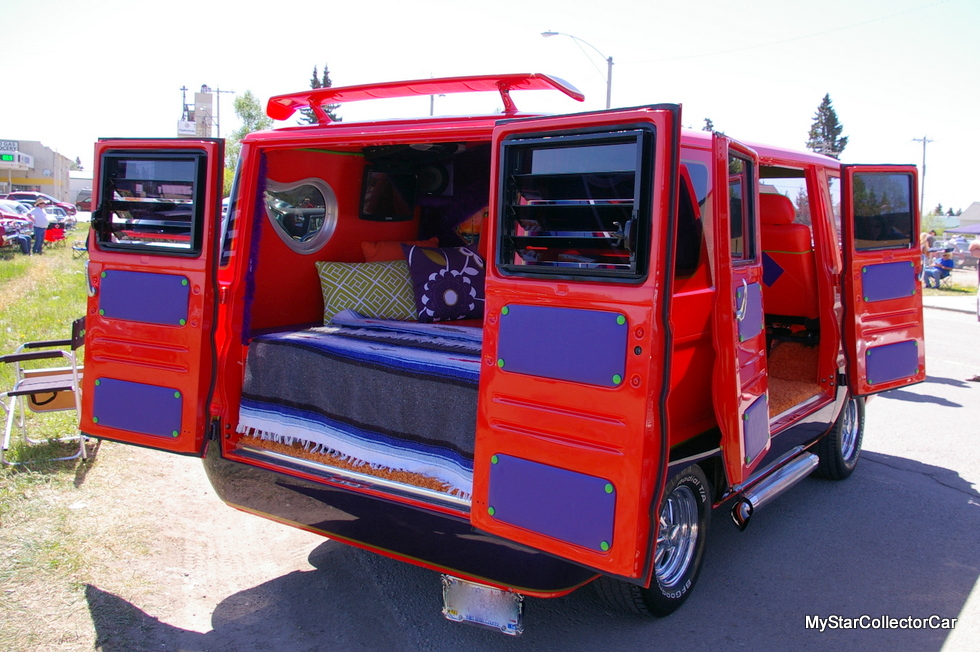 The accident was severe enough to require several surgeries and the fact the van was in several pieces when Dennis purchased it meant both of them faced a long road to recovery. Initially, Dennis pushed the van into a corner of his shop because he was "too tired and too sore" to work on it but he had to work on it because "it was taking up space", in his words.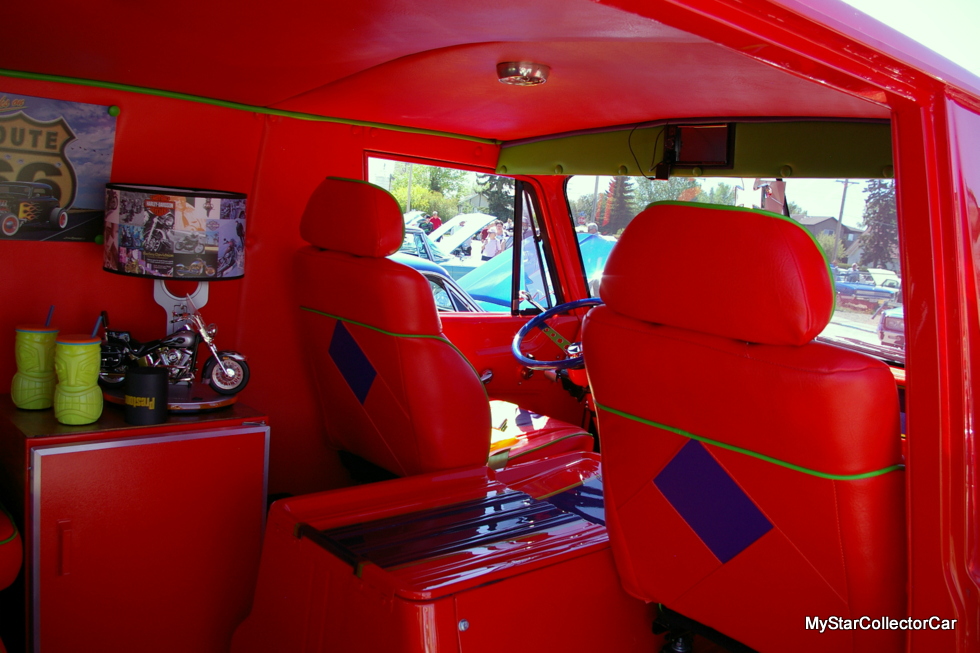 Eventually he forced himself to work on the A-100, despite the fact he was still in a wheelchair from the bike accident. Dennis is a very active guy who was "going crazy doing nothing" in his words, so he had his wife drive him to his shop where he could work on the van.
He worked on the van in between his many surgeries and eventually Dennis began to make progress on his project. He rolled around on a cart and concentrated on the lower half of the van from that lower vantage point during the early stages of the project.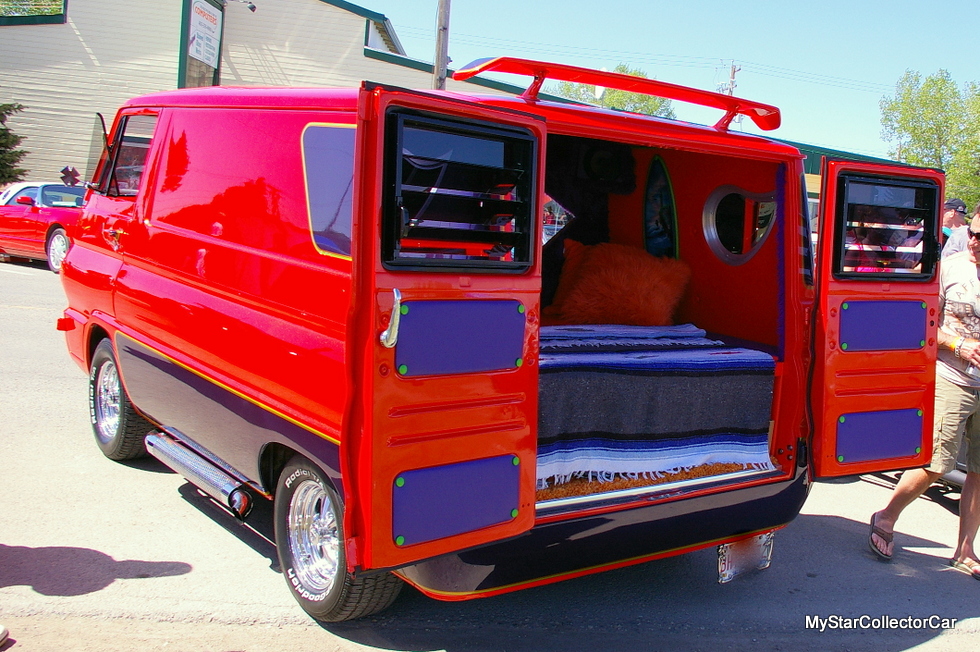 The A-100 has been upgraded to disc brakes on the front, along with a complete rebuild of the engine and transmission. The most visible changes to the A-100 are outside and inside the vehicle because Dennis has hit a home run with his retro custom van.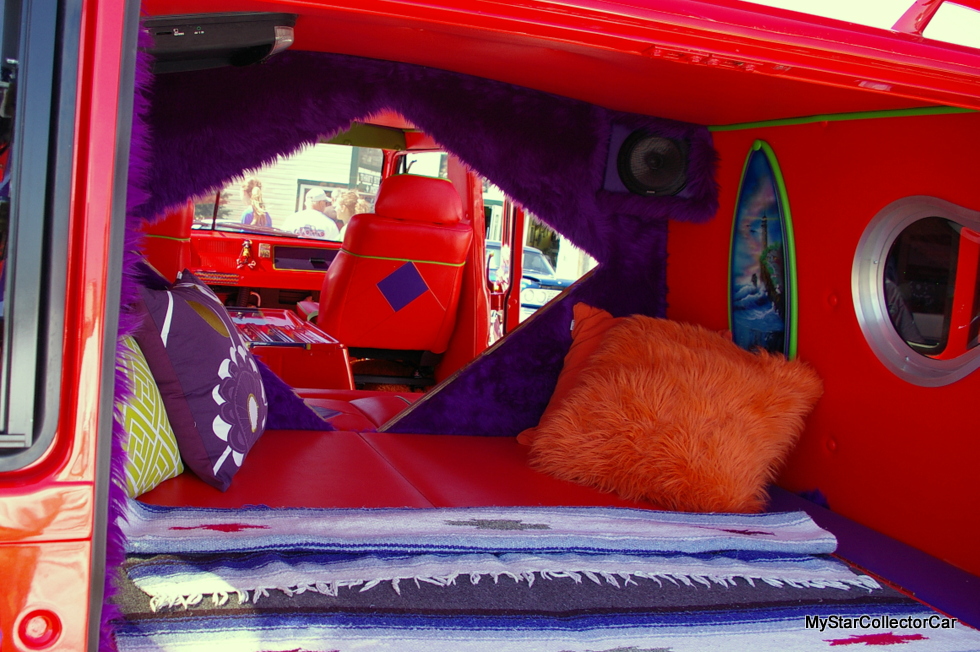 One of the more intriguing additions to the van was the shag carpet interior because shag carpet has gone the way of disco music and mood rings. Dennis was forced to buy an entire roll of shag carpet because this once-fashionable material has become very rare in the 21st century.
He was also able to find a couple of NOS custom windows from the early 70s for his A-100 off a popular online auction website and paid much more than the original sticker price of $69.95 still on the box.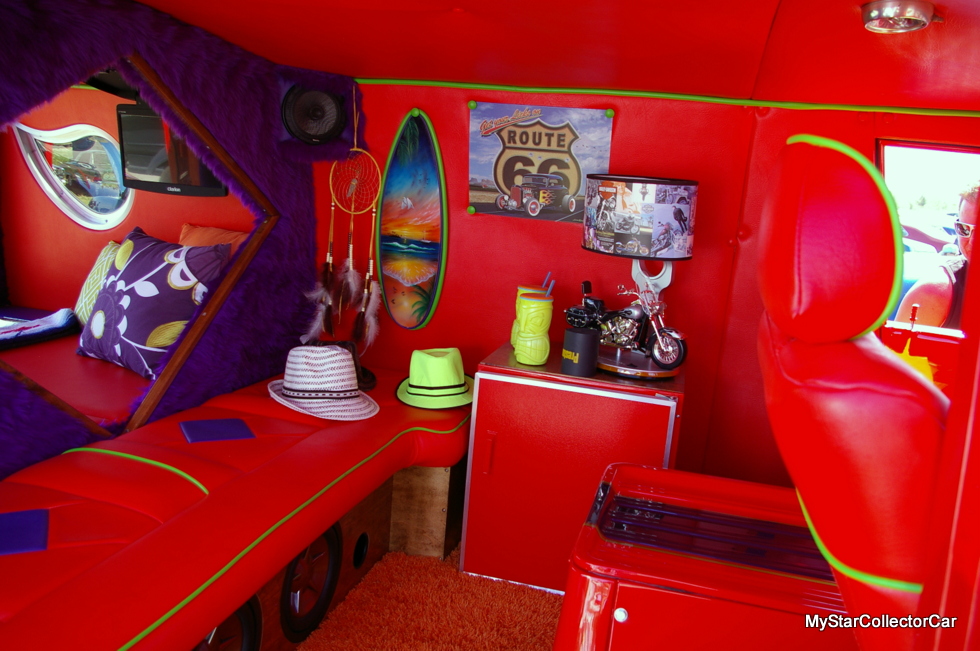 The net result is a custom van that completely embodies the boogie van philosophy of the 70s. Dennis has recreated the custom van craze from that era with his A-100 and his ride is a spectacular tribute to the originals.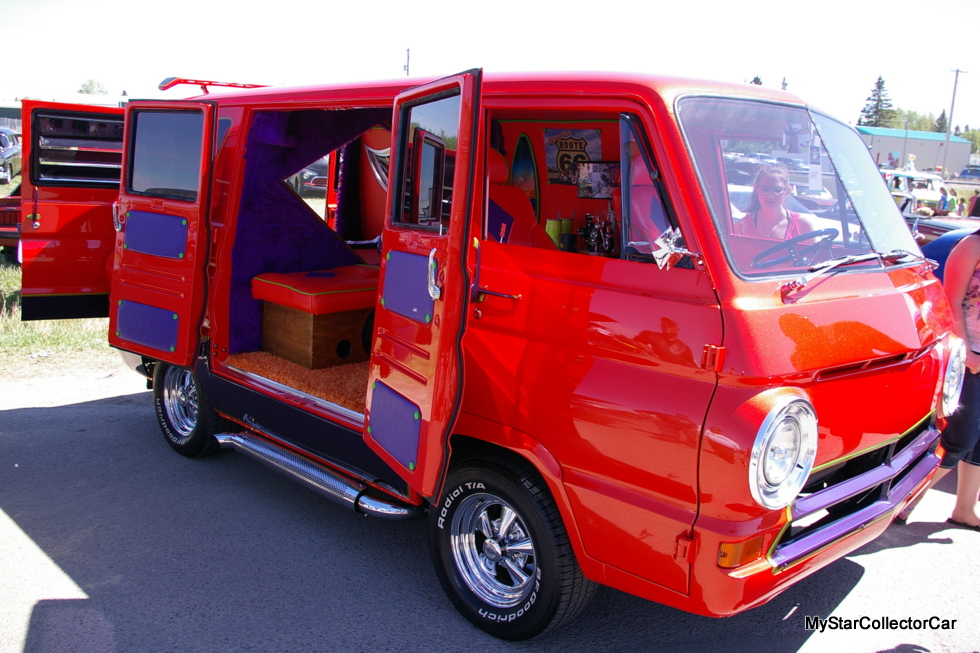 The van got its first big shakedown in 2015 on a three hour road trip to Radium, British Columbia Canada for their famous September car show in the mountains. Dennis said the A-100's original Slant Six engine was "screaming at 70 mph" and he is still battling an overheating issue, but the stylish little Mopar van was good to go for the entire trip.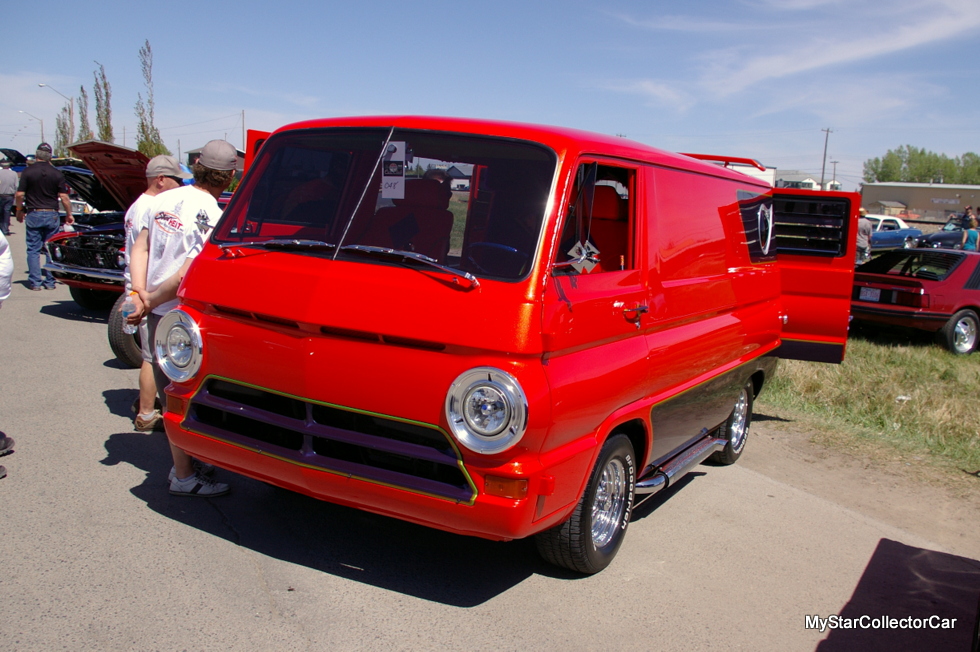 Dennis and his wife plan to enjoy the A-100 in 2016 after the long recovery process for both him and the van.
'He also mentioned that he purchased a late 70s Chevy van this spring and will figure out his game plan for it at a future date.'
Jim Sutherland
CLICK HERE to Like us on Facebook
CLICK HERE to Follow us on Twitter
CLICK HERE to Follow us on Pinterest

Please re-post this if you like this article.