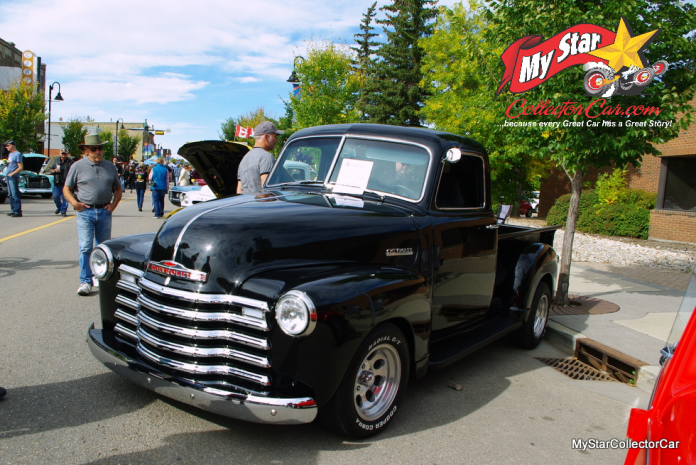 A large number of car guys have a keeper—an old classic that is always a 'down the road' project.
In many cases, 'down the road' never comes so the project is stuck in neutral—usually in a muddy field or under a tree.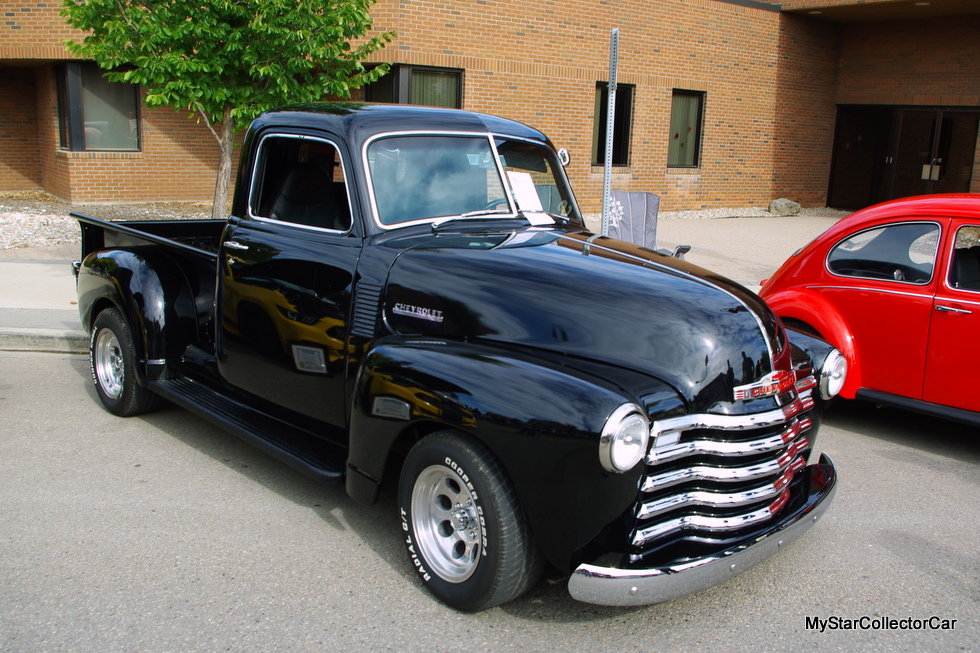 Adrian Slager is the proud owner of this classic old truck and he's owned it—on and off—since he was 16. It sat on the family farm for years and Adrian said he "traded it back and forth" with his brother until the day came when he "finally brought it to town" to work on it.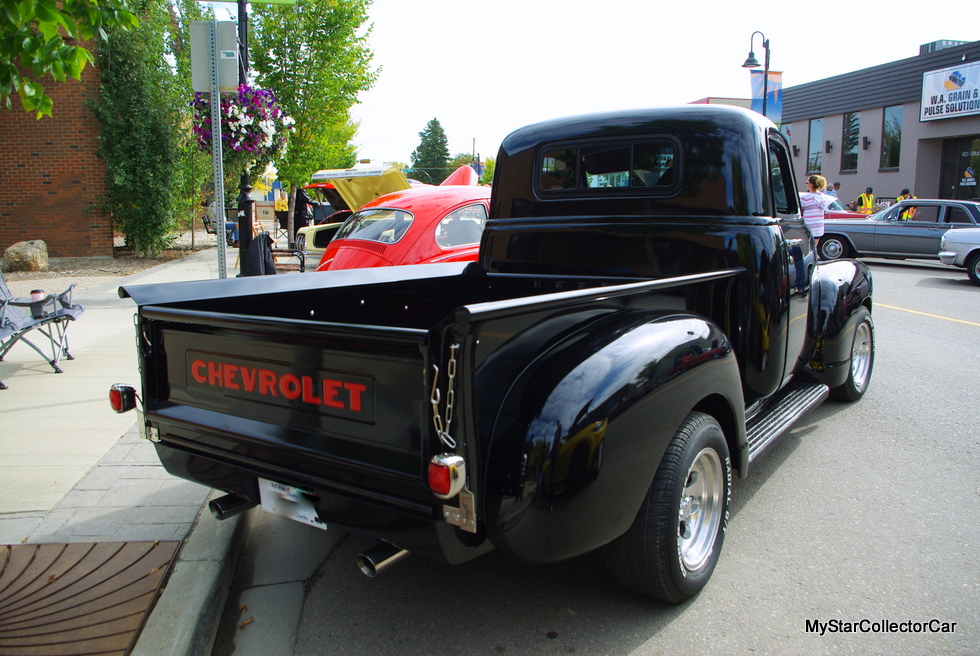 Adrian admitted he "didn't know where to start with it" because the old Chevy was in pieces and it needed a lot of work. The project started when Adrian found a 1989 Dodge Dakota frame. He wanted it for its rack and pinion steering and after a 6-inch chop in the frame he had a new platform for his '50 Chevy 1300.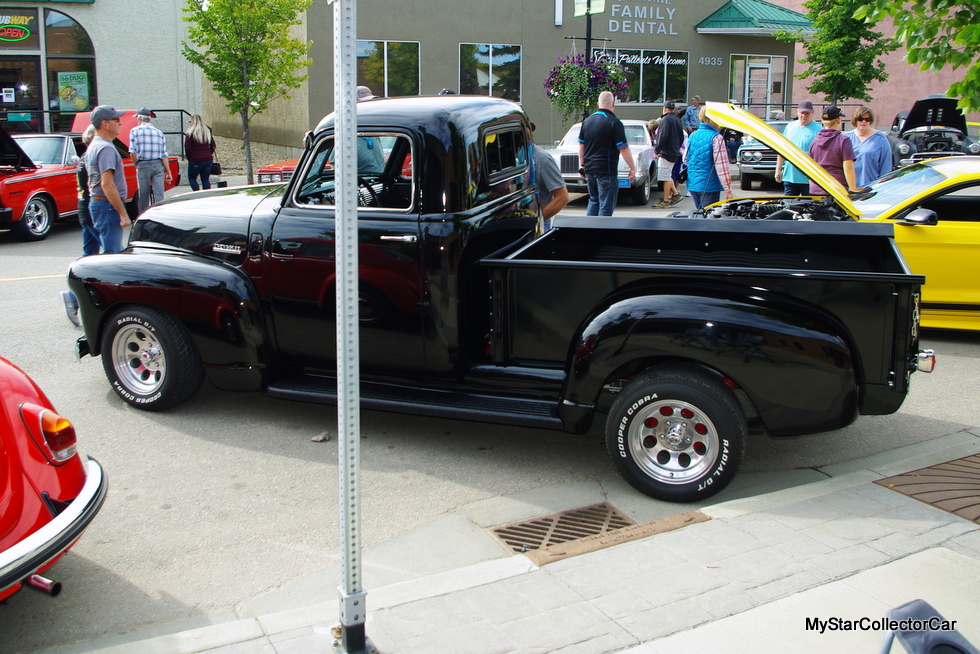 The search for parts began with a new hood and fenders because Adrian said "they couldn't be saved". He also found a (Canadian) '79 Pontiac Parisienne donor car and it contributed a master cylinder, differential and steering column but Adrian went in a different direction with the engine.
He had an "almost crate" 350 small block built for the truck because it was simpler and more reliable than taking on the Pontiac's engine. He kept the 350 Turbo but he's looking at an upgrade because he said "it feels like it wants to shift at around 70 mph".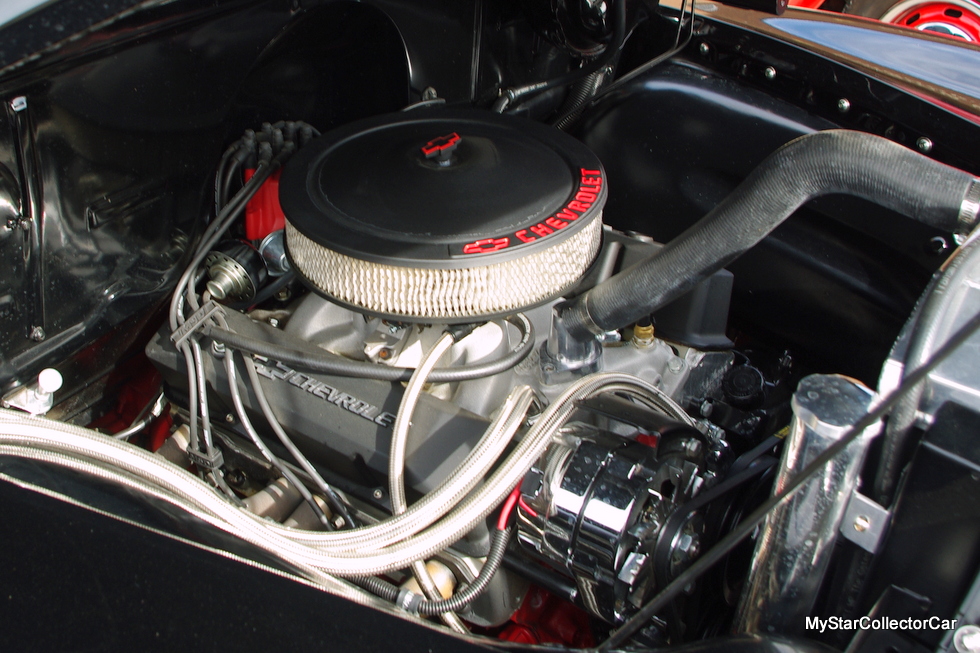 Adrian had a definite vision for this truck. He's not a fan of chopped roofs so that was not on the table and he resisted the urge to add cab windows at the back. He's also not a fan of factory ride height but he's equally not a fan of extremely low ride heights in old trucks so he found a balance between too high and too low.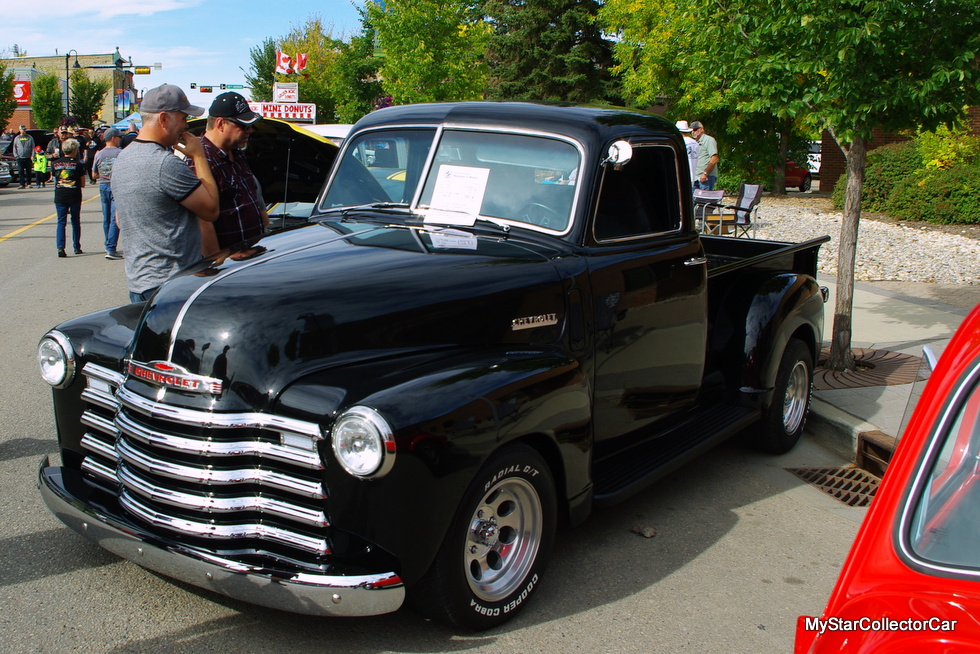 The seats were found, measured and salvaged from a Ford Ranger and they fit like a glove in the cab.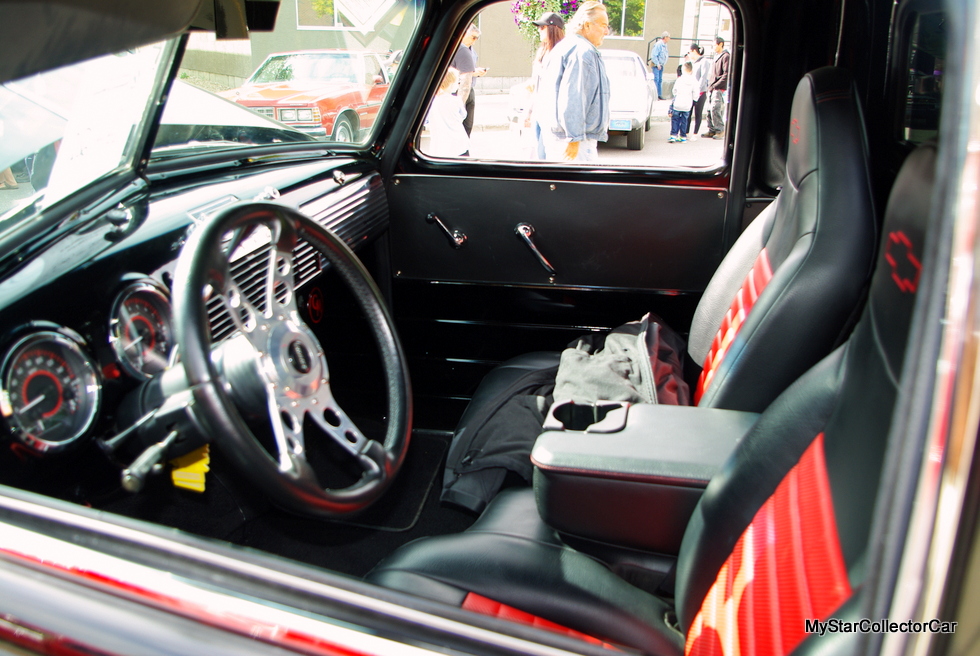 Adrian doesn't like the typical mounting point for fuel cells on old Chevy trucks—a lot of owners choose to hang them at the back of the truck but he prefers not to see the fuel tank.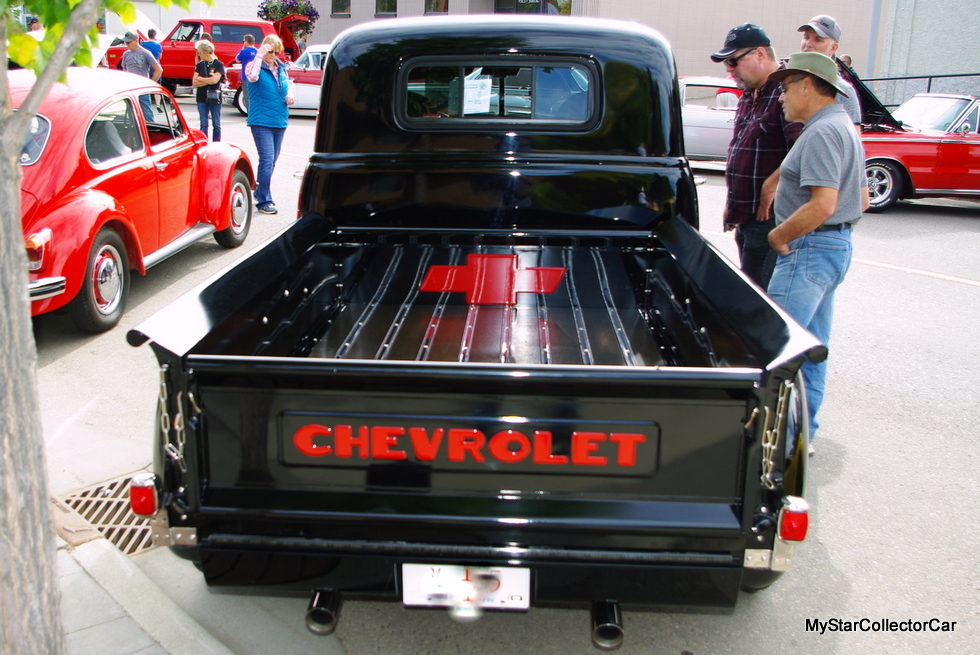 He found an aftermarket 18-gallon '51 Willys Jeep tank and mounted it behind the cab and under the truck bed. He designed a custom filler setup and admits, "it's a little awkward" but it's definitely out of sight.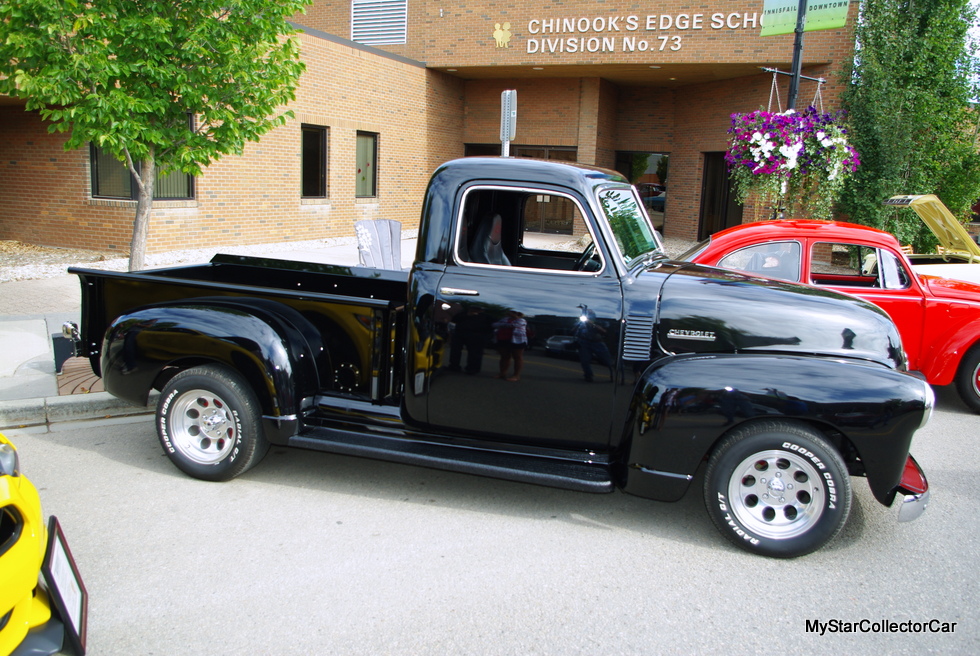 The truck bed lost 6" in height because of the Dakota frame but Adrian upgraded the wood with a solid sheet of maple.
Adrian went with a with a basic red and black theme on this truck so the Chevy logo lettering went from factory blue to red plus the 1300 has an array of added red lights underneath the truck, in the headlights and on the cowl. The seats were done the same way so this is a very clean-looking truck.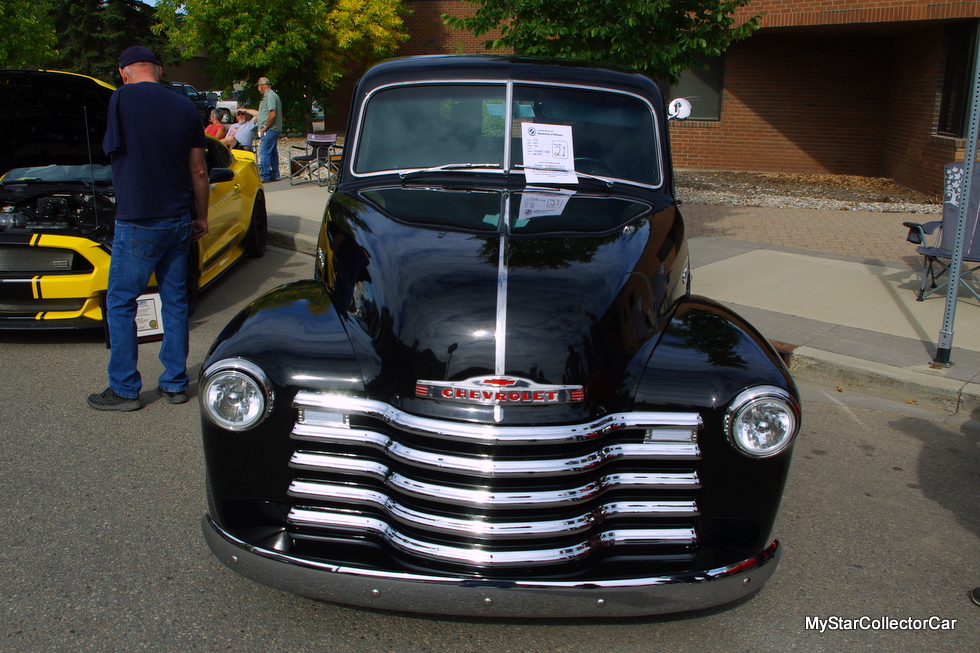 Adrian loves the driving experience behind the wheel of his truck. He's a little concerned about a heating issue in stop and go traffic but he's confident he'll solve that with an upgraded electric fan.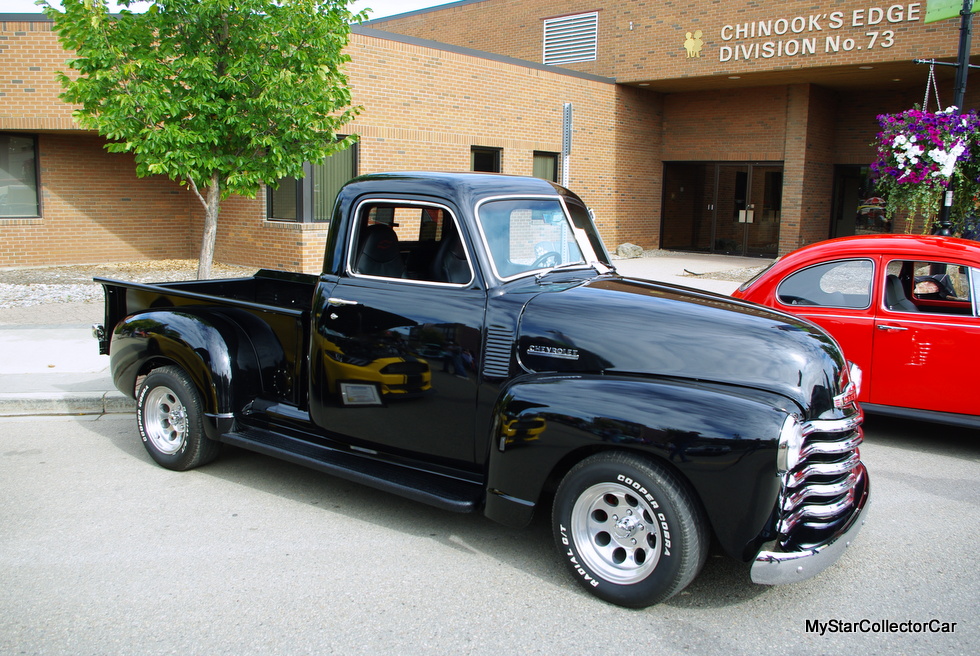 He didn't know where to start with this project but Adrian sure knew how to finish it.
Jerry Sutherland
Jerry Sutherland is a veteran automotive writer with a primary focus on the collector car hobby. His work has been published in many outlets and publications, including the National Post, Calgary Herald, Edmonton Journal, Ottawa Citizen, Montreal Gazette, Saskatoon StarPhoenix, Regina Leader-Post, Vancouver Sun and The Truth About Cars. He is also a regular contributor to Auto Roundup Publications.
Please re-post this if you like this article.