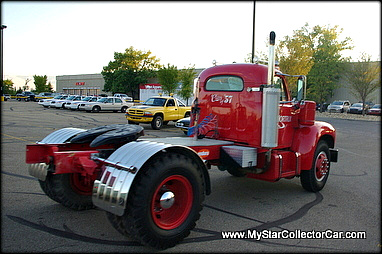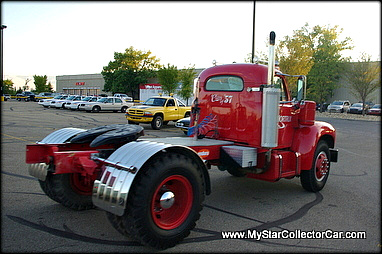 There's a pretty simple way to steal all the attention away from Camaros and classic hot rods at a car show.
Pull up in a mint 1957 Mack at any show and the spotlight will aim right at you.
That's what happened last summer when this big Mack pulled into a weekly car show.
This truck was sold to a buyer in Edmonton, Alberta Canada back in '57 by a dealer and after that it led a typical commercial vehicle life full of hard work and no days off. That led to a period where it disappeared but eventually it was back on the radar when it was found and brought back to the dealer.
They decided that this old Mack was far too valuable to rot away so the truck underwent a complete restoration. This one has the Thermodyne engine so it had decent power for the 50s era.
Dean Smith has been behind the wheel of this old classic many times and the biggest factor is his grandfather, "He was an old trucker and he told me stories about these old Macks, things like how you could steer them down the road with your gut if you had one and still roll a cigar. It's pretty cool to look out the same windshield that he did".
Dean added that "every guy here has a personal attachment to it so everybody has time in it".
The biggest factor in any commercial vehicle is the "commercial" side so this 1957 Mack still has to pull its weight as a working truck. Dean added, "It's light work but it works at things like pulling a parade float from Edmonton to Grande Prairie (AB) and it does haul other light loads so it's not just for PR".
In fact, the truck doesn't need any more public relations help as Dean reported, "I end up being pretty busy watching people watch me because it is a distraction. Two big rigs pinched me in on the highway so one guy could take pictures. It was pretty strange".
The experience behind the wheel of this old Mack is clearly from another era as Dean explained, "It's pretty rough to drive and its really loud. There's no radio and you couldn't hear it anyhow. I know why my Grandfather was pretty deaf from driving them".
This truck was a major project and Dean added, "it's about 94% correct". There's a significant investment of time and money in this old Mack but these trucks have risen in value in the last few years but in this truck's case it's priceless.
They had a lot of fun with this Mack so they actually have another one in the "healing line" plus this one is a permanent fixture with the company as Dean noted, " We're hanging onto it this time. This truck is the last thing the company would sell so if it's gone that would mean the company is gone".
There's an saying that sometimes you have to reach back to your past to understand your future and this old Mack is a classic example.
Dean Smith and his Grandfather would agree.
Jerry Sutherland