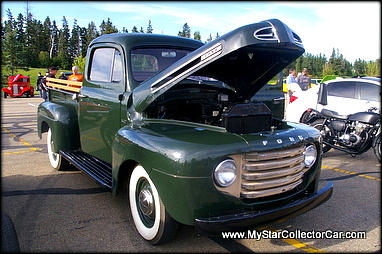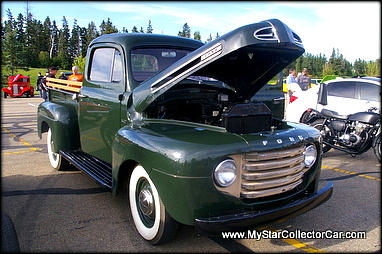 Ford trucks from the 40s and 50s have been ground zero for many custom and resto-mod projects for a long time.
The F-100s of the 50s enjoy a cult-like status with their throngs of admirers who have made the trucks legends in their circles.
The F-47 was an earlier Canadian-built relative of the F-1 which has also been the center piece for some wild custom touches.
Doug Laughy owns a very original 1949 Ford F-47 pickup that looks like it just came out of a showroom and his truck caught our attention at a Ford show last summer.
Doug chose to restore the truck to its original glory and it took him 10 years to reach his goal. He started with a commercial truck that had spent its life as a delivery vehicle in a small town. The truck had 32,500 miles on its odometer prior to its restoration and most of the miles were accumulated within the small town where the commutes were quite short by comparison to big cities.
The F-47 was optioned out by 1949 standards and had dealer installed features like turn signals, left rear tail light, locking gas cap and a spare tire carrier box under the truck. It also has a rear bumper and stylist door mirror to give it a little more late 40s era bling.
The 239 flathead engine is the original power-plant in the Ford and even has its original oil bath air cleaner label. Doug has owned the F-47 for 13 years and it has always been a very dependable truck, with only one incident where it decided not to start right away for him.
Doug waited 10 minutes, the old F-47 fired right up and he drove away down the road. That is a pretty minor issue after all of the years the truck has spent on the road and an enviable track record of reliability.
The care and attention to detail was very obvious when we saw Doug's truck and we are always pleasantly surprised when we encounter an owner who chose to re-create an original F-47 rather than follow a more popular custom or resto-mod route for his truck. There are compelling reasons to choose either path, but a full-on restoration is not an easy one.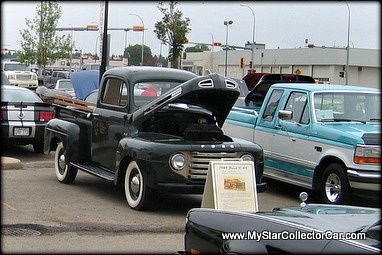 The truck was a reminder of a different time when pickups were purchased strictly as working vehicles and most of them did not survive the hard labor. This truck was the right combination of an original owner who looked after it enough to give it a chance to survive 64 years and a current owner who was willing to bring it back to its original glory.
We salute Doug for his efforts to preserve instead of alter automotive history with his well-restored 1949 Canadian pickup truck classic.
Doug chose a difficult path when he decided to restore his truck and he should be commended for his efforts because Doug's F47 is an amazing look at a bygone era in Ford truck history.
Jim Sutherland
*For a look at another classic Canadian Ford truck story follow this link to a June 2012 MSCC story about a 49 Mercury truck.