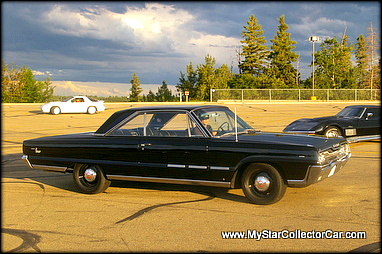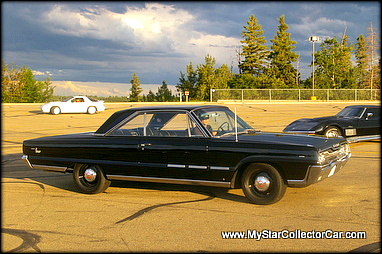 The Dodge Monaco was a full-figured C-body addition to the Mopar family in 1965.
Dodge Monacos only came in plus sizes and were the flagship of the Dodge brand, both in price and size.
They were also the top of the line luxury models from Dodge and featured the full tail light configurations found on the expensive models from Detroit.
The Monacos are not a common sight at car shows; or on the street for that matter in 2013. They are even less likely to be found in a muscled-out appearance because the Monaco was a high end luxury car, thus the name "Monaco" which had a jet set image.
Fred Kabatoff had a different game plan when he decided to do something with his 1966 Dodge Monaco because he decided to add a little muscle to his luxury ride. Fred is pretty handy with the wrenches and he was able to salvage a 400 cubic inch heart out of a 1973 Chrysler Newport to give the Monaco a new lease on life.
Fred chose the Monaco because he wanted something different to drive and his wife's father had owned a Polara from that came from the same Dodge family. The project took three years and Fred was able to do all of the mechanical work on the car, although he had somebody else do the body work.
There is something very impressive when you see a full-size Dodge from 1966 roll up to a show all dressed in black like Fred's Monaco. His car has a large-and-in-charge look to it and the dog dish hubcaps are a great addition to the overall appearance because this Monaco looks like it means business.
The engine was painted in 383 blue to resemble the original mill in the car and Fred also added the 1966 Dodge air cleaner to give it more of a factory appearance under the hood.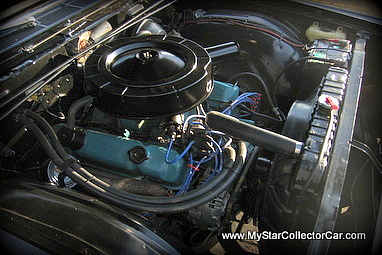 The beauty of a 1966 Dodge Monaco is its full sized passenger compartment that makes the car a true six passenger car that can actually hold six pretty large people. Fred's Monaco has been given a muscled-up look, but it still has that ability to haul a lot of people and Fred likes that feature because he is a family man.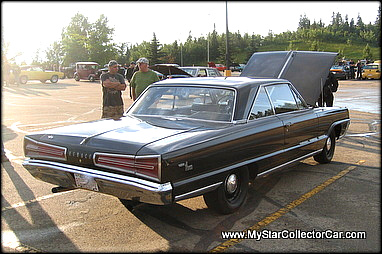 Fred calls it a "cruiser that can pack a lot of people in it" when he needs the extra space. The marriage of big car size and performance is a great overall package for Fred that garners a lot of attention whenever he hits the streets with the Monaco during the summer car show season.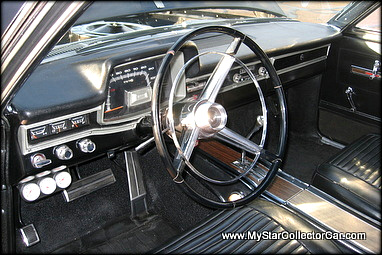 The 1966 Dodge Monaco may seem like an unlikely choice for a muscle car look, given its large size and luxury car label but, after we saw the end result of Fred's full sized Mopar project, we have a different impression of Monacos.
Fred's 1966 Dodge Monaco is off the charts on the cool factor and a great conversation piece at car shows.
Jim Sutherland
*Here's an MSCC article about another big 1966 Mopar C-body from August 2012.