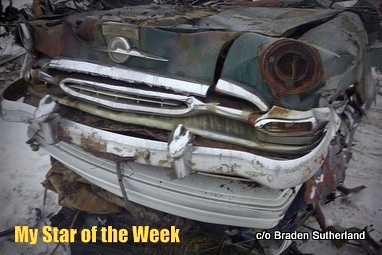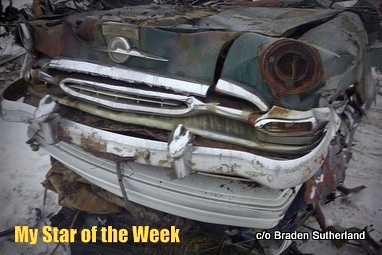 FEBRUARY 3 STAR OF THE WEEK: CLASSIC OLDS, GRISLY FATE
The car hobby is full of happy endings where an old classic is restored to better than factory condition.
That's one outcome.
You see this more often…an obsolete Oldsmobile minutes away from a date with Mr. Shredder at a recycling yard.
The best pieces are gone or past the point of saving on this vintage Olds so this old ride became a real life sum of its parts–worth its weight in scrap metal.
There should always be one last day in the sun for a car like this so the only thing to do is immortalize this Oldsmobile as an MSCC Star of the Week.
FEBRUARY 2 STAR OF THE DAY: BEST ANTI-THEFT DEVICE IN THE WORLD FOR AN OLD FORD TRUCK
There are some extremely hi-tech devices to protect valuable property like classic old cars and trucks.
The 21st Century is full of toys like GPS tracking, covert alarms and cars that will quit without a retina scan but the reality is the none of those are 100% effective.
This one might be.
Build your truck around a solid tree and it's not going anywhere without a chainsaw and chainsaws are pretty noisy at 3 in the morning.
Star of the Day?
Clearly it's the motivated owner of this classic old Ford truck.
For a look back at an APRIL 2011 MSCC article about a 1948 Merc truck follow this link.

FEBRUARY 1 STAR OF THE DAY: THIS IS HOW EFFICIENT TAXIS ARE SUPPOSED TO BE IN 2013

Taxis have always been large vehicles with plenty of space and comfort for passengers. That was then.
Today a tank of gas is about the same number that used to be a good down payment on a house so taxis have to be more efficient.
The solution has been there for years because these Isettas have been around since 1955. It's a little tight for anything more than a medium sized passenger but the fuel economy is off the charts.
In reality, this Isetta was one of those "cute, camera worthy cars" on a recent TV auction but it's just goofy enough to be an easy pick for MSCC Star of the Day.
JANUARY 31 STAR OF THE DAY: 1955 PONTIAC LAURENTIAN-LIFE IN A NORTHERN TOWN
This 1955 Pontiac was at a show in A Canadian town last September so there's no real surprise that it's a Laurentian.
That's Canadian for '55 Pontiac.
The Star of the Day was part of a large group of Pontiacs at the show but it really stood out in a sea of Poncho cousins.
No, there wasn't a case of Molson or Labatt's beer in the trunk.
Take a look at a February 2012 MSCC story about a '56 Pontiac
JANUARY 30 STAR OF THE DAY-FROM THE "WHAT THE $#$# IS THAT?" FILE
Car shows are benign, warm and friendly in the truest Walt Disney-ish, G-rating sense.
You meet normal people with normal lifestyles in a great place full of old iron and memories. Car shows are like that favorite day at the beach when you were 11 or a warm and fuzzy blanket when you were three.
So what's the story behind this 11-foot Grim Reaper with a skull face at a car show a few years ago?
The truth is nobody at MSCC really knows-the picture showed up in an old file.
The Star of the Day? Not the 11-foot freak…it's the guy standing his ground.
JANUARY 29 STAR OF THE DAY– BLUE OVAL POWER AT A RAINY SUMMER SHOW
The number one song last summer in certain areas was a classic–"Who'll Stop the Rain?".
Car show after car show fell victim to the rain gods after a deluge shot down the fun for owners and spectators.
This was good example from late last July 2012 because the day started out okay but ominous clouds in the west appeared in the late afternoon.
By the time this show started in the early evening the game was rained out but a few die-hard blue oval guys showed in a '27 T rod, a built '64 Galaxie convertible and a classic '56 Ford.
That was a Star of the Day performance because these old rides were a welcome sight at a gloomy show.
JANUARY 28 STAR OF THE DAY: STINGRAY ON SUMMER VACATION
Old rides generally have a pretty soft life. You could call them the 4-wheeled equivalent of retirees in the Sun Belt.
The Stingray is a part time summer employee for many reasons. These cars weren't the best winter vehicles even when they were new because the low slung fiberglass body wasn't that great in any place with more winter than San Diego.
This Star of the Day Stingray was at a show last summer that underscored the lack of absolute precision in weather predictions.
The show that day was based on a sunny forecast but it turned into a storm so this Vette was on its way home 5 minutes after this picture was taken.
JANUARY 27 STAR OF THE DAY: A CHALLENGER R/T MAKES A BIG STATEMENT
The Dodge Challenger joined the pony car wars late in the game back in 1970 but the name lives on in 2013.
That's a rare occurrence in the automotive world because old names are simply, old names in that environment.
For example, the Plymouth Fury name is long gone. In fact, Plymouth is long gone because divisions within a company undergo serious cost analysis every year because they have to produce.
Fortunately the Dodge Challenger's history carried serious weight at Chrysler so there are new Challeys to rule the streets.
This first Gen Challenger Star of the Day on the street last August defines in one picture why the new Challenger was a great idea.
Take a look back at past MSCC Stars of the Day.