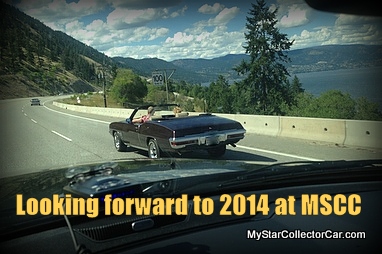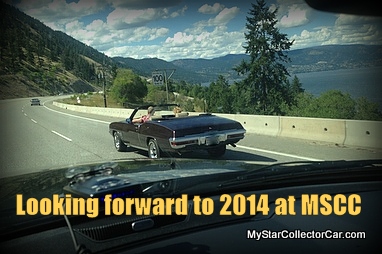 In April 2014 we will celebrate 5 years as an online voice of the car guy hobby.
We have what is known as an e-zine because our website has many of the same components as a print magazine, with added benefits like an ability to correct mistakes and link our advertisers to their own website.
Just think of a new George Jetson age when it comes to media sources and we are part of the new way people get information.
I don't know who is happier about this new paperless age of communication-us or the trees.
We had some pleasant memories from 2013 when it came to our story lines. One of our favorite stories was actually about us in another publication; a world famous collector car magazine by the name of Hemmings did a feature on MyStarCollectorCar in their March 2013 edition. Hemmings is the granddaddy of collector car publications and has been in business since 1954, so a pat on the head from them is an endorsement from the best in the business when it comes to the old car hobby.
Truth be told we had no idea they even knew who we were, but they liked us a lot. For us this was like the moment when you get to sit at the adult table during a major event like a family wedding reception or Christmas dinner and it felt just as good.
We had an opportunity to interview Patricia Richardson (Mrs. Tim "the Toolman" Taylor) in 2013 and found out she had an inner car girl soul, despite her denial of same. We also learned Ms. Richardson is a gracious and down-to-earth type for a famous celebrity.
One of the more intimidating interviews I did in '13 was my interview with Kenny Schrader of NASCAR fame. He was always one of my favorite drivers because he is a laid-back funny guy, but I was a little nervous when I interviewed him and was glad I had written down my questions or I would have blown the interview. Who knew it would be a problem, but the guy has a distinctive voice and style which threw me off my game.
Jerry fared better with his KD lang interview, possibly because she comes from Alberta and still has that western Canadian style to her which is familiar territory for us. She was indeed a car girl at heart when she explained her reasons for owning a 1964 Meteor early in her career and for selling it at this point in her life. Her reasons for ownership were sentimental, just like every good car story.
We hit 2 million page views in late 2013 and we did it in a fraction of the time it took to hit 1 million page views (from Day One in 2009 to the latter part of 2012 for the first million).
We have some great stuff teed up in 2014, ranging from great owner stories to more celebrity stories like one about the famous 1967 Chevy Impala from the cult TV show 'Supernatural'.We became fans of the show in its first year because of the cool Chevy and have been big fans of the show itself ever since the first episode. We will tell you what the Winchester brothers really think of their Heavy Chevy when we run the story.
We're also going to do an interview with legendary TV car guy Stacey David.
There are always surprises when we enter a new year and we expect 2014 to be our most exciting year ever because we truly buy into Frank Sinatra's philosophy in song: The best is yet to come.
Come on along and ride shotgun with us at MSCC this year.
Jim Sutherland